MP Seminars: Logos 7 Quickstart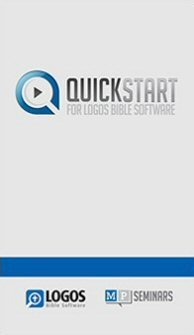 Overview
Learn to use basic features and quickly begin studying the Bible like never before with QuickStart for Logos Bible Software 7. Morris Proctor, authorized trainer for Logos Bible Software, will introduce you to the software and guide you through basic functions and tasks unlocking the potential for the newest edition of this incredible tool.
Product Details
Title: QuickStart for Logos Bible Software
Author: Morris Proctor
Publisher: MP|Seminars
Publication Date: 2016
Version: Logos 7
About Morris Proctor
Morris Proctor is the certified and authorized trainer for Logos Bible Software. He has been a pastor and expository teacher for more than 20 years. Logos Bible Software revolutionized his personal study so he is now devoting his time through his company, Morris Proctor Seminars, to train Logos users to realize its full potential. Morris has written several Quick Reference Training Manuals and conducted training seminars and sales demonstrations around the country. He has trained hundreds of users from beginners to advanced including pastors, Christian educators, military chaplains, professors, students, and more.
More details about this resource