Mobile Ed: BI206 New Testament Exegesis: Understanding and Applying the New Testament (14 hour course)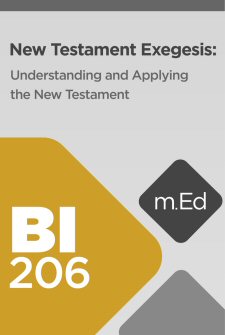 Mobile Ed: BI206 New Testament Exegesis: Understanding and Applying the New Testament (14 hour course)
•
Runs on Windows, Mac and mobile.
Overview
When people interpret the Bible, even though they may have the best motives in the world, they can still read their ideas into the Bible rather than draw out what the author originally intended to mean. Don't miss the whole point of exegesis. It's to know and worship God. Dr. Naselli will help you exegete the New Testament texts in a way that spreads a passion for the supremacy of God in all things for the joy of all peoples through Jesus Christ by exploring the concepts of genre, theology, translation, and much more. Exegesis and theology are thrilling because they help you know and worship God, and only God satisfies.
Learning Objectives
Upon successful completion you should be able to:
Understand characteristics that make for a great Bible translation
Describe the rationale behind interpretive decisions that remain faithful to the intent of the original author
Recognize key Scriptural phrases and their meaning
Course Outline
Introduction
Introducing the Speaker and Course
Unit 1: Introduction to Exegesis and Theology
What Is Exegesis?
Twelve Steps for Exegesis and Theology
Exegesis vis-à-vis Theology
Study vis-à-vis Prayer
Organizing Your Theological Library
Resources: Exegesis
Unit 2: Genre
Starting with Text Criticism or with Genre
Principles for Interpreting the Bible
Interpreting Figures of Speech
Genres in the Gospels and Acts
Interpreting the Gospels and Acts
Interpreting Parables
Example: Prodigal Son (Luke 15)
Interpreting the Epistles
Interpreting the Book of Revelation
Resources: Genre
Unit 3: Textual Criticism
What Is Textual Criticism?
Evaluating Variant Readings
KJV-Only and Inerrancy
Example (1 Cor 13:3)
Resources: Text Criticism
Unit 4: Translation
Four Qualities of an Excellent Translation
Approaches to Bible Translation
Comparing Contemporary Translations
Comparing the NASB with the ESV and NIV
How to Disagree about Bible Translation Philosophy
Alternative to Bickering (Part 1)
Alternative to Bickering (Part 2)
Translating Figurative Language and Cultural Issues
Importance of Dignified Translations
Translating with Gender Accuracy
Footnotes in Bible Translations
Translation Examples
Resources: Translation
Unit 5: Greek Grammar
Basics of Greek Grammar (Part 1)
Basics of Greek Grammar (Part 2)
Exegetically Significant Words, Phrases, and Clauses
Analyzing the Nominative Case
Analyzing the Genitive Case
Analyzing the Dative Case
Analyzing the Accusative Case
Analyzing Articles
Analyzing Verbal Aspect
Analyzing the Infinitives
Analyzing Participles (Part 1)
Analyzing Participles (Part 2)
Analyzing Antecedents of Pronouns
Resources: Greek Grammar
Unit 6: Diagramming an Argument
Tracing the Argument in Greek
Propositional Relations
Creating an Argument Diagram
Eight Steps for Phrasing
Phrasing for Tracing the Argument
Phrasing 1 Peter 5:6–7
Phrasing Matthew 28:19–20a
Phrasing Jude 20–21
Phrasing Romans 11:33–36
Phrasing Colossians 1:9–14
Phrasing Romans 3:21–26
Resources: Diagramming
Unit 7: Historical-Cultural Context
The Need for Background Information
Examples Where Background Information Is Necessary
Sufficiency and Clarity of Scripture
Questions for Analyzing the Historical-Cultural Context
Mirror Reading
Primary Sources for Historical-Cultural Context
Using Jewish and Graeco-Roman Resources
Example: Eye of a Needle (Matt 19:24)
Example: Rhetoric (1 Cor 2:1–5)
Resources: Historical-Cultural Context
Unit 8: Literary Context
Levels of the Literary Context
The New Testament in Ten Minutes
Suggestions for Reading in Literary Context
Memorizing an Entire New Testament Book
Example: "Judge Not" (Matt 7:1)
Example: "I Can Do All Things" (Phil 4:13)
Resources: Literary Context
Unit 9: Word Studies
The Importance of Word Studies
Four Steps for Doing a Word Study
What to Avoid in Word Studies (Part 1)
What to Avoid in Word Studies (Part 2)
A Thought Experiment on Poor Commentaries
Example: συνείδησις ("Conscience")
Example: σάρξ and πνεῦμα ("Flesh" and "Spirit")
Example: μὴ γένοιτο ("God Forbid!")
Resources: Word Studies
Unit 10: Biblical Theology
Where We Are on the Exegetical-Theological Map
What Is Biblical Theology? (Part 1)
What Is Biblical Theology? (Part 2)
Illustration: Harry Potter
Example: Holiness
Example: Temple (1 Cor 6:19–20)
Example: Mystery (Eph 3:1–6)
Example: Work
Motivation to Do Biblical Theology
Resources: Biblical Theology
Unit 11: Historical Theology
Survey of Historical Theology, and Significant Exegetes and Theologians
Reasons to Study Historical Theology (Part 1)
Reasons to Study Historical Theology (Part 2)
Example: Keswick Theology
Resources: Historical Theology
Unit 12: Systematic Theology
What Is Systematic Theology?
Strengths and Dangers of Systematic Theology (Part 1)
Strengths and Dangers of Systematic Theology (Part 2)
Strengths and Dangers of Systematic Theology (Part 3)
Strengths and Dangers of Systematic Theology (Part 4)
Example: What Is the Gospel?
Example: The Logical Problem of Evil
Resources: Systematic Theology
Unit 13: Practical Theology
What Is Practical Theology?
Guidelines for Applying the Bible (Part 1)
Guidelines for Applying the Bible (Part 2)
Guidelines for Applying the Bible (Part 3)
Guidelines for Applying the Bible (Part 4)
Example: Paul's Use of Isaiah and Job (Rom 11:34–35)
Example: How Should You Work?
Resources: Practical Theology
Conclusion
Product Details
Title: BI206 New Testament Exegesis: Understanding and Applying the New Testament
Instructor: Andy Naselli
Publisher: Lexham Press
Publication Date: 2016
Product Type: Logos Mobile Education
Resource Type: Courseware, including transcripts, audio, and video resources
Courses: 1
Video Hours: 14
About the Instructor
Andy Naselli serves as Assistant Professor of New Testament and Biblical Theology. He teaches courses primarily at the seminary-level on Greek exegesis, New Testament, biblical theology, and systematic theology. He loves to study and teach how the theological disciplines (exegesis, biblical theology, historical theology, systematic theology, and practical theology) interrelate and culminate in doxology.
Andy earned two PhDs before he turned thirty: a PhD in theology from Bob Jones University and a PhD in New Testament Exegesis and Theology from Trinity Evangelical Divinity School under D. A. Carson. He served as Carson's research assistant from 2006 to 2013 and continues to work with him on various projects, including the theological journal Themelios, for which Carson is editor and Andy is administrator.
Prior to coming to the Bethlehem College & Seminary in 2013, Andy taught New Testament Greek at the undergraduate and graduate levels, and he continues to teach Bible and theology as adjunct faculty at several other seminaries.
Andy and his wife, Jenni, have been married since 2004, and God has blessed them with three girls.
Getting the most out of Mobile Ed
Logos Mobile Education is a highly effective cross-platform learning environment that integrates world class teaching with the powerful study tools and theological libraries available in Logos Bible Software. Every course provides links to additional resources and suggested readings that supplement the lecture material at the end of every transcript segment.
This course comes with an Activities resource that functions as a type of "workbook" for the course. This resource includes learning activities such as: places for you to respond to reflection questions, exercises that will challenge and show you how deepen your understanding of this course by using specific Logos tools and resources, tutorial videos on different features of Logos Bible Software, and links to relevant Logos guides and tools. A link to open the Activities resource is conveniently placed at the end of every segment.