Anabaptist and Mennonite Studies Collection (16 vols.)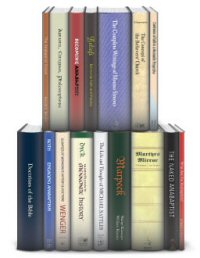 Anabaptist and Mennonite Studies Collection (16 vols.)
•
Se ejecuta en Windows, Mac y dispositivos móviles.
Tu descuento personalizado
Precio regular $299.95
Precio de venta $99.99
Tu precio $99.99
Ahorras $199.96 66%
Tu Precio
¿Qué es una Pre-publicación?
$99.99
Regular: $299.95
Impreso: $358.54
Overview
If you're involved in the study of Anabaptist and Mennonite history, theology, or identity, the Anabaptist and Mennonite Studies Collection will bring you a wealth of useful scholarly resources. Containing writings from the most important contributors to Anabaptist and Mennonite thought, including John Howard Yoder, Harold S. Bender, John C. Wenger, John D. Roth, and Thieleman J. van Braght, this collection is absolutely essential for the study of Mennonite and Anabaptist theology and history. It presents a compelling picture of classical Anabaptism alongside modern-day Anabaptism.
The Logos edition of this collection is fully searchable and easily accessible. Scripture passages link directly to your preferred translation, and important theological concepts link to dictionaries, encyclopedias, and a wealth of other resources in your digital library.
Key Features
Contains first hand accounts of the birth of the sixteenth-century Mennonite and Anabaptist movements
Explores the beliefs, practices, and structure of contemporary Mennonite and Anabaptist churches
Brings in non-Mennonite/Anabaptist perspectives for a wider view of the impact of Mennonite/Anabaptist practices on Christianity
Delves into the history of Anabaptism for a fresh look at its genesis
Product Details
Title: Anabaptist and Mennonite Studies Collection
Publisher: Herald Press
Volumes: 16
Pages: 6,007