Joseph Agar Beet Commentary Collection (17 vols.)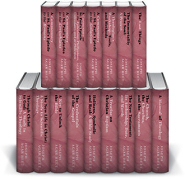 Joseph Agar Beet Commentary Collection (17 vols.)
•
Runs on Windows, Mac and mobile.
Overview
After J. Agar Beet's commentary on Romans was published, his name was added to the list of great Bible expositors of his generation. His subsequent commentaries on the epistles to the Corinthians, Ephesians, Philippians, Colossians, Philemon, and Galatians only added to his reputation as a solid exegete. Over 100 years later, these commentaries have stood the test of time, with preachers, teachers, and laity referring to them time and again.
Logos is proud to introduce twelve other titles that helped make Joseph Agar Beet one of England's top theologians writing in the Methodist and Wesleyan tradition. Included is The Last Things, Beet's controversial work on the nature of "lost souls," and his masterwork A Manual of Theology.
With the Logos Bible Software editions all Scripture passages in the Joseph Agar Beet Collection (17 vols.) are tagged and appear on mouse-over. What's more, Scripture references are linked to the Greek texts and to the wealth of language resources in your digital library. This makes these resources more powerful and easier to access than ever before for scholarly work or personal Bible study. With the advanced search features of Logos Bible Software, you can perform powerful searches by topic or Scripture reference—finding, for example, every mention of "peace," or "salvation."
Do you already own the Ages edition of the Joseph Agar Beet Commentaries that was built for Libronix? Then you qualify for a special upgrade price. The previous editions were created many years ago, using the best digital files available at the time. We're rebuilding the Joseph Agar Beet Commentaries from the ground up—this collection contains new, updated files as well as eleven additional resources. Remember, to qualify for the special upgrade price, you will need to have already owned the previous Ages edition of the Joseph Agar Beet Commentaries that was built for Libronix. Pre-order Today!
Key Features
Detailed table of contents for each volume
Detailed indexes
A clear, thorough study of Paul's Epistles
Product Details
Title: Joseph Agar Beet Commentary Collection (17 vols.)
Author: Joseph Agar Beet
Publisher: Hodder and Stoughton, Thomas Whittaker
Volumes: 17
Pages: 4,793
Individual Titles
About Joseph Agar Beet
Joseph Agar Beet was an English Wesleyan pastor from 1864 to 1885, and professor of systematic theology in Wesleyan College, Richmond, 1885–1905. He was also a member of the faculty of theology in the University of London in 1901–05.