College Press Theological Studies Collection (2 vols.)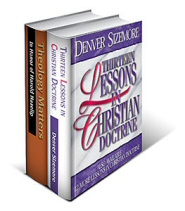 College Press Theological Studies Collection (2 vols.)
•
Runs on Windows, Mac and mobile.
Overview
Biblically sound doctrine can be hard to decipher in today's world. College Press Theological Studies Collection (2 Vols.) is a set of volumes to equip the layperson or the new believer with scripturally-based theology and highly practical tools for godly living. Providing resources for both individual Bible study and for use in small groups, these works combined contain writings from more than twenty biblical scholars and theologians.
Many questions that we ask ourselves about Christianity are confronted in this outstanding series, drawing us to a greater understanding of faith as we ponder them further. Highly advantageous in digital format, College Press Theological Studies Collection (2 Vols.) is easily searched and referenced. A fabulous starting place in the quest for a strong theological foundation.
Key Features
Elucidated theology written in a straightforward and engaging manner
Contains materials that work well in a small-group setting
Individual Titles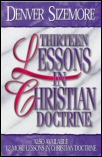 13 Lessons in Christian Doctrine
Author: Denver Sizemore
Publisher: College Press
Publication Date: 1999
Pages: 196
This volume is a foundational resource for understanding and living, designed for new and growing Christians. A great tool for personal study or in small groups, Sizemore's work covers thirteen different topics: the most basic truths of God, Jesus Christ, the Bible, the Church, The transition from lost to saved, faith, repentance, baptism, expressions of worship, the Lord's Supper, prayer, giving, giving in the New Testament, the believer's future, the mission of the Church, and the coming of the Lord. Reflective questions conclude each lesson.
Denver Sizemore has served as professor of New Testament for 43 years at Atlanta Christian College, retiring in 1992. Since then, he and his wife have spent much of their time teaching mission colleges around the world. He is a well-known preacher and teacher throughout the churches of the southeast United States. His video series, produced by Good New International of Joplin, Missouri has multiplied his effectiveness as a Bible teacher.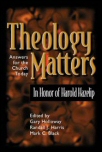 Theology Matters
Editors: Gary Holloway, Randall Harris, Mark Black
Publisher: College Press
Publication Date: 1998
Pages: 364
Although fallible, we must do all we can to be true to the biblical witness. Such is the task of theology. In this book of theology, the writers contribute to sound doctrine in three ways. They give answers to questions people ask. They provide an understanding of faith that will sustain us. They draw nearer to the truth embodied in Christ. Join them in that quest for healthy teaching.
Contributors:
Ron Highfield
Barry Blackburn
Mike Cope
Stacy Patty
John Mark Hicks
Gary Holloway
Randy Becton
Waymon Hinson
Mark Black
Mike Moss
David Young
Allen Black
Paul Pollard
Ross Cochran
Tom Eddins
Tom Alexander
Dan Dozier
Ken Neller
Randy Harris
Everett Huffard
Carson Reed
Jim Baird
Mike Matheny
Harold Shank
Rubel Shelly
David Jackson
Cecil May
James Walters
Don Meredith
Product Details
Title: College Press Theological Studies Collection (2 Vols.)
Publisher: College Press
Volumes: 2
Pages: 560
More details about these resources