Interpretation: A Bible Commentary for Teaching and Preaching (INT) (43 vols.)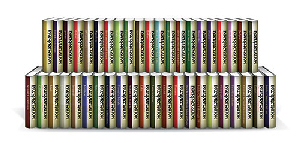 Interpretation: A Bible Commentary for Teaching and Preaching (INT) (43 vols.)
•
Runs on Windows, Mac and mobile.
Overview
Interpretation: A Bible Commentary for Teaching and Preaching offers a full interpretation of the biblical text, combining historical scholarship and theological purpose. It brings an understanding of what the text says into dialogue with the critical questions and problems of contemporary life and faith. Interpretation revives the neglected art of expository writing that explains the books of the Bible as the Holy Scripture of a church active at worship and work. Teachers, preachers, and all serious students of the Bible will find here an interpretation that takes serious hermeneutical responsibility for the contemporary meaning and significance of the biblical text.
The commentaries deal with whole portions or sections of text that are used in teaching and preaching rather than with individual verses and words. Exegetical study and hermeneutical reflection are integrated into one readable expository essay. Each volume of this series clarifies the sense of the text's language in its literary-historical context and reflects on the meaning of the text in light of its use in the liturgy and the theology of the church. Each suggests ways in which the text addresses faith and life today.
Each biblical book is presented for its most effective use by teacher or preacher, taking into consideration its central purpose, its use in the liturgical and confessional tradition and in lectionaries, and its special significance for Christian ethics and theology.
With the Logos Bible Software edition all Scripture passages in Interpretation: A Bible Commentary for Teaching and Preaching are tagged to original language texts and English translations. This makes these resources more powerful and easier to access than ever before for scholarly work or personal Bible study. With the advanced search features of Logos Bible Software, you can perform powerful searches by topic or Scripture reference—finding, for example, every mention of "justification," or "Luke."
Key Features
Full-length commentaries on the Old and New Testaments
Each writer was chosen for their outstanding record of publication and scholarship
Each volume contains a detailed introduction by the author
Praise for the Print Edition
The Interpretation series from Westminster John Knox Press is clearly established as a rich source for teaching and preaching. They have tapped the talents of a varied and esteemed group of contributors, resulting in what is clearly the essential comprehensive commentary series on the Bible.
—W. Eugene March, A.B. Rhodes Professor of Old Testament Emeritus at Louisville Presbyterian Theological Seminary
The Interpretation series is an invaluable resource for any leader or scholar interested in interpreting the biblical text to the broader church. Its works are essential for pastors, educators, and church libraries.
—Brian K. Blount, President and Professor of New Testament at Union Theological Seminary
Product Details
Title: Interpretation: A Bible Commentary for Teaching and Preaching
Publisher: Westminster John Knox Press
Volumes: 43
Pages: 9,557
More details about these resources
Show More