Liturgies Eastern and Western Collection (2 vols.)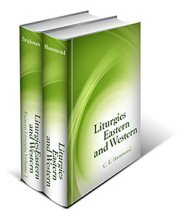 Liturgies Eastern and Western Collection (2 vols.)
•
Runs on Windows, Mac and mobile.
Overview
Liturgy has been an important part of the life of the church since the very beginning. Because of this, the study of liturgy provides unique access for understanding the ancient church and its worship. These two volumes by C. E. Hammond and F. E. Brightman make available a thorough coverage of the ancient liturgies of the church from a variety of ecclesiastical backgrounds in the East and the West.
Brightman and Hammond's volumes provide introductory discussion, texts, and translation for a number of Christian traditions, including the Roman Church, the Byzantine Church, the Nestorian Church, the Coptic Church, the Ethiopic Church, and Armenian Churches. By including the liturgies of both orthodox and heretical Christian groups, Brightman and Hammond make it possible to more clearly follow the development of doctrine and scriptural interpretation. Strikingly, the language of the orthodox liturgy changes over time more than that of heretical sects. While the Orthodox Church adapted their liturgy in response to controversy, making ambiguous language more clear, the heretical sects, in contrast, tend to be more conservative in their willingness to change the liturgical language. For them, the ambiguity was simply interpreted in light of their own beliefs. Thus the liturgies of heterodox groups become a portal for seeing the worship of the ancient church before controversy created the divide. Liturgies Eastern and Western makes available the liturgical practices of the church of the first five centuries and beyond.
Moreover, access to ancient liturgical texts has traditionally been limited to individual Christian groups of which they are a part. For example, the Roman Catholic Church has its own liturgy and it does not mix with that of the Eastern Orthodox Church. With the Liturgies Eastern and Western Collection, you can find all of these resources in one place with original texts and often translations. Both volumes function as handbooks on ancient liturgy for the beginning student who is looking for high quality resources, but is not prepared for more specialist monographs. And while the blossoming of liturgical study in the nineteenth century created a need for such volumes, nothing similar in terms of an introductory text on ancient liturgy has been published since these two volumes at the turn of the twentieth century.
Key Features
Essential glossaries of liturgical terminology for Latin, English, and Greek
Allusions and parallels to Scripture noted and marked with bold text
Numerous appendices
Extended introductions and notes for each liturgical text
Complete indices of Scripture references
Individual Titles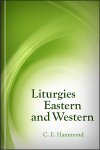 Originally published under the title, Antient Liturgies, Charles E. Hammond's Liturgies Eastern and Western set a new standard for handbooks on ancient liturgy. Covering an impressive spectrum of liturgical traditions from Western Europe into the Middle East and Persia, this volume gathers together a number of original Greek and Latin texts and then also translations of Syriac, Coptic, and Armenian liturgies. Each liturgical text receives an analysis and introduction. For those liturgies with Greek originals, allusions and parallels to Scripture are marked with a bold typeface. With plenty of references to scripture provided throughout, Liturgies Eastern and Western provides a unique window into how ancient Christians used the Biblical text in their public worship.
Liturgies Eastern and Western is divided into two main sections with two glossaries appended to the end. The first consists of the introductory material for all the liturgical texts. This section examines each piece of liturgy in light of its geographical location, internal structure, historical background, and textual basis. The second section consists of the texts, beginning with the Eastern Liturgies, such as the Clementine Liturgy, St. James' Liturgy, the Liturgy of Constantinople, and the Armenian Liturgy. The Western liturgies conclude the volume, where Hammond helpfully provides the Roman, Ambrosian, Gallican, and Mozarabic liturgies in parallel columns. Liturgies Eastern and Western continues to provide an essential bird's eye view of the diversity in early Christian worship in an accessible and convenient format for both scholars and students.
No student of theology, unless he desires to be a specialist in liturgiology, will require more than [Hammond's] volume. From its pages he can without difficulty gain a very full and accurate conception of the Eucharistic worship of the early Church in its several branches, both orthodox and heretical.
—The Academy and Literature, Vol. 14
Charles Edward Hammond was born in Bath, England in 1837. Educated at Exeter College, Oxford, he served as a fellow and tutor from 1859 to 1873 and then as a lecturer until 1882. Hammond was ordained as a priest in 1862 and was a chaplain at the Oxford Female Penitentiary until 1882, when he moved to become the rector of Wooton, Northamptonshire. In 1903 he became the examining chaplain to the bishop of Truro and proctor in convocation for the diocese of Truro. Hammond's writings include: Outlines of Textual Criticism applied to the New Testament (Oxford, 1872) and Liturgies Eastern and Western (1878). Both volumes continue to be referred to today.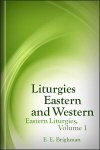 When asked by Oxford to revise Hammond's text, F. E. Brightman set out with a far more ambitious plan. With the intention of expanding Liturgies Eastern and Western into two volumes, he added to the number of liturgical texts included, initiated fresh English translations, and reorganized the content according to how it might appear on a given liturgical day. Hammond's geographical divisions are nonetheless maintained, where, after the introduction, Brightman provides the texts of the Syrian Rite, followed by the Egyptian Rite, Persian Rite, and the Byzantine Rite. Each of these individual sections receives its own table of contents at the beginning of its section with a short paragraph of the textual basis for the liturgy.
Brightman's efforts were so drastic and extensive that he created an essentially new work that shared little more than the title with Hammond's original. But this came at a cost: the second volume on the Western Liturgies never came into being. Nevertheless, Brightman's work to provide more reliable text editions and more extensive scriptural references has given the volume an enduring quality even to this day.
Indeed, when we think of all the thought that has gone to make [Brightman's] book the complete and scholarly thing that it is, we can only record our deep sense of debt to its author for the self-effacing conscientiousness that is its note, and for the high ideal of devotion to the service of God in letters which it sets before his fellows.
—The Critical Review of Theological and Philosophical Literature Vol. 7
For more than a century now, [Brightman's work] has served as a reference work to students and scholars in comparative liturgy and has been quoted thousands of times in publications, classes, and research projects. Due to the wide range of its materials, it will undoubtedly remain a most valuable tool for many years to come. Students and scholars in the field of liturgy need, and will need, to have this volume at their disposal.
—Dr. Ugo Zanetti, former professor at the Oriental Institute of the Catholic University of Louvain
Frank Edward Brightman (1856–1932) was a Fellow of Magdalen College and librarian of Pusey House at Oxford. A meticulous scholar, he is most well-known for his edition of Liturgies Eastern and Western: Vol. 1: Eastern Liturgies. Its contents were the fruits of extensive journeys to various monasteries in the East. In 1915, he published English Rite a valuable book detailing the varying editions of the Book of Common Prayer in parallel columns. Between 1904 and 1932, Brightman was joint-editor of the Journal of Theological Studies, which continues to be in circulation today. As a strong high churchman, his advice and counsel was regularly sought by the Church of England.
Product Details
Title: Liturgies Eastern and Western Collection (2 Vols.)
Authors: C. E. Hammond, F. E. Brightman
Publisher: Oxford
Volumes: 2
Pages: 1,182
More details about these resources