The Creative Word, Second Edition: Canon as a Model for Biblical Education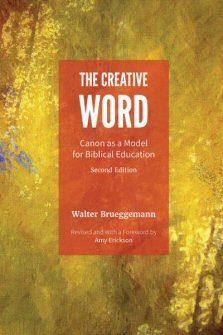 The Creative Word, Second Edition: Canon as a Model for Biblical Education
•
Runs on Windows, Mac and mobile.
Your Custom Discount
Reg. Price $24.99
Sale Price $14.99
Your Price $14.99
You Save $10.00 40%
Your Price
What's Pre-Pub?
$14.99
Reg.: $24.99
Print: $29.99
Overview
Every faith community knows the challenges of inviting new members and the next generation into its shared life without falling into an arid traditionalism or a shallow relativism. Renowned scholar Walter Brueggemann finds a framework for education in the structure of the Hebrew Bible canon, with its assertion of center and limit (in the Torah), of challenge (in the Prophets), and of inquiry (in the Writings).
Incorporating the best insights from his own career and from the fields of canonical criticism, Old Testament theology, and pedagogical theory, Brueggemann offers a vision of how the community can draw on the shape of Scripture to educate its members. First published in 1982, The Creative Word is now updated and introduced with a foreword by Amy Erickson of Iliff School of Theology.
In the Logos edition, this volume is enhanced by amazing functionality. Important terms link to dictionaries, encyclopedias, and a wealth of other resources in your digital library. Perform powerful searches to find exactly what you're looking for. Take the discussion with you using tablet and mobile apps. With Logos Bible Software, the most efficient and comprehensive research tools are in one place, so you get the most out of your study.
Key Features
Provides essential Old Testament scholarship from one of the most prominent living scholars
Contains applicable ideas and doctrines from Scriptural sources
Focuses on community
Praise for the Print Edition
[A] tremendous work of synthesis, allowing the reader to view the function of the three canonical complexes of the Old Testament. Everyone engaged in teaching or proclaiming God's word needs to struggle with the issues raised by the author to [avoid] prophetic naïvete on the one hand and institutional ossification on the other.
—Trinity Seminary Review
Since its initial publication in 1982, The Creative Word has been a standard resource for those concerned with the place and function of the Old Testament—all three major sections of it (Torah, Prophets, and Writings)—in Christian education. Here is Brueggemann at his best: abreast of developments outside biblical studies (it is sometimes forgotten that he holds a doctoral degree in education in addition to one in Old Testament studies) and thoroughly fluent in the biblical texts themselves. In this second, revised edition, he puts us again in his debt by proving himself profoundly creative with the Word.
—Brent A. Strawn, professor, Emory University
Walter Brueggemann is a renowned biblical scholar, engaging lecturer, and provocative writer. Yet my primary experience of Walter is as a fine teacher. From the moment I joined the faculty and continuing today, Walter and I would engage in conversations about the act of teaching and the dynamic and tenuous relationships between the subject and student and teacher. The Creative Word reveals to us all a significant truth about Walter Brueggemann -- that he is as concerned about how we teach as what we teach—indeed, the two cannot be separated. Through canon and prophets and wisdom, we come to understand not only the word God is speaking, but also how God is speaking. And because God is constantly creative and creating, new ways of knowing are emerging. This is a timely and refreshing revision that includes both new insights into the Hebrew Scriptures as well as new insights into the act of teaching. The church will be well served by this revision for years to come!
—Rodger Nishioka, professor, Columbia Theological Seminary
At a time when difference and dissent hardens too quickly to distrust and derision, Brueggemann advocates that the church teach and model an ancient alternative: the three-part canon of the Hebrew Bible. He demonstrates masterfully how each part is distinct in mode and content, in dialogue and tension with the others, and vital to Israel's well-being. The results are fresh admiration for the greater whole, and recognition of the canon's urgent challenge to our partial and settled thinking.
—Christine Roy Yoder, professor, Columbia Theological Seminary
About Walter Brueggemann
Walter Brueggemann through his teaching, lecturing, and writing, has effectively demonstrated the significance of the Old Testament for our fractured world today. Recognized as the preeminent interpreter of the ancient texts in relation to questions posed by a variety of academic disciplines, he has shown the way toward a compelling understanding of the major components of the faith and life of ancient Israel, especially its Psalms, the prophets, and the narratives. His award-winning Theology of the Old Testament quickly became a foundational work in the field.
Brueggemann, who holds a ThD from Union Seminary, New York, and a PhD from St. Louis University, is William Marcellus McPheeters Professor of Old Testament at Columbia Theological Seminary, Decatur, Georgia. He was previously professor of Old Testament at Eden Theological Seminary, St. Louis. His many Fortress Press books, including The Threat of Life: Sermons on Pain, Power, and Weakness, exhibit a fecund combination of imaginative power, sound scholarship, and a passion of justice and redemption.
Sample Pages from the Print Edition