Studies on Proverbs (3 vols.)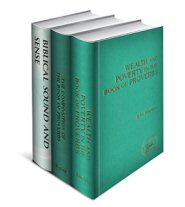 Overview
Studies on Proverbs (3 vols.) presents literary analysis and critical studies on this practical book of the Old Testament. It contains detailed commentary and introduction to the book of Proverbs, as well as looking at specific issues and topics. For example, this collection addresses the need for poetical analysis within the book of Proverbs as essential for understanding the book as a whole, going over alliteration, meter, and rhyme in Hebrew poetry. The volumes also go over the compilation process of the book as a whole and the style which was used, giving key insight into Hebrew literature and society. There is attention paid to the social issue of poverty and distribution of wealth put forward in Proverbs.
This set of works will be perfect for professors, students, and anyone interested in learning more about the book of Proverbs and its construction, impact, and literary value. Included are several indexes, bibliographies, and notes to aid study and further research.
Key Features
Presents variety of topics within study of Proverbs
In-depth literary and theological discussion
Includes notes and indexes
Product Details
Title: Studies on Proverbs (3 vols.)
Publisher: Sheffield Academic Press
Volumes: 3
Pages: 472
Individual Titles

This volume acknowledges that while literary analysis has been prominent in Biblical studies for some time, there has not been much attention paid to Biblical poetry. McCreesh believes that the structure of poetry lends understanding to the reading of Biblical poetry; specifically, in the book of Proverbs. He focuses on linguistic properties, as well as key features of Hebrew poetry. McCreesh discusses in great detail alliteration, meter, imagry, vocabulary, and rhyme. Believing it is essential to the context and overall significance of the book of Proverbs, McCreesh provides much-needed analyses of Hebrew poetry in this work.
Thomas P. McCreesh is associate professor of Theology at Providence College.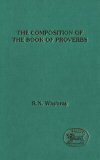 In this book, R. N. Whybray presents his classic exposition on the book of Proverbs. Readable yet academic, he outlines the entire book of Proverbs, with the purpose of tracing the development of composition. Much attention is given to the intended audience, the many authors of the book, and purpose of the book itself. Whybray provides helpful observations on the overall style and history of Proverbs, going chapter-by-chapter. In the final chapter, he discusses the actual process of how the book was put together. There are notes, bibliographies, and indexes.
R. N. Whybray (1923-1997) was a priest in the Church of England, as well as a Biblical scholar, focusing in Hebrew Studies.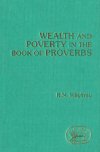 Biblical scholar R. N. Whybray examines the presented views of poverty and riches in the book of Proverbs. Believing that the Bible provides social relevance for today, he focuses on chapters within Proverbs that address this issue. Whybray does not provide a sociological commentary, but one that relies purely on the texts themselves. He gathers the varying views contained in the text to compile a comprehensive view of this particular society and its beliefs on class structure, poverty, and wealth. There are also notes and indexes to help understanding and study.
R. N. Whybray (1923-1997) was a priest in the Church of England, as well as a Biblical scholar, focusing in Hebrew Studies.
More details about these resources