Old Testament Hermeneutics Collection (18 vols.)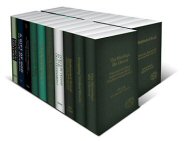 Old Testament Hermeneutics Collection (18 vols.)
•
Runs on Windows, Mac and mobile.
Overview
This collection is an in-depth presentation from prominent biblical scholars on Old Testament hermeneutics. Featuring a broad range of topics, each author focuses on interpretation and literary criticism. There are eighteen academic volumes with over thirty leading contributors. Some of the exegetical topics covered include social and historical contexts, the use of color in Biblical literature, ideologies of readers and writers, hermeneutical ethics, different kinds of literary criticism, and the use of rhetoric in readings of the Old Testament. There are also essays on art, culture, entertainment, and the impact of social sciences on Biblical interpretation.
Several of the volumes are in honor of influential Bible scholars; for example, James Flanagan, James Sanders, Ronald Clements, and David Clines. They contain essays by leading academics, as well as an introduction to the thinking of the premier scholar. There are also longer works by individual authors, which are more detailed. This is an essential collection for any student, professor, or anyone interested in scholarly interpretation of the Bible. Each of the volumes includes an extensive table of contents, indexes, and notes throughout the text.
Key Features
Over thirty Biblical scholars contributing
Covers a wide range of important topics in exegetical study
Each volume includes extensive table of contents, indexes, and notes to aid study
Product Details
Title: Old Testament Hermeneutics Collection (18 vols.)
Volumes: 18
Pages: 5,159