God's Word for Our World (2 vols.)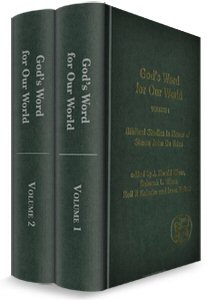 Overview
This two-volume biblical studies collection commemorates Simon J. DeVries' methods, influence, and scholarship in biblical studies. With contributions from over 20 well-known biblical scholars, God's Word for Our World is an excellent exegetical resource, containing various scriptural discourses. There are a wide range of topics, including Hebrew poetry, linguistics, culture, and hermeneutics. This academic and readable collection will be of interest to seminary students, professors, and anyone wanting to learn about biblical studies and methods from a variety of scholars and numerous scriptural texts.
Key Features
Contains 36 essays on exegetical topics
Contributions from over 20 biblical scholars
Introduction to DeVries' methods
Includes indexes and notes
Individual Titles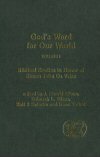 This first volume addresses a variety of issues, including characterization of God, prophets, poetry, and studies in various Scripture passages. It also touches upon depictions of Jerusalem, implications of Old Testament law, and the Greek version of the book of Exodus. All of these essays focus on passages and topics from the Old Testament.
Contributions to this volume include:
"Introduction: Biblical Theology and Text-Critical Studies," J. Harold Ellens
"The Characterization of YHWH, the God of Israel, in Exodus 1-15," Brian R. McCarthy
"Two Reflection on the Greek Exodus," John William Wevers
"The Image of the Hand of God in the Book of Exodus," David Rolph Seely
"Numbers 5:11-31: Valuing Male Suspicion," Deborah L. Ellens
"The Former Prophets and Deutronomy: A Re-Examination," Ronald E. Clements
"On the Study of Pentateuchal Poetry," Amira Meir
"Hendiadys as an Agent of Rhetorical Enrichment in Biblical Poetry, With Special Reference to Prophetic Discourse," J. Kenneth Kuntz
"Two Studies in Isaiah," John D.W. Watts
"The Song of Moses (Deuteronomy 32:1-43) in Isaiah 40-55," Hyun Chul Paul Kim
"John Calvin's Contribution to an Understanding of the Book of Isaiah," Simon De Vries
"Guess Who is Coming to Dinner! Jeremiah 29:1-9 as an Invitation to Radical Social Change," W. Eugene March
"The Interface between Prophecy as Narrative and Prophecy as Proclamation," Simon De Vries
"Balak: The Forgotten Character in Numbers 22-24," Won W. Lee
"'Yet forty days, and Nineveh shall be overthrown' (Jonah: 3.4): Two Readings of the Book of Jonah," Yitzhack (Itzik) Peleg
"Jerusalem as the Fallen Booth of David in Amos 9:11," Kenneth E. Pomykala
"'Old What's-His-Name': Why the King in 1 Kings 22 Has No Name," Robert L. Hubbord, Jr
"The Portrayal of YHWH's Deliverance in Micah 1:12-13 Reconsidered," Marvin A. Sweeney
"Romancing the Widow: The Economic Distinctions between the 'iSSA- 'ALMANA AND THE 'ESET-HAMMET," Naomi Steinberg
"The Date of the Book of Chronicles," Isaac Kalimi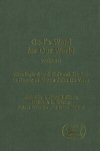 The second volume of God's Word for Our World also concentrates on topics from the Old Testament, covering worldview critical thinking, the holiness of God, impacts of Roman culture, biblical punishment, and a study of Renaissance art from an exegetical perspective. It also examines linguistics and biblical metaphor, as well as hermeneutics.
Contributions to this volume include:
"On Worldviews in the Bible of the Christians," Rolf P. Knierim
"The Holiness of God in Contemporary Jewish and Christian Biblical Theology," Thomas B. Dozeman
"Delitzsch in Context," Bill T. Arnold and David B. Weisberg
"Empire Re-Affirmed: A Commentary on Greek Psalm 2," Albert Pietersma
"Midrash Psalms Shocher Tov: Some Theological and Methodological Features and a Case Study—The View of God," Isaac Kalimi
"Sinuhe, Jonah and Joseph: Ancient 'Far Travelers' and the Power of God," Edmund S. Meltzer
"Prophets and Prophecy in Targum Jonathan to the Prophets," Moshe Aberbach
"Israelites, Judeans and Iranians in Mesopotamia and Adjacent Regions," Ran Zadok
"Jew and Non-Jew in the Roman Period in Light of their Play, Games, and Leisure-Time Activities," Joshua Schwartz
"Jewish and Christian Historiography in the Sixteenth Century: A Comparison of Sebastian Miinster and David Gans," Dean Phillip Bell
"Minjung Theology's Biblical Hermeneutics: An Examination of Minjung Theology's Appropriation of the Exodus Account," Wonil Kim
"Revisiting Aspects of Bultmann's Legacy," Rolf P. Knierim
"Repentance in the Context of Lukan Soteriology," Robert C. Tannehill
"On Punishment in the Hebrew Bible," Rolf P. Knierim
"Biblical Metaphors as Psychological Agents that Legitimate Violence in Society," J. Harold Ellens
"Capital Punishment in Light of Biblical Interpretation," Rolf P. Knierim
"Renaissance Artists and Biblical Exegetes," Samuel Terrien
Product Details
Title: God's Word for Our World
Publisher: T&T Clark International
Editors: J. Harold Ellens, Deborah L. Ellish, Rolf P. Knierim, and Isaac Kalimi
Volumes: 2
Pages: 736
About Simon J. DeVries
Simon John DeVries is a premier twentieth-century Bible scholar, professor, and theologian, whose work in exegesis spans decades. His skill in critical and historical analysis has established standards in exegetical studies and inspired a generation of biblical students and thinkers.