Form Criticism Collection (2 vols.)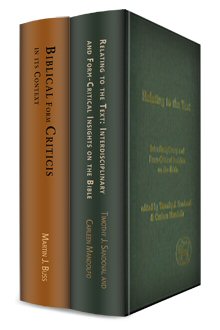 Overview
How can modern readers of the Bible discover the meaning of the original text? This question has been asked of preachers, theologians, and biblical scholars for centuries. In the recent history of biblical scholarship, form criticism has attempted to answer this question by meaningfully examining the implications of literary forms and oral traditions surrounding the text of the Bible—helping modern readers interpret God's word, exegete the text, and understand the meaning of Scripture for preaching and Bible study.
The 2-volume Form Criticism Collection from Continuum helps readers identify literary patterns of Scripture for exegesis and interpretation. The authors attempt to understand the content and the context of particular literary forms (the Sitz im Leben), and then identify methods of interpretation for texts, helping modern readers rediscover the meaning in its original context, as well as the connections between literary and oral traditions.
In addition to Martin J. Buss's landmark volume on the forms of biblical literature, this collection also contains an edited volume of twenty essays, articles, and short scholarly works on form criticism. The contributors examine particular texts and pericopes in Scripture, providing penetrating studies from texts in Isaiah, Job, Hosea, and other sections of the Bible. Contributors also approach form criticism from the perspective of a variety of disciplines.
With the Logos Bible Software edition, all Scripture references are linked directly to the original language texts in your library, along with your preferred English translations (that you own). The search features, citation tools, and other tools and reports make the Logos edition essential for scholars engaged in form criticism and for lay readers attempting to understand the contribution of form criticism for reading and understanding God's Word for today.
Key Features
Martin J. Buss's important work on form criticism, Biblical Form Criticism in its Context
A volume containing the contributions of 20 top scholars
Armin Siedlecki's essay on Hermann Gunkel's Literature of Ancient Israel
All Scripture references linked to the original language texts and English Bibles in your library (that you own)
Individual Titles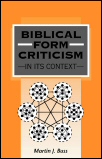 This magnum opus is not another catalog of the forms of biblical literature, but a deeply reflective account of the significance of form itself. Buss writes out of his experience in Western philosophy and the intricate involvement of biblical criticism in philosophical history. Equally, biblical criticism and the development of notions of form are related to social contexts, whether from the side of the aristocracy (tending towards generality) or of the bourgeois (tending towards particularity) or of an inclusive society (favoring a relational view).
Form criticism, in Buss's conception, is no mere formal exercise, but the observation of interrelationships among thoughts and moods, linguistic regularities and the experiences and activities of life. This work, with its many examples from both Testaments, will be fundamental for Old and New Testament scholars alike.
Martin J. Buss is Professor of Religion, Emory University, Atlanta.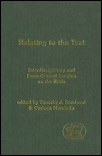 Relating to the Text is a collected volume of writing on form-critical and interdisciplinary approaches to biblical texts. The authors intentionally aim to move biblical studies into broader intellectual arenas by considering various sections of Scripture according to their form or genre. All authors are dedicated to the advancement of conversation on method and interpretation in biblical studies.
This volume begins with a series of essays concerned with form—both form criticism generally and the genre and rhetoric of particular Bible texts. The second volume contains essays which draw on intellectual insights from disciplines outside biblical studies.
Contributions to this volume include:
"Martin Buss—The Man and his Work (Including a Complete Bibliography)," John H. Hayes
"The Literature of Ancient Israel by Hermann Gunkel," Armin Siedlecki
"Social Sciences and Form-Criticism: Towards the Generative Force of Life-Settings," Erhard S. Gerstenberger
"Commenting on Commentary: Reflections on a Genre," Frank H. Gorman, Jr.
"Metaphor and Rhetorical Strategy in Zephaniah," Marvin A. Sweeney
"Isaiah and Micah: Two Modes of Prophetic Presentation," Yehoshua Gitay
"The Engaging Nuances of Genre: Reading Saul and Michal Afresh," Barbara Green
"Elihu's Sapiential Hymn (Job 36.24–37.13): Genre, Rhetoric and Moral Imagination," Carol A. Newsom
"Re-Encounter with the Text: Or the Importance of 'Relational' Wrestling," Nickie M. Stipe
"Lacan, the Phallus and the Construal of Intergenerational Kinship in Genesis–Numbers," Sarah J. Melcher
"A Deconstructive Reading of Hosea 1–3," David Jobling
"The Shulamite Is Not the Woman of Valor," David Blumenthal
"Honor Restored: Honor, Shame and God as Redeeming Kinsman in Second Isaiah," Sarah J. Dille
"Can Daughters Be Sons? The Daughters of Zelophehad in Patriarchal and Imperial Society," Dora Rudo Mbuwayesango
"Reading Amy Tan Reading Job," Jeffrey K. Kuan
"Beowulf's Bible: The Monsters and the Biblical Critics," Timothy K. Beal and Tod Linafelt
"The Origins and Challenges of an Ecojustice Hermeneutic," Normal C. Habel
"Ur of the Chaldeans and Interdisciplinary Research," J. Maxwell Miller
"Analogical Thinking and Ancient Israelite Intellectual History: The Case for an 'Entrophy Model' in the Study of Israelite Thought," Ehud Ben Zvi
"American 'Orientals' and their Theatrical Bibles," Burke O. Long
Carleen Mandolfo is Assistant Professor of Religious Studies at Colby College. She is the author of God in the Dock: Tensions in Psalms of Lament and From Earth's Creation to John's Revelation: The INTERFACES Biblical Storyline Companion with Barbara Green and Catherine Murphy.
Timothy J. Sandoval teaches Hebrew Bible at Chicago Theological Seminary and is an instructor at the seminary's Center for Community Transformation. His dissertation is entitled The Discourse of Wealth and Poverty in the Book of Proverbs.
Product Details
Title: Form Criticism Collection
Publisher: T & T Clark International, Sheffield Academic
Volumes: 2
Pages: 872
More details about these resources