Mobile Ed: BI161 Problems in Bible Interpretation: Difficult Passages I (3 hour course)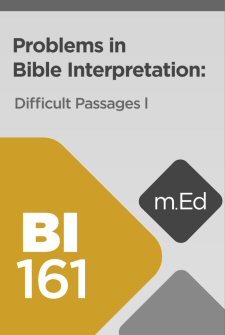 Mobile Ed: BI161 Problems in Bible Interpretation: Difficult Passages I (3 hour course)
•
Runs on Windows, Mac and mobile.
Overview
Believe it or not, not everything in the Bible can be understood by children; many passages are not even easy to understand for adults. Delve into a number of difficult passages with Dr. Heiser as he introduces key interpretive issues and the problems that are lurking in the background of these verses. He guides you through what needs the most attention and introduces you to several options for interpretation for each passage. Dr. Heiser focuses on the importance of being able to wrap our minds around and navigate through the difficult passages of Scripture, because although they may be challenging, they are still significant for theology. How you understand these verses will have an important ripple effect on the interpretation of other passages you will encounter in the course of your own personal Bible study.
Learning Objectives
Upon successful completion you should be able to:
Understand grammatical elements of multiple books of the Bible and how they drive interpretation
Assist friends and church members in de-tangling confusing passages of Scripture
More clearly teach the Bible in its entirety
Course Outline
Unit 1: Genesis 1:1-3
Why Worth Discussing?
Types of Clauses?
Clause Functions
Introducing Gen 1:1–3
Traditional View of Clauses and a Hidden Factor, Alternate View
Importance and Ramifications
Unit 2: 1 Samuel 13:1
Why Worth Discussing? The Problems Introduced
Problems #1 and #2 Discussed
Resolution
Unit 3: Exodus 4:21-26
Why Worth Discussing?
The Context and Why the Confusion?
Bridegroom of Blood Phrase
Unit 4: Genesis 9:20-25
Why Worth Discussing?
Historical Explanations
Maternal Incest
Unit 5: Deuteronomy 32:8-9
Why Worth Discussing?
The Issue: Out of Date Translations
The Meaning
Unit 6: John 1:1-2
Why John 1:1–2 Is Worth Discussing
Explaining the Issue
GONG
Summary of What We Found
Unit 7: Acts 2:42-46
Why Worth Discussing?
Modern Perspective
Immediate Context
Wider Context
Unit 8: 1 Peter 3:14-22
Why Worth Discussing?
The Passage and Its Difficulties
Explanation
1 Enoch, Enoch, and Typology
Baptism Element
Unit 9: 1 Corinthians 15:29
Why Worth Discussing?
Focus of Interpretation
Select Proposed Interpretations
Unit 10: Romans 6:1-14
Why Worth Discussing?
Analysis
Practical Note
Conclusion
Product Details
Title: BI161 Problems in Bible Interpretation: Difficult Passages I
Instructor: Michael S. Heiser
Publisher: Lexham Press
Publication Date: 2016
Product Type: Logos Mobile Education
Resource Type: Courseware, including transcripts, audio, and video resources
Courses: 1
Video Hours: 3
About Michael Heiser
Dr. Michael S. Heiser is a scholar-in-residence at Faithlife. His varied academic background enables him to operate in the realm of critical scholarship as well as in the wider Christian community. His experience in teaching at the undergraduate level and in writing for the layperson directly contribute to Logos' goal of adapting scholarly tools for non-specialists.
Dr. Heiser earned his PhD in Hebrew Bible and Semitic languages and holds an MA in ancient history and Hebrew studies. He is the coeditor of Old Testament Greek Pseudepigrapha with Morphology and Semitic Inscriptions: Analyzed Texts and English Translations, and can do translation work in roughly a dozen ancient languages, including Biblical Hebrew, Greek, Aramaic, Egyptian hieroglyphs, and Ugaritic cuneiform. He also specializes in Israelite religion, contextualizing biblical theology with Israelite and ancient Near Eastern religion, Jewish binitarianism, textual criticism, comparative philology, and Second Temple Jewish literature. He was named the 2007 Pacific Northwest Regional Scholar by the Society of Biblical Literature.
Getting the most out of Mobile Ed
Logos Mobile Education is a highly effective cross-platform learning environment that integrates world class teaching with the powerful study tools and theological libraries available in Logos Bible Software. Every course provides links to additional resources and suggested readings that supplement the lecture material at the end of every transcript segment.
This course comes with an Activities resource that functions as a type of "workbook" for the course. This resource includes learning activities such as: places for you to respond to reflection questions, exercises that will challenge and show you how deepen your understanding of this course by using specific Logos tools and resources, tutorial videos on different features of Logos Bible Software, and links to relevant Logos guides and tools. A link to open the Activities resource is conveniently placed at the end of every segment.
More details about these resources