The Library of Ancient Israel (2 vols.)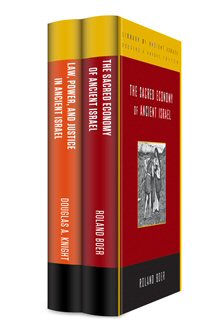 Overview
Volumes in the Library of Ancient Israel draw on multiple disciplines, such as archaeology, anthropology, sociology, linguistics, and literary criticism to illuminate the everyday realities and social subtleties these ancient cultures experienced. This series employs sophisticated interpretive methods to depict the realities faced by everyday people who lived during the Old Testament's era. Accessible and highly informative, these volumes educate students of the Bible and ancient history the nuances of Israelite social conditions and the nuances of their civic and religious exercises.
In the Logos editions, these volumes are enhanced by amazing functionality. Important terms link to dictionaries, encyclopedias, and a wealth of other resources in your digital library. Perform powerful searches to find exactly what you're looking for. Take the discussion with you using tablet and mobile apps. With Logos Bible Software, the most efficient and comprehensive research tools are in one place, so you get the most out of your study.
Key Features
Provides nuanced scholarship about the daily lives and practices about ancient Israelistes
Applies rigorous methods of scholarship to extrapolate and present detailed historical data
Engages a wide audience with intriguing and accessible style
Individual Titles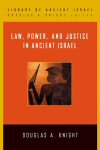 From leading Old Testament scholar Douglas A. Knight comes this volume in the Westminster John Knox Library of Ancient Israel series. Using socio-anthropological theory and archaeological evidence, Knight argues that while the laws in the Hebrew Bible tend to reflect the interests of those in power, the majority of ancient Israelites—located in villages—developed their own unwritten customary laws to regulate behavior and resolve legal conflicts in their own communities. This book includes numerous examples from village, city, and cult.
Building painstakingly on archaeological data and social-anthropological theory, Knight exposes the gap between biblical rhetoric and historical reality.
—Philip R. Davies, professor emeritus of biblical studies, University of Sheffield
Knight's book fills a large gap in the study of the legal systems of ancient Israel.
—Philip R. Davies, Patrick D. Miller, professor emeritus, Princeton Theological Seminary
A superb study of the legal texts of the Hebrew Bible and of the practice of law in ancient Israel.
—Norman K. Gottwald, professor emeritus, New York Theological Seminary
Knight offers an excellent treatment of the laws of ancient Israel and provides a significant methodological model for future scholarly discussions of these laws.
—Cheryl B. Anderson, associate professor of Old Testament, Garrett-Evangelical Theological Seminary
Douglas A. Knight was the Drucilla Moore Buffington Professor of Hebrew Bible and Professor of Jewish Studies at Vanderbilt University. He currently serves as general editor of the series Library of Ancient Israel and is the author or editor of numerous other books, including Tradition and Theology in the Old Testament, Rediscovering the Traditions of Israel, and The Meaning of the Bible.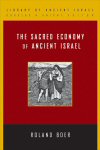 The Sacred Economy of Ancient Israel offers a new reconstruction of the economic context of the Bible and of ancient Israel. The author argues that the key to ancient economies is with those who worked on the land rather than in intermittent and relatively weak kingdoms and empires. Drawing on sophisticated economic theory (especially the Régulation School) and textual and archaeological resources, Roland Boer makes it clear that economic "crisis" was the norm and that economics is always socially determined. He examines three economic layers: the building blocks (five institutional forms), periods of relative stability (three regimes), and the overarching mode of production. Ultimately, the most resilient of all the regimes was subsistence survival, for which the regular collapse of kingdoms and empires was a blessing rather than a curse. Readers will gain a clear understanding of the dynamics of the economy of ancient Israel. Boer's volume should serves as a new benchmark for future studies of ancient Israel.
Boer's growing corpus of critical work has not received nearly the attention that it merits. With this book Boer establishes himself as a frontline critical scholar whose work will be an inescapable reference point for future work. This courageous book is nothing short of a tour de force in which Boer probes the economic organization, structure, practice, and resources of the ancient Near East and ancient Israel as a subset of that culture. His study is organized around 'regimes' of allocation that distribute resources and of extraction that plunder resources according to the deployment of sociopolitical power. The discussion maintains a continuing dialectic of 'subsistence' and 'surplus' that kept economic practice endlessly open and unstable. It is impossible to overstate the importance of this book and the sheer erudition that has made it possible. Boer's patient attention to detail, his mastery of a huge critical literature, and the daring of his interpretive capacity combine to make this book a 'must' for any who want to probe the economic substructure of biblical faith and the culture that was its environment.
—Walter Brueggemann, William Marcellus McPheeters Professor Emeritus of Old Testament, Columbia Theological Seminary
A masterful integration of biblical studies, archaeology, and Marxist critical theory that greatly enriches our understanding of the economics of ancient Israel in the larger context of Southwest Asia. Boer analyzes how the five building blocks of this economy-subsistence survival, kinship household, patronage, (e)states, and tribute exchange-rearranged themselves under three economic regimes to respond to different economic situations. Key to Boer's argument is the fact that any economic crisis or collapse in the Levant, including Israel, primarily affected the upper classes, not the majority of the population. From the perspective of subsistence farmers, indentured servants, and debt slaves, the collapse of kingdoms and empires meant a reprieve from oppressive forms of extraction and the reemergence of the durable subsistence regime. A stimulating and provocative contribution that will be required reading for future investigations into the Bible and economics.
—Gale A. Yee, Nancy W. King Professor of Biblical Studies, Episcopal Divinity School
This is a remarkable book. It is a brilliant analysis of ancient Israel in its broader historical context. Boer has a more profound and extensive knowledge of the ancient economy than any other scholar working on the ancient world. Given the prevailing neoliberal ideology in Western societies, many biblical and ancient Near East scholars looked for trade in an early capitalist market economy; but working from a profound knowledge of the history of political economic theory, Boer offers a desperately needed counter to such anachronistic analysis.
—Richard A. Horsley, distinguished professor emeritus of liberal arts and the study of religion, University of Massachusetts
Roland Boer offers the reader a comprehensive and exhaustive study of Israel's economy in the context of the ancient world. He draws all sorts of economic theories and models into both use and criticism. The reader is encouraged to read through to the end, where Boer asks the question-and seeks to answer it-as to what normative patterns can be discerned for considering economic life today.
—Patrick D. Miller, Charles T. Haley Professor of Old Testament Theology Emeritus, Princeton Theological Seminary
Roland Boer's informative and colorful study provides a thorough treatment of the 'sacred economy' of ancient Israel. Boer examines household structures, the plight of subsistence farmers, and financial exchanges. By applying the insights of economic theory, Boer is able to offer a fresh appraisal of key biblical texts. Full of interesting facts and lively prose, this book is essential reading for anyone who wants to understand the vagaries of economic life during the period in which the Bible was written.
—Samuel L. Adams, associate professor of biblical studies, Union Presbyterian Seminary
The Sacred Economy of Ancient Israel is nothing short of groundbreaking. Through an unparalleled understanding of economic theory, Boer corrects two misguided assumptions in approaching biblical economies: the tendency to assume capitalist structures and the tendency to isolate economy from the rest of the social world. Boer cogently articulates how the economy of Ancient Israel was deeply integrated into its religious institutions. With lucid prose and engaging style, this book will be a welcome resource for students and scholars for years to come.
—Roger S. Nam, associate professor of biblical studies, George Fox University
Roland Boer is Professor of Literary Theory at Renmin (People's) University of China, Beijing, and Research Professor in Religious Thought at the University of Newcastle, Australia. An internationally recognized lecturer, he is the author of numerous articles and books, including In the Vale of Tears; Lenin, Religion, and Theology; Criticism of Earth and Political Grace.
More details about these resources