Mobile Ed: CS121 Cultural Engagement and Scripture (4 hour course)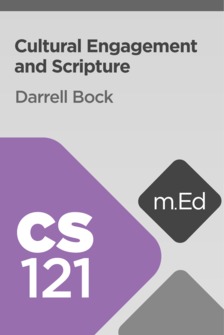 Mobile Ed: CS121 Cultural Engagement and Scripture (4 hour course)
•
Runs on Windows, Mac and mobile.
Overview
How do we live together well? How do we culturally engage in the manner that's best for everyone, considering the diversity that we live in the midst of? Dr. Darrell Bock guides you through cultural engagement and Scripture and asks Christians to analyze the cultures that they live in and the ways they structure their lives. Bock explores the rules of the game of life, what makes people produce what we produce, the ways they work the earth, the ways we generate companies, the way they produce objects, the institutions that we form, the religions that we have, the kinds of governments that we build, the businesses that function, and all the things that make for the running of life. Delve into our world that is full of cultures and distinct settings and examine the cross-cultural realities and the pluralism that we all live with as human beings.
Learning Objectives
Upon successful completion you should be able to:
Define the terms "culture" and "cultural engagement"
Develop a positive tone of cultural engagement
Combine word and deed as part of your approach when talking about, personally reflecting on, and living out the gospel
Apply the roles of listening and hearing when a person is speaking to you of spiritual issues
Translate theological concepts into everyday language
Challenge worldviews and perspectives and tackle difficult conversations
Course Outline
Introduction
Introducing the Speaker and the Course
Unit 1: Introduction to Culture and Cultural Engagement
Thinking about Culture
Culture Does Not Equal the World
People in Culture: What Creation Tells Us
The Human Calling
The Christian's Place in the Culture
A Core Tension: Diversity of Views
Richard Niebuhr on Christ and Culture: Six Approaches
Unit 2: The Hermeneutics of Cultural Engagement
The Bible and Culture: The Hermeneutics of Reading Both
Reading from Life Back to the Bible
The Core Tension
An Invitation and Call
LBGT Issues: An Overview
Common Texts against Same-Sex Marriage
Things the Bible Is Said to Say about Same-Sex Marriage
Civil and Pastoral Questions
Other Relevant Issues
Layers of Complexity
Unit 3: Scripture and Cultural Engagement
Paul's Tone of Cultural Engagement in Romans 1 and 3
Paul's Tone of Cultural Engagement in Acts 17
Lessons fromPaul
Observations about Doing Cultural Reflection in Scripture
Unit 4: The Application of Cultural Engagement
Theme One: Tone
Texts on Tone: 1 Peter 3:13–16
Texts on Tone: Colossians 4:4–6 and Galatians 6:10
Theme Two: Tone and Mission
Texts on Tone and Mission: 2 Corinthians 5:17–21
The Ambassador
Reconciliation
Summary of Tone and Mission
Theme Three: Combining Word and Deed
Loving One's Neighbor with Compassion and Care
Caring Paves the Way for Challenge
Theme Four: The Role of Listening
How to Listen
How Not to Listen
Theme Five: Translating Theology
Defending Scripture: Part 1
Defending Scripture: Part 2
Theme Six: Making the Challenge
The Influence of Differing Worldviews
How to Engage: Galatians 6:1
What the Image of God Means
The Starting Point and the Finishing Point
Conclusion
Product Details
Title: CS121 Cultural Engagement and Scripture
Instructor: Darrell L. Bock
Publisher: Lexham Press
Publication Date: 2016
Product Type: Logos Mobile Education
Resource Type: Courseware, including transcripts, audio, and video resources
Courses: 1
Video Hours: 4
About Darrell L. Bock
Dr. Darrell L. Bock is senior research professor of New Testament studies and executive director of cultural engagement at Dallas Theological Seminary, serves as editor-at-large for Christianity Today, and is on the boards of Chosen People Ministries and Wheaton College. From 2000 to 2001, Dr. Bock served as president of the Evangelical Theological Society.
He has earned international recognition as a Humboldt Scholar and for his work in Luke-Acts, historical Jesus study, and biblical theology, as well as for his work with messianic Jewish ministries. He has published articles in the Los Angeles Times and The Dallas Morning News and is a well-known author of over 30 books. His publications include Studying the Historical Jesus: A Guide to Sources and Methods, Jesus according to Scripture, the NIV Application Commentary on Luke, Breaking the Da Vinci Code, and commentaries on Acts and Luke in the Baker Exegetical Commentary on the New Testament (BECNT) series.
Getting the most out of Mobile Ed
Logos Mobile Education is a highly effective cross-platform learning environment that integrates world class teaching with the powerful study tools and theological libraries available in Logos Bible Software. Every course provides links to additional resources and suggested readings that supplement the lecture material at the end of every transcript segment.
This course comes with an Activities resource that functions as a type of "workbook" for the course. This resource includes learning activities such as: places for you to respond to reflection questions, exercises that will challenge and show you how deepen your understanding of this course by using specific Logos tools and resources, tutorial videos on different features of Logos Bible Software, and links to relevant Logos guides and tools. A link to open the Activities resource is conveniently placed at the end of every segment.
More details about these resources