Mobile Ed: BI260 Interpreting New Testament Genres (9 hour course)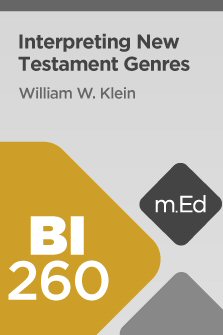 Mobile Ed: BI260 Interpreting New Testament Genres (9 hour course)
•
Runs on Windows, Mac and mobile.
Overview
Develop a new level of competency in interpreting the New Testament with Dr. William Klein's guidance and insight on New Testament genres. Learn how to interpret the different genres found in the New Testament epistles. Distinguish which events in Acts are meant to be descriptive, describing what happened, and which are meant to be prescriptive, instructing on how to live. Discover how the book of Revelation combines three genres, and how this affects its interpretation.
Dr. Klein concludes each unit with practice exercises. He challenges you to interpret a passage using the methods he describes, and then shows you step-by-step how he would interpret it.
Contents
Introduction
Introducing the Speaker and the Course
Unit 1: Introductory Matters
The Bible as Literature
Develop Reading Proficiency
Suggested Resources
Unit 2: The Gospels
Definition of Gospel Genre
Creating Collections and Using Factbook to Search Gospels
Gospel Genre Resources
Historical Trustworthiness
Using the Louw-Nida Numbers and Parallel Passages in the Gospels
A Reading Strategy
Using Interactive Media Datasets in Gospel Research
The Gospels' Audience, Part 1
The Gospels' Audience, Part 2
Kingdom of God
Ethics of Jesus
Interpretation Exercise 2.1: Parables and Allegory
Principles for Interpreting Parables
Interpretation Exercise 2.2: The Tower Parable; Tares Parable
Unit 3: The Book of Acts
The Genre of Acts
Dataset Tracking of Narrative Characters in Acts
Resources on Acts
Think Vertically
The Significance of Pentecost
Acts as Narrative
What Is Normative?
Interpretation Exercise 3.1: The Ethiopian Eunuch (Acts 8)
Using Literary Types to Find Narrative Patterns in Acts
Unit 4: Epistles
Defining the Genre
Defining an Epistle
Using a Gospel Harmony and Interactive Media with Epistles
Epistle Resources
Interpretive Principles: Function
Interpretive Principles: Historical-Cultural Background and Grammar
Interpretive Principles: Grammar
Interpretive Principles: Word Studies
Subgenres, Part 1
Subgenres, Part 2
Subgenres Summary
Rhetorical Structure
Rhetorical Discourse
Hymns and Creeds
Using Factbook and BDAG with Colossians 1:15
Household Codes
Slogans, Part 1
Slogans, Part 2
Vice and Virtue Lists
Interpretation Methodology
Interpretation Exercise 4.1: Studying Ephesians 2:1–10
The Bible Sense Lexicon and Ancient Literature in Ephesians 2:2
Interpretation Exercise 4.2: Interpreting Ephesians 2:1–10
Interpretation Exercise 4.3: Applying Ephesians 2:1–10
Unit 5: The Book of Revelation
Introduction to Revelation
Revelation as an Epistle
Background of the Book
Resources on Revelation
Revelation as Prophecy
The Preterist View of Prophecy
The Historicist View of Prophecy
The Idealist View of Prophecy
The Futurist View of Prophecy
An Eclectic View of Prophecy
The Structure of Revelation: Two Options
Sympathetic Highlighting with Milestone Searching in Revelation
The Structure of Revelation: A Third Option
Revelation as Apocalyptic
Primary Characteristics of Apocalyptic
Symbolism in Revelation
The Emperor Cult
The Distinctive Nature of Revelation
Interpretation: Steps 1–3
Interpretation: Step 4
Interpretation: Step 5
Interpretation Exercise 5.1: The Temple (Rev 11:1–6)
Dataset and Commentary Searching of "Temple" in Revelation
Interpretation Exercise 5.2: The Two Witnesses (Rev 11:1–6)
Conclusion
Product Details
Title: BI260 Interpreting New Testament Genres
Instructor: William W. Klein
Publisher: Lexham Press
Publication Date: 2015
Product Type: Logos Mobile Education
Resource Type: Courseware, including transcripts, audio, and video resources
Courses: 1
Video Hours: 9
About Dr. William W. Klein
Dr. William W. Klein is professor of New Testament at Denver Seminary and serves as Chair of the Division of Biblical Studies. He edited and was the major contributor to Introduction to Biblical Interpretation, wrote the commentary on Ephesians in the Expositor's Bible Commentary, Revised Edition, and has consulted on several recent Bible versions, serving as chief exegetical consultant for the New Testament portion of The Message.
Getting the most out of Mobile Ed
Logos Mobile Education is a highly effective cross-platform learning environment that integrates world class teaching with the powerful study tools and theological libraries available in Logos Bible Software. Every course provides links to additional resources and suggested readings that supplement the lecture material at the end of every transcript segment.
This course was produced with screencast videos. These videos provide tutorials showing you how to use Logos Bible Software in ways that are tied directly into the content of the course. We are now producing Activities resources as a replacement for screencast videos. We plan on updating this course to include this additional Activities resource in the future for no extra charge.
More details about these resources