Mobile Ed: NT390 Jesus as Rabbi: The Jewish Context of the Life of Jesus (8 hour course)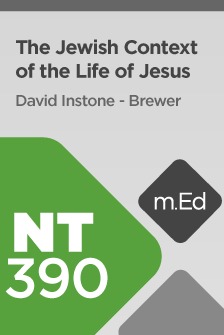 Mobile Ed: NT390 Jesus as Rabbi: The Jewish Context of the Life of Jesus (8 hour course)
•
Runs on Windows, Mac and mobile.
Overview
Explore the words of Jesus through the context of His conversations with other Jews. From the role of ancient rabbis and rabbinic literature to portrayals of Jesus in the Talmud, Dr. Instone-Brewer reveals how Jesus' teachings were influenced by His Jewish life. We see Jesus attending the Jewish festivals, interacting with the Jewish leaders and laypeople and teaching them about the Father that He came from, was representing, and was going back to.
Learning Objectives
Upon successful completion you should be able to:
Explain what Jesus was seeking to accomplish through His prayers, His miracles, and His teachings about salvation and sin
Hold an informed perspective on Jesus' teaching for increased understanding and devotion
Course Outline
Unit 1: The Rabbis
Evidence for Jewish Life
Well Preserved Oral Law
Example: A Rule about Sabbath Years
Getting Back to the Original
Significance for the NT in These Traditions
Who Were the "Rabbis"?
Unification after AD 70
Fragmentation in NT Times
Were the Rabbis Influential in NT Times?
Unit 2: Rabbinic Literature
What Is Rabbinic Literature?
The Collections
The Contents
The Authors
Dating Traditions
Example: What You Can Carry on a Sabbath
Using Dated Traditions
Unit 3: Jesus in the Talmud
Printing and Censorship
The Printed Talmud
Censored Passages
Censored Arrest Warrant
Dating This Tradition
The Story of This Text
Digging into the Trial Traditions
Correcting the Historic Core
What Is the Origin of This Tradition?
Unit 4: Jesus' Halakhic Teaching
Rabbinic Sayings of Jesus
Jesus' Disappointing Disciples
Disciples Who Copy Their Master
Non-academic Disciples
Jesus' Halakhic Teaching on Cleanliness
Public and Private Teaching
Parallels with Yohanan b. Zakkai
Jesus on Qorban
Jesus in Translation
Jesus' Own Halakhah
Unit 5: Jesus' Commandments
How Many Laws in Judaism?
The Fence around the Law
Jesus' Two Commandments
The Yoke of the Kingdom
Jews in the Church
Laws That Jesus Kept
But I Tell You …
Not Breaking the Sabbath
Laws That Jesus Rejected
Fulfilling the Law
Unit 6: Jesus' Aggadic Teaching
Jesus the Preacher
Sermon at Nazareth
Identifying the Links
Parables
Parable about Legalism
A Parable Jesus Heard
Moral or Spiritual Sayings
Examples from Mishnah Abot
Unit 7: Jesus' Jewish Prayers
Jewish Prayer Life
The Oldest Amidah
The Text of the Amidah
How Was This Said?
NT Allusions to the Amidah
Curing the Heretics
The Shorter Abstract
The Lord's Prayer
God as Father
Daily Bread
Demanding Forgiveness
Reality of Personal Evil
For Ever and Ever
Unit 8: Sin and Salvation
Is Sin Important?
Sin at the Start
John's Baptism
Day of Atonement
The Unforgivable Sin
Being Brought to Repentance
Forgiving Others
Hell for the Unrepentant
Three Groups at Judgment
Hell Is for Eternity
Jesus' Distinctive Teaching
Jesus' "Two" Way
Unit 9: Jesus' Miracles and Exorcisms
Jesus Miraculous Ministry
Miracles and Gullibility
Jewish Miracle Workers
Contrasts with Jesus' Healings
Feeding Thousands
First-Century Jewish Etiquette
Tithing Bread
Exorcism in Judaism
Exorcisms of Jesus
Exorcisms by Others
Exorcisms after the NT
Unit 10: Jesus' Festivals Visits
Festivals in First-Century Judaism
Jesus' First Festival
Jesus at Tabernacles
Water and Light at Tabernacles
Palm Sunday
Did Jesus Keep Passover?
Two Passover Dates
Evidence without a Solution
Jesus' Passover Meal
Product Details
Title: NT390 Jesus as Rabbi: The Jewish Context of the Life of Jesus
Instructor: Dr. David Instone-Brewer
Publisher: Lexham Press
Publication Date: 2016
Product Type: Logos Mobile Education
Resource Type: Courseware, including transcripts, audio, and video resources
Courses: 1
Video Hours: 8
Dr. David Instone-Brewer
Dr. David Instone-Brewer graduated from South Wales Baptist College with the highest marks in that college's history and later earned his PhD from Cambridge University, where he studied early rabbinic exegesis. Dr. Instone-Brewer ministered at the Llanishen Baptist Church in Cardiff for five years and is now research fellow and technical officer for Tyndale House, which is, arguably, among the three best libraries in the world for biblical studies.
Specializing in rabbinic studies, Dr. Instone-Brewer has been a regular contributor to Christianity magazine and has written several books, including Traditions of the Rabbis from the Era of the New Testament.
Getting the most out of Mobile Ed
Logos Mobile Education is a highly effective cross-platform learning environment that integrates world class teaching with the powerful study tools and theological libraries available in Logos Bible Software. Every course provides links to additional resources and suggested readings that supplement the lecture material at the end of every transcript segment.
This course comes with an Activities resource that functions as a type of "workbook" for the course. This resource includes learning activities such as: places for you to respond to reflection questions, exercises that will challenge and show you how deepen your understanding of this course by using specific Logos tools and resources, tutorial videos on different features of Logos Bible Software, and links to relevant Logos guides and tools. A link to open the Activities resource is conveniently placed at the end of every segment.