Biblical Theology Collection (21 vols.)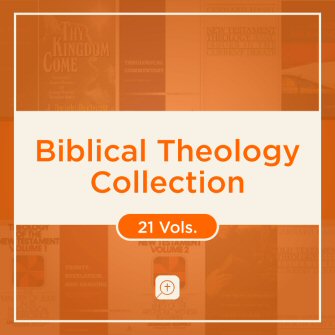 Overview
Bulk up your biblical theology library with a collection of resources carefully curated to cover a range of theological topics. The Biblical Theology Collection gathers prominent voices and examines key themes in biblical theology—adding depth and filling gaps in your collection of theological studies.
Get insight from scholars including Michael Barrett, Charles Ryrie, Gerhard Hasel, Charles Scobie, and others. See Scripture's narrative clearly connect and develop a deeper understanding of the development of theology across the entire Bible. From finding Christ in the Old Testament, to biblical ecclesiology, to studies of worship, to tracing covenant promises—this collection provides a full range of resources to equip your biblical studies and understanding of theological issues within a comprehensive biblical framework.
In the Logos editions, these volumes are enhanced by amazing functionality. Scripture citations link directly to English translations, and important terms link to dictionaries, encyclopedias, and a wealth of other resources in your digital library. Perform powerful searches to find exactly what you're looking for. Take the discussion with you using tablet and mobile apps. With Logos Bible Software, the most efficient and comprehensive research tools are in one place, so you get the most out of your study.
Key Features
Presents a wide range of biblical theology resources
Connects specific theological topics to the whole narrative of Scripture
Draws from key voices in the field of biblical theology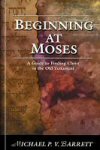 Beginning at Moses: A Guide to Finding Christ in the Old Testament
Author: Michael P.V. Barrett
Publisher: Ambassador-Emerald
Publication Date: 1999
Pages: 346
Although not on every line and perhaps not on every page, the message of Christ overshadows the entire Old Testament. Finding Christ is the key that unlocks and locks in the message of the whole Word of God. Jesus Christ is God's final, perfect, incomparable Word.
Beginning at Moses seeks to follow the example of Christ himself who, "beginning at Moses and all the prophets," expounded from all the Scripture the things concerning himself.
It is the rare combination of consecrated scholarship and passionate devotion that makes Beginning at Moses a unique book. It is, in my estimation, a must for anyone who is serious about Bible study—or better yet—for anyone who is serious about his devotion to Christ . . .
—Thurman Wisdom, dean, School of Religion, Bob Jones University
Michael P.V. Barrett is the president of Geneva Reformed Seminary and an associate minister of Faith Free Presbyterian Church, Greenville, South Carolina. Raised in a Christian home, he was converted as a child and was called to the Christian ministry early in his college career. By divine providence, he was led to pursue that ministerial call in the field of academics. He earned his doctorate in Old Testament text with a special focus on Semitic languages. Formerly a member of the Reformed Presbyterian Church, Evangelical Synod, Barrett has had an active role in the ministry of the Free Presbyterian Church since its inception in North America. He is a member of the Evangelical Theological Society and has published numerous articles in both professional and popular journals.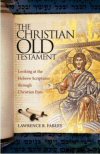 The Christian Old Testament: Looking at the Hebrew Scriptures through Christian Eyes
Author: Lawrence R. Farley
Series: Orthodox Bible Study Companion Series
Publisher: Ancient Faith Publishing
Publication Date: 2012
Pages: 160
Many Christians see the Old Testament as "the other Testament": a source of exciting stories to tell the kids, but not very relevant to the Christian life. The Christian Old Testament reveals the Hebrew Scriptures as the essential context of Christianity, as well as a multi-layered revelation of Christ himself.
Archpriest Lawrence Farley currently pastors St. Herman of Alaska Orthodox Mission (OCA) in Langley, Canada. He received his BA from Trinity College, Toronto, and his MDiv from Wycliffe College, Toronto. A former Anglican priest, he converted to Orthodoxy in 1985 and studied for two years at St. Tikhon's Orthodox Seminary in Pennsylvania. He has also published A Daily Calendar of Saints and gives a regular podcast called Coffee Cup Commentaries.

SPCK Old Testament Introduction Collection (3 vols.)
Author: David Hinson
Series: SPCK International Study Guides
Publisher: SPCK
Volumes: 3
Pages: 702
The SPCK Old Testament Introduction Collection offers those embarking on a study of the Old Testament the tools to plot a course to the eternal truth lying within its ancient pages. In each of the three volumes, David F. Hinson provides a straightforward introduction to a different aspect of Old Testament study. History of Israel gives an account of the history of the Jews. The volume presents their relationship with God and the cultures around them, and investigates how both affected the Jews' movements through history. The Books of the Old Testament explores the OT books themselves; their authoring, their canonization, and their present form. Theology of the Old Testament brings the light of the New Testament to bear on the OT books, showing that the ultimate end of OT theology is Christ Himself. Each volume is illustrated, and includes maps, time charts, photographs, and suggestions for further discussion and study.
The SPCK Old Testament Introduction Collection is part of SPCK's International Study Guides series of books. Written by scholars with experience of the worldwide Church, the acclaimed Guides combine trustworthy scholarship with clarity, simplicity and non-technical language. Ecumenical in authorship and outlook, the Guides are ideal for first-year theology students, Bible study groups, multi-cultural classes, people for whom English is a second language, and anyone who needs a sound but accessible guide to the Bible and theology.
David Hinson is a retired Methodist minister with extensive experience teaching theological students in Tanzania.

Biblical Theology Set (3 vols.)
Publisher: Eerdmans
Volumes: 3
Pages: 1,554
To acquire a comprehensive biblical theology is not easy for the student or scholar in light of the myriad of interpretations, ideas, and discussions surrounding the nature and scope of the Old and New Testaments. Drs. Hasel and Scobie offer excellent solutions to the problem. While providing a thorough survey of the pertinent literature of many leading scholars, Hasel suggests several basic proposals for studying theology with an historical and theological method which seeks to be faithful to the biblical material. Scobie offers a unified approach to Scripture that encompasses the entire sweep of divine revelation, uniting the Old and New Testaments with themes that connect God to the history of His people.
In this bold and impressive book Charles Scobie has accomplished what many biblical scholars would regard as virtually impossible. Working with a framework of promise and fulfillment and taking a thematic approach, Scobie has produced a unified biblical theology—that is, a truly integrated theology of both Old and New Testament. Encyclopedic in its coverage, fully conversant with scholarship, sensitive in its treatment of the issues, and evangelical in perspective, Scobie's brilliant synthesis brings the whole of the Bible back to the church. Here is a book that is not only informative but also edifying. A magnificent accomplishment.
—Donald A. Hagner, Fuller Theological Seminary
Charles Scobie offers a remarkably clear and nontechnical account of the theology of the Bible as a whole in its canonical form. It is comprehensive and orderly, more concerned to set out the teaching and implications of the text than to engage in critical investigations of what lies behind the text, and aiming to provide the church with a basis for the development of its own systematic theology. At a time when the compartmentalization of biblical and theological studies is being increasingly deprecated, it is good to have an author who is so knowledgeable in both the Old Testament and the New Testament and able to produce such an attractive synthesis of their teaching, demonstrating that they do indeed belong together as witness to God's ongoing revelation and redeeming work.
—I. Howard Marshall, University of Aberdeen
Breathtaking in its scope and audacious in its execution, Charles Scobie's book tackles with erudition and clarity a task that, for a couple of generations now, scholars have thought impossible. Scobie demonstrates convincingly that biblical theology can be done intelligently and can illuminate the life and practice of the Christian church.
—Peter Richardson, University of Toronto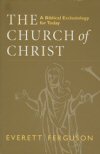 Dr. Ferguson offers a genuine biblical theology of the church that the pastor, church leader, layperson and student will find informational and useful. He systematically examines the New Testament's teaching on the existence, meaning and purpose of the church. Carefully grounding ecclesiology in the person and work of Christ, Ferguson unveils a comprehensive model of the church that is both biblically centered and relevant. After emphasizing the value of the Old Testament for the Christian, he presents three important images regarding the nature of the church: the people of God, the body of Christ, and the community of the Spirit. His treatment of sin, the cross, and the human response to God is connected to his idea of ecclesiology. Worship, baptism, gifts, ministry, Christian ethics, discipline and unity are some of the major themes the author addresses. The "Today" in the subtitle does not imply an adapting of biblical ecclesiology to the interests of the present, but is meant to emphasize that biblical ecclesiology is viable today.
A comprehensive yet very detailed study of New Testament ecclesiology. . . . Although particularly appropriate for those who wish to understand the doctrinal emphases of Churches of Christ, this irenic and incisive study will prove beneficial to anyone interested in understanding the teachings of the New Testament regarding the church.
—W.R. Estep, Southwestern Baptist Theological Seminary
Ferguson has written a thorough, biblically centered, and immensely scholarly textbook on the church that can be used by scholars in the university as well as by ministers and serious students. Without any reservations I recommend The Church of Christ: A Biblical Ecclesiology for Today.
—Will Ed Warren, Harding University
Everett Ferguson received his PhD from Harvard University and served on the faculty of Abilene Christian University in Abilene, Texas, beginning in 1962, where he taught church history and Greek. He is now professor emeritus in its College of Biblical Studies and distinguished scholar-in-residence. Although he retired from full-time teaching in 1990 to devote himself to research, he occasionally teaches a few classes at ACU. He is the author of many books, including Backgrounds of Early Christianity.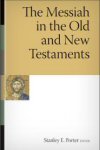 The Messiah in the Old and New Testaments
Author: Stanley Porter
Publisher: Eerdmans
Publication Date: 2007
Pages: 282
When the ancients talked about "messiah", what did they picture? Did that term refer to a stately figure who would rule, to a militant who would rescue, or to a variety of roles held by many? While Christians have traditionally equated the word "messiah" with Jesus, the discussion is far more complex. This volume contributes significantly to that discussion.
Ten expert scholars here address questions surrounding the concept of "messiah" and clarify what it means to call Jesus "messiah." The book comprises two main parts, first treating those writers who preceded or surrounded the New Testament (two essays on the Old Testament and two on extrabiblical literature) and then discussing the writers of the New Testament. Concluding the volume is a critical response by Craig Evans to both sections. This volume will be helpful to pastors and laypersons wanting to explore the nature and identity of the Messiah in the Old and New Testaments in order to better understand Jesus as Messiah.
The book reflects careful thought and intense study of many publications on Jewish messianism.
—James H. Charlesworth
Overall, this collection of papers is a helpful introduction to the messianism of the New Testament. The essays by Porter, Thatcher, and Cummins were particularly helpful expositions of the Christologies of the New Testament and how they focused on Jesus as Messiah.
—Michael F. Bird
Stanley Porter is president, dean, and professor of New Testament at McMaster Divinity College in Hamilton, Ontario. He is the author of several books, including Idioms of the Greek New Testament, Verbal Aspect in the Greek of the New Testament, Paul in Acts, and The Criteria for Authenticity in Historical-Jesus Research. Porter is also the editor of more than forty other books.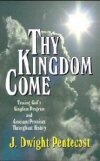 Noted Bible teacher J. Dwight Pentecost traces the sweeping history of the kingdom program from eternity past to eternity future, relating it to the development of the convenant promises. Some of the key issues discussed in the book include:
How do interpretations of the "kingdom of God" differ?
How can we distinguish the various covenants of the Old Testament?
How does the church relate to the covenants made with Israel?
What will the future kingdom be like?
While Pentecost's study of the kingdom represents thirty years of scholarly research and teaching, his style can be readily appreciated by the general Christian reader.
J. Dwight Pentecost is Distinguished Professor of Bible Exposition, Emeritus, at Dallas Theological Seminary where he has served since 1955. He holds a BA from Hampden-Sydney College and ThM and ThD degrees from Dallas Theological Seminary.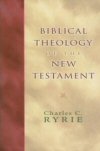 Biblical theology is concerned with the reasons why something was written as well as with the content of what was written. It not only examines the product but also investigates the procedures and presuppositions that went into writing the Scriptures.
The Word of God is seen in the manner in which it is revealed progressively. The whole is traced in the way God gave the Bible part by part. The perspective is that of the historical setting in which the truth came. The theology of the Bible emerges out of the thought of the writers as seen in their writings; it is never superimposed on those writings.
This book will help you learn the teachings of the New Testament and see that theology is part of the very fabric of the Bible. It is simply and clearly written and will be of benefit to all who want to learn more about the teachings of the Bible.
Charles C. Ryrie is a renowned author and scholar. He has written dozens of books which have sold more than 1.5 million copies worldwide. As a scholar, he has served in several capacities throughout this career. He was ordained by the First Baptist Church in Alton, Illinois. He spent five years at Westmont College, first as professor, later as dean of men and chairman of biblical studies and philosophy. In 1958 he became president of Philadelphia College of Bible. He spent most of his career as a professor of systematic theology at Dallas Theological Seminary in Dallas, Texas. The father of three, he is now professor emeritus of systematic theology at Dallas Theological Seminary and acts as visiting professor of theology at Philadelphia College of Bible.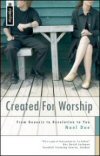 Created for Worship: From Genesis to Revelation to You
Author: Noel Due
Publisher: Christian Focus Publications
Publication Date: 2005
Pages: 320
Noel Due has produced a hugely important work into the biblical theme of worship, demonstrating the centrality of worship for human existence. He traces the theology of worship in the Bible and shows its significance for all the people of God. There is a comprehensive analysis of worship from Genesis to Revelation, investigating captivating areas from worship in the letters of Paul and Peter to Jesus and the transformation of worship.
As Christians we should aspire to worship God with all of our being, and Noel Due reveals to us the intensity of the battle for true worship and sheds invaluable light on the issues informing our understanding of worship.
Noel Due is Senior Pastor of Coromanderal Baptist Church, Blackwood, South Australia. He was previously the Pastoral Theology Lecturer at the Highland Theological College

T&T Clark Studies in Biblical Theology and Theological Interpretation (4 vols.)
Publisher: T&T Clark
Volumes: 4
Pages: 968
Taken out of context, the Bible is constantly misrepresented. Biblical theology searches for the Bible's over-arching message and interprets individual sections of Scripture through that lens. T&T Clark Studies in Biblical Theology and Theological Interpretation provides stepping stones for those new to studies of biblical theology, and insightful commentaries for people familiar with theological interpretation. These texts give readers the intellectual tools to take on more advanced theological concepts and interpret Scripture for themselves. For those questioning the merits of studying ancient Scripture in our modern world, New Testament Theology and Its Quest for Relevance offers a much-needed answer. Together, these four books make one of the most accessible theological studies available.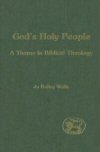 God's Holy People focuses on the character of Israel, and examines the relationship between Israel and the nations as a framework for understanding Christian mission. God mandates holiness for Israel—Israel must be different from other peoples, because Israel belongs to Yahweh. Yet what does it mean to be a holy nation and a priestly kingdom? This book addresses two questions: What does holiness mean, and what to the dynamics of holiness in Scripture say about reading Scripture? Holiness, according to Jo Bailey Wells, focuses on faithful adherence to God's covenant in all aspects of worship and life.
. . . A useful analysis of a familiar biblical theme that is not often studied. . . . I recommend to scholars and students.
—Catholic Biblical Quarterly
Bailey Wells is to be commended for the careful, fresh and hermeneutically alert approach to this familiar biblical theme.
—Biblical Interpretation: A Journal of Contemporary Approaches
Jo Bailey Wells is Professor of Old Testament and the director of Anglican Studies at Duke Divinity School.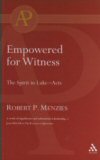 With this study, Menzies sets a new standard for pneumatology. Beginning with an overview of the pneumatological perspectives of intertestamental Judaism (including literature from the Diaspora, Palestinian, Qumran and rabbinic sources), the first section concludes that for the most part these sources "consistently identify experience of the Spirit with prophetic inspiration." The next section aims to uncover Luke's distinctive pneumatology, employing a redaction critical method of analysis in order to illustrate Luke's similarly consistent portrayal of the Spirit as the source of prophetic inspiration, rather than as the source of Christian existence. The final section goes on to explore how this conclusion impacts on contemporary theological reflection and spiritual life.
Robert P. Menzies is Lecturer in New Testament and Director of the China Studies Program at Asia Pacific Theological Seminary, Baguio City, Philippines.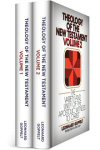 Theology of the New Testament (2 vols.)
Author: Leonhard Goppelt
Translator: John Alsup
Publisher: Eerdmans
Publication Date: 1983
Volumes: 2
Pages: 692
This English translation of Leonhard Goppelt's two-volume New Testament theology provides scholars, pastors, students, and interested laity with a significant contribution to the burgeoning field of biblical theology. In these volumes, Goppelt advances the discussion of New Testament theology by integrating it into an entire Bible theology that recognizes the interconnectedness of both testaments. Presenting biblical theology as a dialogue between exegetical and systematic theology, these volumes have much to offer systematicians and exegetes alike.
Even those who disagree with Goppelt about the problems, tasks, and objectives of New Testament Theology, will profit from a study of this impressive work, one of the few recent attempts to bring the results of critical exegesis into dialogue with systematic theology.
—Victor Paul Furnish, university distinguished professor of New Testament, Perkins School of Theology
This work strikes a powerful blow in the battle to hold biblical exegesis and systematic theology together, and will help students to see New Testament theology in perspective. Its fresh and independent studies of such vital questions as how Jesus stood in relation to the Jewish law and what was meant by the Kingdom of God are of great value.
—C. F. D. Moule, Lady Margaret's Professor Emeritus, University of Cambridge
Happily the distinctive features of Goppelt's substantial contribution to New Testament theology will now be more widely available—thanks to this English translation.
—Bruce M. Metzger, emeritus professor of New Testament language and literature, Princeton Theological Seminary
The two books that I consider the most important achievements of the last 10 years are Ernst Käsemann' Commentary on Romans and Leonhard Goppelt's uncompleted, posthumously published Theology of the New Testament.
—Nartin Hengel, emeritus professor of New Testament and early Judaism, University of Tübingen
The unfinished works of some scholars are of more value than the completed works of others. Such is the case with this second volume of L. Goppelt's Theology of the New Testament, which the author of unfortunately did not live to complete. The discussion of the early church, of Paul and of Peter in particular, are of immense value. The author shows time and again how the theology of the New Testament much be understood in light of the Old Testament and provides a sane approach from a salvation-historical point of view. Had the author been able to complete it, this work would have stood very high in the list of theologies of the New Testament. In its present form it is still essential reading. Here is a first-class corrective to the work of Bultmann and his school. I am immensely grateful that it is now available in English.
—I. Howard Marshall, emeritus professor of New Testament exegesis and honorary research professor, University of Aberdeen
Goppelt's Theology of the New Testament has become a standard text in Germany and may well become a standard text in the American scene as well. The work represents the most comprehensive treatment of New Testament theology available today. Be treating the New Testament writings within a historical context, Goppelt's Theology reflects a developing Church engaged in the real world, a motif that marked Goppelt's own thought and concerns about theology and history. This work, thus represents Goppelt's desire to wed historical and theological exegesis.
—Robert Guelich, emeritus professor of New Testament, Fuller Theological Seminary.
Leonhard Goppelt (1911–1973) was professor of New Testament at Hamburg and Munich. His other publications include A Commentary on 1 Peter, Apostolic and Post-Apostolic Times, and Theology of the New Testament.