Select Works of Geoffrey W. Bromiley on the Sacraments (2 vols.)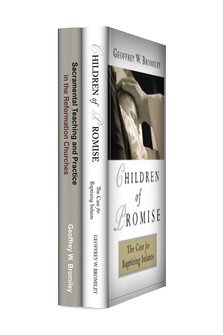 Select Works of Geoffrey W. Bromiley on the Sacraments (2 vols.)
•
Runs on Windows, Mac and mobile.
Overview
Sacraments have had a long and complex history since the Reformation era. In this collection, Geoffrey W. Bromiley unpacks Catholic and Protestant beliefs about sacraments and how they have changed. Bromiley discusses infant baptism in depth and analyzes how beliefs about the sacraments have evolved since the Reformation, focusing on what churches in the Reformation practiced. These two volumes are full of scholarly reflection and practical understanding about sacraments for Christians today.
In the Logos editions, these volumes are enhanced by amazing functionality. Important terms link to dictionaries, encyclopedias, and a wealth of other resources in your digital library. Perform powerful searches to find exactly what you're looking for. Take the discussion with you using tablet and mobile apps. With Logos Bible Software, the most efficient and comprehensive research tools are in one place, so you get the most out of your study.
Key Features
Unpacks Reformed theological views about sacraments
Examines the theological issue of infant baptism
Offers a Protestant perspective of sacraments from the Reformation era
Individual Titles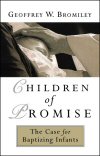 Infant baptism is an issue that divides the largest Protestant denomination from its sister denominations, and it remains, in many churches, the subject of frequent and heated debate. This is particularly the case in Reformation churches where the influence of Baptist doctrine has caused members to question their practice of baptizing infants.
Children of Promise is Geoffrey W. Bromiley's attempt to "get at the biblical understanding which underlies the continuation of infant baptism in many of the evangelical churches." In addition to examining the scriptural basis for baptizing infants, Bromiley also considers the meaning of baptism, the relation of baptism to the three persons of the Trinity, and the question of the salvation of infants. A concluding chapter presents a list of guidelines for churches to follow as they examine the practice of baptizing infants.
This is a superb little book, convincingly argued on biblical grounds and very well presented in a clear, commendable, irenic style.
—Thomas F. Torrance, professor of Christian dogmatics, University of Edinburgh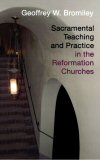 In the introduction to Sacramental Teaching and Practice in the Reformation Churches, Geoffrey W. Bromiley writes, "In the present study we shall be primarily concerned with sacramental practice and interpretation as they are to be found in the Reformation churches and especially those which took the Reformed rather than the Lutheran path. But this does not mean that we shall be committed merely to an historical survey. The main interest of the Reformers themselves was to be true to the teachings of Holy Scripture itself, and we shall be most loyal to them if, along with the general lines of their tradition, we attempt a biblical rather than an historical statement. This will have a threefold advantage. It will submit the Reformed interpretation itself to its own biblical standard. It will bring us into fruitful contact with other views in which over-emphases or distortions conceal positive elements of truth. And it will give to our discussion a living relevance for Christians of the present day, for whom the sacraments may never be regarded merely as objects of scientific enquiry, but must always be gratefully used as divinely ordained means of blessing."
More details about these resources