Everyday Collection (4 vols.)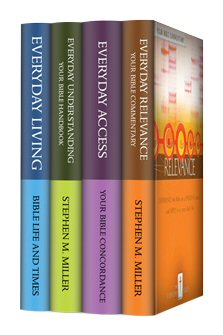 Overview
The Thomas Nelson Everyday Collection provides all of the tools you need to get started in personal Bible study. These four reference works provide a key look into the cultural and historical background to each book of the Bible, as well as verse-by-verse commentary to help apply it to daily life. The concordance and handbook aid in finding key information and understanding it quickly, so you can move on to living the Word in your ministry and calling.
In Logos Bible Software, finding answers becomes extra fast with these quick guides. As you read through your Bible or any Logos ebook, you can easily search and access topics or Scripture references you come across. All Scripture references are linked directly to your preferred Bible translation, allowing you to immediately read the verse being cited.
Key Features
Brings the main messages of the Bible into focus
Helps you find biblical references . . . quickly!
Explains important details of every book in the Bible
Product Details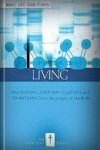 Everyday Living: Bible Life and Times
Publisher: Thomas Nelson
Publication Date: 2006
Pages: 480
Is the Bible significant for today or just ancient history? Our world is separated by thousands of years and thousands of miles from the world of the Bible. The customs, clothing, jobs, and joys of the Bible are often mysterious instead of meaningful. Look inside Everyday Living to see and feel the life and culture of the Bible.
Everyday Understanding: Your Bible Handbook
Publisher: Thomas Nelson
Publication Date: 2006
Pages: 544
When you read the Bible, do you find comprehension or confusion?
Look inside Everyday Understanding and find the big picture. The book opens with the thirty biggest headlines from the Biblical narrative. Then, walks you step by step through the who, what, where, when, and why of each book. In a few short pages, you'll begin to understand how the Bible fits together into a whole. Maps, charts, and illustrations help you make sense of:
Angels, villains, and heroes
Miracles, tools, and weapons
Towns, cities, and nations
Days, weeks, and years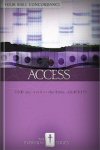 Everyday Access: Your Bible Concordance
Publisher: Thomas Nelson
Publication Date: 2006
Pages: 992
Can You Find What You're Looking for in the Bible?
Sometimes, you just need to ask for directions. Look inside Everyday Access and you'll find your destination. Look up the words and topics you want to read and study-quickly and easily.
The everyday source for:
Word studies—all the uses of a particular word. For example: study the three unique verses including the word "encouragement"
Geographic studies—all the references to a particular location. For example: follow the story of Bethlehem from Genesis through John.
Character studies—all the verses including a particular name. For example: see every reference to Peter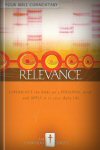 Everyday Relevance: Your Bible Commentary
Publisher: Thomas Nelson
Publication Date: 2006
Pages: 512
Look inside Everyday Relevance and find meaning. Be captivated by the most important ideas within each of the sixty-six books within the Scriptures. From Genesis through Revelation, each facet of history and thought will be explained and expanded. Everyday Relevance also gives you maps and other visuals to help you connect the Bible to your work, home, or school.
Personal
Applicable
Fascinating
Connecting
More details about these resources