Preaching the Word Commentary Upgrade (2 vols.)
Overview
Noted for its steadfast commitment to biblical authority, its readability, and its clear exposition of Scripture, the Preaching the Word Series is an ideal resource for pastors, teachers, and those seeking to enrich their personal Bible study. This set of commentaries on the Old and New Testaments is edited by renowned pastor, R. Kent Hughes, of College Church in Wheaton, Illinois. In this collection, experienced pastors exemplify expository preaching and provide practical applications of the books of the Bible. Preachers and laity alike will find these commentaries both insightful and accessible.
With the Logos editions, these valuable volumes are enhanced by amazing functionality and features. Scripture and ancient text citations link directly to English translations and original-language texts, and important terms link to dictionaries, encyclopedias, and a wealth of other resources in your digital library. Perform powerful searches with the topic guide to instantly gather relevant biblical texts and resources together. Tablet and mobile apps let you take the discussion with you. With Logos Bible Software, the most efficient and comprehensive research tools are in one place so you get the most out of your study.
Key Features
Provides practical application from the Scriptures
Contains scholaly exegesis of the biblical text
Includes the latest volumes in an enormously popular commentary series
Features the insights of pastor-scholars
Individual Titles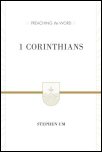 1 Corinthians: The Word of the Cross
Author: Stephen T. Um
Editor: R. Kent Hughes
Series: Preaching the Word
Publisher: Crossway
Publication Date: 2015
Pages: 368
The apostle Paul wrote 1 Corinthians to a church struggling with their identity as Christians. Designed to help modern readers understand and apply this biblical letter to their own lives—especially when it comes to fighting sin and interacting with a fallen world—this commentary by Pastor Stephen Um explains the biblical text with clarity and insight. This volume uses powerful illustrations, engaging anecdotes, and practical applications to help readers truly engage with God's Word in a powerful and authentic way. Furthermore, pastors, teachers, and small group leaders will find valuable assistance in preparing to lead others through the biblical text.
Stephen Um's dynamic ministry in downtown Boston is grounded in his faithful, weekly ministry of the Word of God. His experience there makes him an ideal expositor of 1 Corinthians, because today's secular city is an ideal context for understanding and applying the same gospel message that Paul first preached to the Christians in cosmopolitan Corinth.
—Philip Graham Ryken, president, Wheaton College
Stephen Um demonstrates the intellect of a scholar, the heart of a pastor, and the experience of the city to relate the truths of the gospel for city dwellers of the apostles' time that were no less cultured, urbane, or sophisticated than we imagine ourselves to be.
—Bryan Chapell, president emeritus, Covenant Theological Seminary
Stephen Um's pastoral and preaching ministry has been a bright spot in the evangelical world. I have benefited from his wisdom and insights for a long time, so I am glad to see the arrival of this volume. Pastors will benefit from Um's ability to apply the biblical text to the human heart and the idols of our culture. Stephen is a wise exegete and good pastor.
—John Starke, pastor of preaching, Apostles Church, New York City
Stephen T. Um is senior minister of CityLife Church in Boston, Massachusetts, and president of the Center for Gospel Culture. He is the author of several books and articles; serves on the board of directors for the Gospel Coalition; and is an adjunct faculty member at a number of theological seminaries.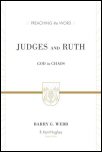 Judges and Ruth: God in Chaos
Author: Barry Webb
Editor: R. Kent Hughes
Series: Preaching the Word
Publisher: Crossway
Publication Date: 2015
Pages: 304
The Old Testament books of Judges and Ruth record some of the most powerful stories in all of Scripture. Set in a time when everyone "did what was right in his own eyes," these books highlight God's faithfulness in the midst of Israel's continual disobedience. Exploring the stories of figures such as Gideon, Samson, and Naomi and Ruth, this accessible commentary emphasizes the countless ways God protected and preserved his people in the Bible. Experienced preacher, Barry Webb, explores important connections between Judges and Ruth, pointing out God's promises to his people and practical applications for daily life. Complete with powerful illustrations and engaging anecdotes, this commentary is a helpful resource for all who study, preach, and teach God's Word.
I have been instructed and often moved by these scholarly and pastorally perceptive expositions. Barry Webb opens up the texts carefully and accessibly, and does so with the sensitivity of an experienced pastor. Such pastoral scholarship is powerful and edifying.
—Christopher Ash, author, The Priority of Preaching
Expository preaching involves much more than defining Hebrew and Greek words, or cool and collected explanations of obscure issues raised by biblical texts. It involves grasping both the theological message of the Scriptures and letting that message grasp us who preach week in and week out. Barry Webb is not only the finest interpreter of the book of Judges; he is also the book's finest expositor. His presentation of the principle enduring theological points of each literary unit in Judges and Ruth is clear, practical, and passionate. This book is a great gift first to preachers, but ultimately to God's people who will hear from them the living and life-giving Word of the Lord from these books.
—Daniel I. Block, Gunther H. Knoedler Professor of Old Testament, Wheaton College
These are insightful, stimulating, often challenging expositions from the pen of a great exegete and preacher.
—James Hutchinson, director, Institut Biblique Belge, Brussels
Barry Webb began teaching at Moore Theological College in Sydney, Australia, in 1978. He has always been grateful to God for the privilege of teaching and writing, mainly in the area of the Old Testament. He retired from the full-time faculty in 2011 and is now an emeritus senior research fellow in Old Testament. He continues to teach part time while devoting more time to writing, an aspect of his ministry that has expanded in recent years. He is currently working on two books, including a commentary on the book of Job.
More details about these resources