Eerdmans Studies on Aging and Dying (2 vols.)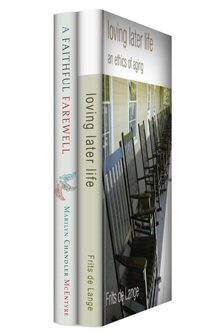 Eerdmans Studies on Aging and Dying (2 vols.)
•
Runs on Windows, Mac and mobile.
Overview
Learn how to address the fear aging and dying by addressing these difficult issues with biblical wisdom and Jesus' ethic of love. Featuring devotional literature and discussion about the challenges—psychologically, physically, and spiritually—that people face as they grow older, the books in this collection teach readers how to address the most difficult questions about dying and how to cope with the realities of growing older. Yet, far from exclusively focused on the on the challenges, the authors also instill hope and show how the final years of life can be engaged positively, with a sense of purpose, and spiritual and emotional fulfillment.
In the Logos editions, these volumes are enhanced by amazing functionality. Important terms link to dictionaries, encyclopedias, and a wealth of other resources in your digital library. Perform powerful searches to find exactly what you're looking for. Take the discussion with you using tablet and mobile apps. With Logos Bible Software, the most efficient and comprehensive research tools are in one place, so you get the most out of your study.
Key Features
Describes how the fear of aging can be overcome
Shows how an ethic of love for self and neighbor leads to serving the elderly
Features reflective devotions on the very real issues faced by dying people
Speaks to the heart of the physical, emotional, and spiritual dimensions of aging and dying
Individual Titles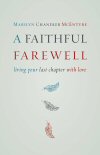 When the time comes for us to die, how do we say good-bye to our friends, our families, and the lives we have lived? How do we remain faithful—to God, to ourselves, and to loved ones—as we face our final journey?
As Marilyn Chandler McEntyre acknowledges, these questions are especially challenging because we now live longer than previous generations did, and many of us die more slowly. Those who are dying have a lot of things to deal with—fear, discouragement, boredom, pain, regret. The list is long.
In this book McEntyre offers 52 short meditations on the very real issues faced by dying people. She addresses a wide and sensitively chosen range of subjects, including such things as anger, losing control, curiosity, doubt, loss of privacy, family conflict, sadness, gratitude, and even spiritual adventure.
McEntyre's insightful reflections—offering what she calls "a different kind of hope"—speak to the heart of the physical, emotional, and spiritual dimensions of dying. Brief concluding prayers and lines from cherished hymns further lift up the reader as he or she seeks to faithfully navigate the great transition from this life to the next.
These reflections on the approach of death, written in the first person, are faithful, biblical, and honest. Marilyn McEntyre offers the love of God—and her own heart—to all who wish to receive.
—Richard Lischer, author of Stations of the Heart: Parting with a Son
A sensitive and helpful encouragement to those living life at its closure—and to living it with openness, faithfulness, and hope. Beautifully done.
—Harold G. Koenig, director, Center for Spirituality, Theology and Health, Duke University Medical Center
A Faithful Farewell should prove equally helpful for family members, friends, chaplains, physicians, and other caregivers. All who walk with the dying in their final days should have a copy of this invaluable book.
—M. Therese Lysaught, associate director, Institute of Pastoral Studies, Loyola University Chicago
Marilyn C. McEntyre is a writer, professor of medical humanities at UC Berkeley, and former professor of English at Westmont College. A longtime hospice volunteer, she is also the author of , Drawn to the Light: Poems on Rembrandt's Religious Paintings and Patient Poets: Illness from Inside Out. Her book What's in a Phrase? Pausing Where Scripture Gives You Pause won the Christianity Today 2015 Book Award in the Spirituality category.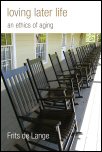 Is loving later life possible? In our youth-obsessed culture, nobody enjoys growing old. We normally fear our own aging and generally do not love old people—they remind us that death is inescapable, the body frail, and social status transitory. In Loving Later Life Frits de Lange shows how an ethics of love can acknowledge and overcome this fear of aging and change our attitude toward the elderly.
De Lange reframes the biblical love command this way: "We must care for the aging other as we care for our own aging selves." We can encourage positive self-love by embracing life as we age, taking good care of our own aging bodies, staying good friends with ourselves, and valuing the last season of life. When we cultivate this kind of self-love, we are released from our aversion to growing old and set free to care about others who are aging—our parents, our relatives, and others in their final season of life.
Deeply insightful and thought-provoking, this book tackles the most difficult aspects of frail old age with courage, clarity, and compassion.
—Christine D. Pohl, author, Making Room: Recovering Hospitality as a Christian Tradition
Drawing on a profound account of love of self and neighbor, de Lange writes about the challenges associated with growing old in a way that is not only philosophically deep but also filled with wisdom that will help those like myself who are not sure how to grow old. This is a beautiful book.
—Stanley Hauerwas, Gilbert T. Rowe Professor Emeritus of Divinity and Law, Duke Divinity School
In this deep, thoughtful, and creatively pastoral book, Frits de Lange lays out an ethics and a theology of love focusing on those among us who are frail and elderly. He opens up a powerful space for reflection on what love means and what it should look like, paving the way for modes of care that are both loving and faithful.
—John Swinton, author, Dementia: Living in the Memories of God
Frits De Lange is professor of ethics at the Protestant Theological University in the Netherlands and extraordinary professor in systematic theology and ecclesiology at the University of Stellenbosch, South Africa. He is coauthor of Waiting for the Word: Dietrich Bonhoeffer on Speaking about God.
More details about these resources