Eerdmans Pauline Studies Collection Upgrade (2 vols.)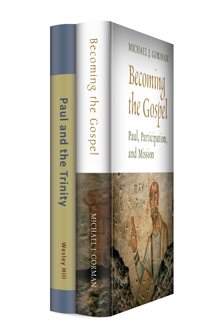 Eerdmans Pauline Studies Collection Upgrade (2 vols.)
•
Runs on Windows, Mac and mobile.
Overview
The Eerdmans Pauline Studies Collection gathers two distinct scholarly voices to address key issues in the theology and mission of the Apostle Paul. It includes the first examination of Paul's letters from the emerging discipline of missional hermeneutics, and provides a look at the intricacies of Paul's Trinitarian thought and how this concept develops throughout his letters. Addressing specific passages while also keeping a global view of the Pauline corpus in mind, this collection help you grasp two aspects of Paul's thinking that are critical for understanding his thought broadly.
In the Logos editions, these volumes are enhanced by amazing functionality. Important terms link to dictionaries, encyclopedias, and a wealth of other resources in your digital library. Perform powerful searches to find exactly what you're looking for. Take the discussion with you using tablet and mobile apps. With Logos Bible Software, the most efficient and comprehensive research tools are in one place, so you get the most out of your study.
Key Features
Analyzes the Pauline Epistles in their literary, ancient, and modern contexts
Includes the first detailed exegetical treatment of Paul's letters from the emerging discipline of missional hermeneutics
Discusses Paul's Trinitarian theology in fresh ways and demonstrates its importance in New Testament theology
Individual Titles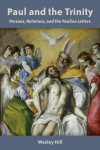 Paul's ways of speaking about God, Jesus, and the Spirit are intricately intertwined: talking about any one of the three, for Paul, implies reference to all of them together. However, much current Pauline scholarship discusses Paul's God-, Christ-, and Spirit-language without reference to Trinitarian theology.
In contrast to that trend, Wesley Hill argues in this book that later, post-Pauline Trinitarian theologies represent a better approach, opening a fresh angle on Paul's earlier talk about God the Father, Jesus Christ, and the Spirit. Hill looks critically at certain well-known discussions in the field of New Testament studies—those by N.T. Wright, Richard Bauckham, Larry Hurtado, and others—in light of patristic and contemporary Trinitarian theologies, resulting in an innovative approach to an old set of questions.
Adeptly integrating biblical exegesis and historical-systematic theology, Hill's Paul and the Trinity shows how Trinitarian theologies illumine interpretive difficulties in a way that more recent theological concepts have failed to do.
There has long been a consensus among New Testament scholars that the doctrine of the Trinity has little to contribute to the study of the New Testament in general and Paul in particular. Wesley Hill presents here a fundamental challenge to that consensus, making sophisticated use of resources drawn from ancient and modern Trinitarian conceptuality to bring to light the pervasively relational structure of Paul's statements about God, Christ, and the Spirit.
—Francis Watson, professor of New Testament, Durham University
Hill engages carefully and explicitly with some of the key resources of Trinitarian theology—in particular, the relational understanding of personhood—to illuminate both Paul's thinking about Jesus within the identity of God and modern attempts to grasp it.
—Douglas A. Campbell, professor of New Testament, Duke Divinity School
This book is a breakthrough. Wesley Hill notes and describes an element of Paul's thought that has been overlooked for too long. . . . Exegetes who rightly fret over the danger of imposing a foreign and anachronistic conceptual grid on Paul's texts are invited to take up and read: without flash or bombast, Hill nimbly models just how apt and illuminating the Trinitarian matrix is for serious biblical studies.
—Fred Sanders, associate professor of theology, Torrey Honors Institute, Biola University
Wesley Hill provides an intriguing argument for fundamentally reframing the questions we ask about Pauline Christology and Trinitarian theology. Given the exegetical care and theological consciousness on display in this well-written book, Hill's case deserves serious consideration. Along the way, the book models promising interaction between Scripture and Christian doctrine.
—Daniel J. Treier, Blanchard Professor of Theology, Wheaton College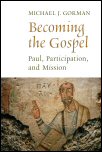 The first detailed exegetical treatment of Paul's letters from the emerging discipline of missional hermeneutics, Michael Gorman's Becoming the Gospel argues that Paul's letters invite Christian communities both then and now to not merely believe the gospel but to become the gospel and, in doing so, to participate in the life and mission of God.
Showing that Pauline churches were active public participants in and witnesses to the gospel, Gorman reveals the missional significance of various themes in Paul's letters. He also identifies select contemporary examples of mission in the spirit of Paul, inviting all Christians to practice Paul-inspired imagination in their own contexts.
Michael Gorman has written another superb and groundbreaking exegetical study. He understands mission in Paul's letters not merely in an evangelistic sense but comprehensively—as something rooted in divine purposiveness, in the divine mission. By asking fresh, critical, missional questions, Gorman illustrates the significance of mission as an interpretive rubric—for Paul, for his communities, and for his contemporary interpreters.
—Michael Barram, author of Mission and Moral Reflection in Paul
This book is a tour de force in missional hermeneutics. With clear exegesis and fresh theological insights, Gorman uncovers Paul's rich and comprehensive understanding of the mission of God. The book's central thesis, that Paul expected all Christians not only to believe the gospel, but to become the gospel, and thus to further the gospel, is completely convincing.
—Dean Flemming, author of Recovering the Full Mission of God: A Biblical Perspective on Being, Doing, and Telling
Combining exegesis of Paul's letters with hermeneutics and missiology, Gorman throws new light on old debates such as those involving the language of God's righteousness and various participatory themes. One of the leading Pauline scholars of our age, Gorman writes in ways that resonate with the missional concerns of the gospel itself.
—Chris Tilling, author of Paul's Divine Christology
More details about these resources