The Institutes of Biblical Law (3 vols.)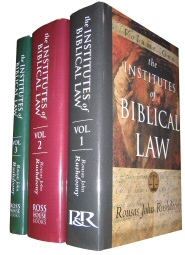 Overview
God's law is an integral component of Scripture. The law outlines God's principles and uncovers God's character, and by it we understand how to relate to one another and to God. It is much more than legal code—it is covenantal law. God's law established a personal relationship between God and man.
Rousas John Rushdoony's 3-volume Institutes of Biblical Law explains the meaning and impact of biblical law—not only in its original context, but also in its modern application. Rushdoony explains why God's law has enormous relevance for today. Combining Old Testament scholarship with legal theory, The Institutes of Biblical Law shows how Old Testament law is important not only for biblical scholarship, but for understanding the fundamental nature of human identity.
With the Logos edition of The Institutes of Biblical Law, all Scripture references automatically display on mouseover, and are linked to both original language texts and English translations of the Bible (that you own). That makes the Logos edition essential for studying the connection between the Bible and the law, and for discovering the impact and relevance of God's law for today.
Key Features
Detailed account of biblical law in both the Old Testament and the New Testament
Appendices by Gary North cover Sabbath keeping, tithing, and more
All Scripture references directly linked to original language texts and English Bible translations (that you own)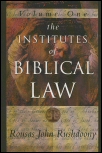 To attempt to study Scripture without studying its law is to deny it. To attempt to understand Western civilization apart from the impact of biblical law within it and upon it is to seek a fictitious history and to reject twenty centuries and their progress.
The Institutes of Biblical Law has as its purpose a reversal of the present trend. It is called "Institutes" in the older meaning of the word—fundamental principles, here of the law—because it is intended as a beginning, as an instituting consideration of the law which must govern society, and which shall govern society under God.
To understand biblical law, it is necessary to understand also certain basic characteristics of that law. In it, certain broad premises or principles are declared. These are declarations of basic law. The Ten Commandments give us such declarations.
A second characteristic of biblical law is that the major portion of God's law is case law—the illustration of the basic principles in the terms of specific cases. These specific cases are often illustrations of the extent of the application of the law; that is, by citing a minimal type of case, the necessary jurisdictions of the law are revealed.
The law, then, asserts principles and cites cases to develop the implications of those principles, with its purpose and direction the restitution of God's order.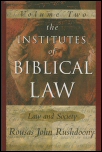 The purpose of Law and Society, this second of three volumes of The Institutes of Biblical Law, is to show how God's law applies to every aspect of our lives and the world. There are in God's word specified consequences, curses, and blessings for disobedience and obedience. We cannot understand history apart from that fact.
Moreover, as we look at our world, we need to be encouraged. Its disasters manifest the judgments of God. They make clear that now as always "the wages of sin is death" (Romans 6:23). If we are unhappy about the disasters and collapses of our time, we may be saying that we regret the failure of sin to prosper, and that we dislike the justice of God in its operations.
The purpose of this second volume is to point men to God and his Word for the government of their lives and our world. To serve and magnify God is the greatest of privileges and callings, as is the reconstruction of all things in terms of the Word of God. This, after all, is the purpose of life, to be conformed to God. This volume covers the relationship of biblical law to communion and community, the sociology of the Sabbath, family and inheritance, and much more; it also contains an appendix by Herbert Titus.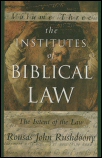 God's law is much more than legal code. It is covenantal law. It establishes a personal relationship between God and man. The first section of this volume summarizes case laws. The author tenderly illustrates how the law is for our good, and makes clear the difference between the sacrificial laws and those that apply today. The second section vividly shows the practical implications of the law. The examples catch the reader's attention, as Rushdoony draws from his experience of practicing and discussing God's law. The third section shows that would-be challengers to God's law produce only poison and death. Only God's law can claim to express God's covenant grace in helping us.
About Rousas John Rushdoony
Rousas John Rushdoony (1916–2001) was a well-known American scholar, writer, and author of over thirty books. He held B.A. and M.A. degrees from the University of California and received his theological training at the Pacific School of Religion. An ordained minister, he worked as a missionary among Paiute and Shoshone Indians and as a pastor to two California churches. He founded the Chalcedon Foundation, an educational organization devoted to research, publishing, and cogent communication of a distinctively Christian scholarship to the world at large. His writing in the Chalcedon Report and his numerous books inspired a generation of believers to be active in reconstructing the world to the glory of Jesus Christ. Until his death, he resided in Vallecito, California, where he engaged in research, lecturing, and assisting others in developing programs to put faith into action.
More details about these resources