Cutting Ties with Darkness: 2 Corinthians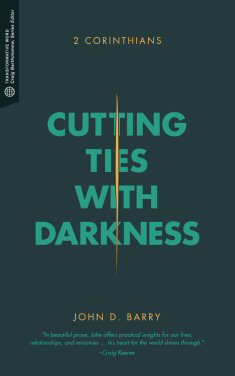 Rebuilding Broken Relationships
The story behind 2 Corinthians is one of pain and heartache. The Apostle Paul is wrestling to maintain his relationship with the young church in Corinth that he established. Paul writes this deeply personal letter to pick up the pieces of a broken relationship. We all have painful stories and relationships that are on the rocks. In Cutting Ties with Darkness, John D. Barry explores how we deal with these scars in light of Jesus' example. How do we discern when to reconcile and when to walk away? In these relationships, our own judgment can become clouded. Paul tells us that we must cut ties with the darkness—both within ourselves and in others—before we're able to rebuild our lives on the redemption of Jesus.
The Transformative Word Series
God's Word is transformative. It is this conviction which gives the Transformative Word series its name and its unique character. Series Editor Craig G. Bartholomew has worked alongside authors from around the world to identify a key theme in each book of the Bible, and each volume provides careful Biblical exegesis centered on that gripping theme. The result is an engaging, accessible thematic exploration of a biblical book, poised to offer you new and refreshing insights.
Other books in the Transformative Word Series:
Praise for Cutting Ties with Darkness
In beautiful prose, John Barry offers a plethora of practical insights for our lives, relationships and ministries from 2 Corinthians. He shows how the letter as a whole fits together, and his heart for the world shines through as he provides illustrations from a range of cultures as well as what he has witnessed personally.
—Craig S. Keener, professor at Asbury Theological Seminary and author of commentaries on Acts, Matthew, John, Romans, 1–2 Corinthians, and Revelation
In his work, Cutting Ties with Darkness, John Barry walks us through Second Corinthians, opens our eyes to the heart of Paul, and connects his message to our world in language and illustrations anyone can understand. This is not like most commentaries. It is both stimulating and enjoyable to read. The clarity with which he communicates Paul's message demonstrates that he has delved deeply into each passage and thought through each one's implications. John Barry is masterful in bridging the cultural gap and making Paul's message contemporary and practical.
—Gary W. Derickson, PhD, Professor of Biblical Exposition and Greek Department Chair, Bible and Theology Corban University School of Ministry
Contents
Introduction
The Tough Decisions Christians Must Make
A God Who Comforts Us in All Affliction
Defending Ourselves like Paul Would
Zebras, Lions, and Theology
Who Do You Work for—Really?
Joy, Grief, and Making Peace
How to Love the Impoverished
Fighting the Spiritual War against Darkness
Super-Apostles and Boasting in Jesus
Conclusion
Appendix: Flesh and Law in Paul's Theology
Product Details
Title: Cutting Ties with Darkness: 2 Corinthians
Author: John D. Barry
Series: Transformative Word
Series Editor: Craig G. Bartholomew
Publisher: Lexham Press
Publication Date: 2014
Pages: 160
Format: Logos Digital, Paperback
Trim Size: 5x8
ISBN: 9781577996064
About John D. Barry
John D. Barry is the CEO and Founder of Jesus' Economy, a non-profit dedicated to creating jobs and churches in the developing world. He also serves as a missionary with Resurrect Church Movement, the domestic division of Jesus' Economy dedicated to equipping U.S. churches to alleviate poverty and plant churches. John is the general editor of Faithlife Study Bible and Lexham Bible Dictionary. He has authored or edited over 30 books, including The Resurrected Servant in Isaiah, Cutting Ties with Darkness, and the daily devotional Connect the Testaments. John formerly served as founding publisher of Lexham Press and is the former editor-in-chief of Bible Study Magazine. John speaks internationally on engaging the Bible, poverty, and spreading the gospel.
About Craig G. Bartholomew
Craig G. Bartholomew was born in Kwa Zulu Natal, South Africa, and he currently lives in Canada as a UK citizen. He is the H. Evan Runner Professor of Philosophy and Professor of Religion and Theology at Redeemer University College and the principal of the Paideia Centre for Public Theology. He is the author of Ecclesiastes in the Baker Commentary on the Old Testament Wisdom and Psalms series, an associate editor of the Dictionary for Theological Interpretation of the Bible, and the coauthor with Michael W. Goheen of The Drama of Scripture. He has a PhD from the University of Bristol.
Sample Pages from Cutting Ties with Darkness
More details about this resource