Judaism and Christianity Collection (7 vols.)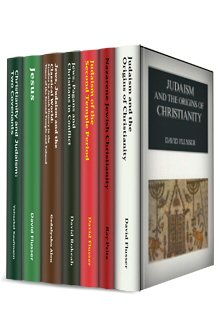 Judaism and Christianity Collection (7 vols.)
•
Runs on Windows, Mac and mobile.
Overview
Judaism and Christianity—for all of their theological differences and their varied pasts—have much in common. They uphold the canonicity of the Hebrew Bible. They share a similar philosophical and theological worldview. They both have a stake—theological, political, and social—in the state of Israel. Their histories are checkered with periods of intense persecution. Yet for all their similarities, Judaism and Christianity differ on several key points.
The 7-volume Judaism and Christianity Collection examines the historical and contemporary relationship between Judaism and Christianity, and includes penetrating studies of the classical world, theological topics, recent archaeological finds, and the socio-political climate of the Middle East and the nation of Israel. In this collection, award-winning scholars examine both the Jewish background of Christianity, as well as the influence of Christianity in Judaism. Also included is a fascinating biography of Jesus written from a Jewish perspective.
Key Features
Seven volumes in all, including two edited volumes with dozens of contributors
Subject and topical indices
Scripture references link to Hebrew texts and English translations (if you own them)
Product Details
Title: Judaism and Christianity Collection
Publisher: Magnes Press
Volumes: 7
Pages: 2,474
More details about these resources