Loraine Boettner Collection (8 vols.)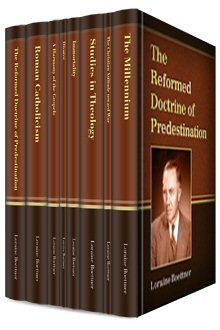 Overview
Loraine Boettner set forth a clear vision for Reformed and evangelical theology for the modern era. He articulated classic Reformed orthodoxy for a new generation, and possessed the rare gift of clearly explaining the complex principles of theology without sacrificing academic rigor. Best-known for his volumes on the doctrine of predestination and Roman Catholicism, Loraine Boettner explained and popularized the Reformed faith for a broad audience.
The 8-volume Loraine Boettner Collection contains eight of Boettner's most popular works, including The Reformed Doctrine of Predestination, The Millennium, and his best-selling Roman Catholicism. As a gifted theologian and prolific writer, Boettner took seriously the task of bringing theological reflection to bear on the most pressing issues Christians face. From contemporary issues—such as just war theory—to theological problems—such as eternal reprobation—Boettner writes with a generous spirit and utmost fidelity to Scripture and the Reformed confessions. This collection is ideal for pastors, students, and anyone interested in Reformed theology.
Key Features
Bibliographies
Numerous indexes arranged by subject and author
All Scripture references linked to Greek texts and English translations in your digital library (if you own them)
Product Details
Title: Loraine Boettner Collection
Author: Loraine Boettner
Publisher: P&R
Volumes: 8
Pages: 2,101
About Loraine Boettner
Loraine Boettner was born in 1901 in Linden, Missouri. He studied agriculture at the University of Missouri, but graduated with a B.S. after transferring to Tarkio Presbyterian College. In 1925, Boettner began his studies at Princeton, where he was influenced by the writings of Charles Hodge. He graduated from Princeton Theological Seminary with a Th.B. in 1928 and a Th.M. in 1929. He later received an honorary Doctor of Divinity degree in 1933 and a Doctor of Literature degree in 1957. From 1935 to 1939, Boettner also worked at Christianity Today, and worked at the Library of Congress and for the Internal Revenue Service. He continued to write and publish theological works—his most popular The Reformed Doctrine of Predestination, based on his Th.M. thesis, and Roman Catholicism. He died on January 3, 1990.
More details about these resources