The Expositions of John Gill (3 vols.)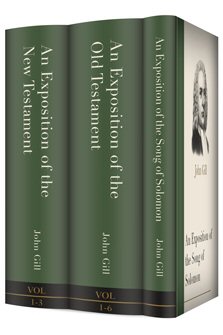 Overview
John Gill's commentaries on the Bible helped solidify the shift in Reformed thinking in the eighteenth century. These expository commentaries are key for the study of the development of Baptist and Reformed theological exegesis, and a must for any student serious about studying the Reformed tradition.
Gill's writings helped to define and encourage Reformed thinking in the eighteenth century. Considered to be the first major Baptist scholar, Gill continues to shape modern Calvinism. Although modern scholars debate about Gill's role as the father of Baptist hyper-Calvinism, it cannot be denied that at the very least, he was a forerunner to that tradition. During his lifetime, Gill and his church backed the preaching and ministry of George Whitefield. His work represents not only essential eighteenth-century biblical scholarship, but a turning point in Reformed theology.
Gill's commentaries are still widely used today by laity and pastors, being theologically sound and practical for daily study. Gill makes the Scripture accessible and applicable to the everyday reader, believing that sound doctrine impacts daily life. Containing over 7,000 pages, The Expositions of John Gill is an essential resource for any student of the Scriptures and of Reformed thinking. Perfect for the general reader, professors, and Bible scholars, these three volumes will enlighten, encourage, and stimulate thinking and application. The Logos edition makes study easy by linking with every Scripture reference to the Bibles in your library. With commentary on every book of the Bible, these 10 volumes of commentary have been combined into three volumes convenient volumes, allowing you to progress through your studies without disruption.
Key Features
Commentary on the entire Bible, with additional commentary on the Song of Solomon
Over 7,000 pages of commentary
Essential for Reformed and Baptist theological education
Praise for the Print Edition
His doctrinal and practical writings will live, and be admired, and be a standing blessing to posterity, when their opposers are forgotten, or only remembered by the refutations he has given them. While true religion and sound learning have a single friend remaining [. . .], the works and name of Gill will be precious and revered.
For good, sound, massive, sober sense in commenting, who can excel Gill?
Taking its place among the truly famous theologies of this period, it deserves a niche in all representative collections of systems of theology. His mastery of ancient language and ancient writings, as well as of the Scriptures, is reflected not only in his theology but in his expositions.
—Professor John F. Walvoord, Dallas Theological Seminary
Individual Titles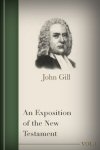 An Exposition of the New Testament, vols. 1–3
Author: John Gill
Publisher: William W. Woodward
Publication Date: 1811
Pages: 2,645
Throughout his life, Gill sought to encourage and educate his congregation on the truths of Scripture, and this exposition on the books of the New Testament is meant for just that purpose. Written in a comprehensible and theologically sound manner, the New Testament exposition demonstrates his commitment to Calvinism by God's sovereignty over all things.
An Exposition of the Old Testament, vols. 1–6
Author: John Gill
Publisher: London
Publication Date: 1748–1763
Pages: 4,922
In the same style as his expositions on the New Testament, Gill provides helpful commentary and interpretation of the books of the Old Testament. His careful attention to theology and practicality will help the reader to understand and apply the Scriptures.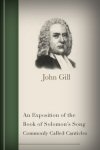 In this classic work, Gill discusses the Song of Solomon, arguing for a spiritual reading of the book with the Bride as the Bride of Christ and Christ as the Bridegroom. He sees this book as the story of Christ's love for his Church, and though Gill brings up alternative interpretations, he ultimately seeks to defend the authority and validity of the spiritual reading. He examines each verse of the book, cross-referencing with other Scriptures. This clear and concise volume remains valuable for understanding and interpreting this poetic book of the Old Testament.
Product Details
Title: The Expositions of John Gill
Volumes: 3
Pages: 7,921
Christian Group: Reformed
About John Gill
John Gill was born in 1697 in England. A Baptist clergyman, Gill was also a biblical scholar, learning Latin and Greek by age 11. He was also a fervent Reformed thinker, holding to the Five Points of Calvinism. Gill is considered by many to be the father of hyper-Calvinism. He was a preacher at the Strict Baptist Church for fifty–one years, which later became the Metropolitan Tabernacle, pastorate of Charles Spurgeon. Because of his considerable scholarship, Gill was given an honorary doctorate by the University of Aberdeen in 1748. He is most known for being the author of definitive academic works, including, The Doctrine of the Trinity Stated and Vindicated, The Cause of God and Truth, and A Body of Doctrinal Divinity, all of which are included in this collection. Gill died in 1771.
More details about these resources