Nancy Wilson Collection (3 vols.)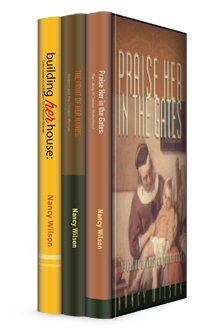 Overview
What does Godly womanhood look like? What does the Bible say about women? And how should women relate to their husbands and families? Recent decades have seen intense debate over the roles of women in society, in the church, and in the home. Both inside and outside the church, the subjects of submission, motherhood, and the roles of women have elicited sharp criticism and deep antagonism.
In the Nancy Wilson Collection (3 Vols.), Wilson rises above the fray to explore biblical femininity—from the perspective of a mother and a pastor's wife. In a refreshing and sensible tone, she tells stories from her own life and cites biblical notions of womanhood to illustrate the role of a Godly wife. With honesty and warmth, she offers practical wisdom for both husbands and wives, along with the pastors who counsel them.
Key Features
Scripture citations are linked directly to the Bible
Numerous stories and examples
Addresses practical issues women face
Individual Titles

How does a woman build her house? Nancy Wilson begins with the table, remembering how each scratch and stain in the wood chronicles a memory—"hours of stories and jokes, questions and concerns (through courtships and pregnancies), prayers and discussions. . ." She continues, each essay full of stories and encouragement—the beauty of imperfection, the comfort of Velveeta, the strengths of mothers- and daughters-in-law, the honesty that is submission, the laughter of reading aloud. As ever, while Nancy draws out our sins and weaknesses and sore spots, she comforts us with the favor of God and rouses us to a joyous faith.
[Nancy Wilson is] very encouraging, uplifting . . . teaching scripture based biblical womanhood in an easy to read book of short essays.
—Online reviewer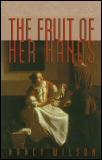 Imagine where the Church would be today if the men in it were respected as they ought to be by their wives. What power would God unleash through godly men who were respected in their homes?
This book is a collection of Nancy Wilson's columns for women from the pages of Credenda/Agenda magazine. Although directed toward wives, this book is a fabulous read for any woman wanting to understand her calling to mirror the Church. In one place now, read practical wisdom on the biblical themes of respect, contentment, homemaking, and lovemaking that have been so helpful to women across the nation.
This book takes biblical principles directly from God's word to give women a guide as to how to be a godly wife.
—Online reviewer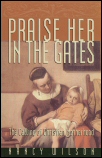 For a Christian, motherhood is the subtle art of building a house in grace—the wise woman builds her house, but the foolish pulls it down with her hands (Proverbs 14:1). Each day's work is significant, for it contributes toward the long-term plan. Each nail helps a house stand in a storm. But motherhood isn't a simple formula. Building a home—childbirth, education, discipline—requires holy joy and a love of beauty. The mother who fears God does not fear the future.
The Wilsons have done it again! They have showed the Christian church that dignity lies at the door of every Christian household, if only we would allow it to enter!
—Online reviewer
Product Details
Title: Nancy Wilson Collection
Author: Nancy Wilson
Publisher: Canon Press
Volumes: 3
Pages: 327
About Nancy Wilson
Nancy Wilson is a pastor's wife and homemaker in Moscow, Idaho. She is the author of numerous books, and writes a column for women in Credenda/Agenda magazine. She and her husband, Douglas, have three grown children.
More details about these resources