Bible Study Magazine—July–August 2014 Issue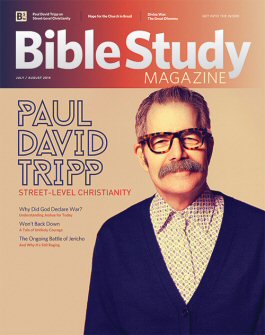 Bible Study Magazine—July–August 2014 Issue
Overview
Get Bible Study Magazine now by purchasing the July–August 2014 back issue for $3.95. That's 20% off the newsstand price of $4.95!
Bible Study Magazine is a print magazine (not an emagazine) published by Lexham Press. Six times a year, Bible Study Magazine delivers tools and methods for Bible study as well as insights from respected teachers, professors, historians, and archeologists.
Read pastor profiles, author interviews, and stories of individuals whose thoughtful engagement with Scripture has shaped their thinking and defined their ministries. Bible Study Magazine reveals the impact of God's Word in their lives—and the power of Scripture in yours.
Each Issue of Bible Study Magazine Includes:
Feature Stories
Discover new ways to connect the Bible with your ministry and life through in-depth interviews and articles from the biggest names in the church and biblical scholarship.
Bible Study Tips
Explore the Word—thoughtful and engaging authors tackle the tough passages in Scripture, explain difficult concepts, and confront complex interpretations in a way that helps the Gospel make sense in your life.
On the Cutting Edge
Keep up to date on the latest news in biblical research, including archaeological and historical findings.
A New Kind of Bible Study
Encounter God by yourself or with other believers with an ongoing Bible study in each issue.
On Teaching
Get advice on how to preach or teach the Bible in any setting from well-known pastors and teachers who use the Bible every day.
Tool Box
Learn how to effectively use the latest Bible study tools with our how-to guides.
In the News
Keep informed about the latest news in biblically related topics, discoveries, and events.
Thoughts from the Ancients
Read the Bible together with those who have come before you, and learn from the wisdom of the early church—in its own words.
Word Studies
Get a close-up view of the Bible! Each issue contains insights about specific words found in the Bible and tutorials on how to do word studies.
If Only Someone Would Explain It to Me
Enrich your understanding of the Bible with explanations of biblical and theological concepts by top scholars.
Did You Know?
Discover interesting facts about the place of the Bible in the contemporary and the ancient world.
What They Don't Tell You in Church
See things you never noticed in biblical passages you have read dozens of times.
Biblical Humor
The funniest stories and the best comics related to the Bible, useful for any setting.
Book Reviews
Stay on top of the latest books about Bible study. Each issue contains reviews of books and commentaries to equip you in your study of God's Word.
Excerpts from the July–August Issue!
Paul David Tripp: Street-Level Christianity
Paul David Tripp, biblical counselor, author and international speaker says it wasn't until college that he learned to connect his knowledge about the Bible to life-transformation. "The Bible is a grand redemptive story, but it may be better to say it's a theologically annotated story. To some degree, every passage tells something about God, about me, about life in the fallen world, about the disaster of sin and the operation of God's grace—every passage tells me something about every dimension of my life." Making that connection "was like rockets going off."—Jessi Strong
Hope for a Troubled Church
In a world that emphasizes prestige and wealth, Antionio Barro of the South American Theological Seminary trains his students to care for the poor and needy. "Other seminaries may train people to become pastors and maintain existing churches. That's a very old idea. We operate under the integral mission of the church—we want to train somebody to become a pastor of a neighborhood or even of a street. Your ministry exists as a light to your neighborhood; it goes beyond just preaching every Sunday."—Jessi Strong
Not Your Average Bible Study: The Call of Discipleship: 8 Weeks in The Sermon on the Mount
It's easy to appear righteous, do good deeds for all to see, and claim allegiance to the Lord (see Matt 6:1–8; 7:21–23). But to uphold God's perfect standard of righteousness (5:20, 48) we must discipline our thoughts, not just our actions (5:21–30). We need to shift our focus from the paths of earthly kingdoms to ways of God's kingdom (6:19–24). In the Sermon on the Mount, Jesus explains what it means to follow Him.—Miles Custis
Special Section: Reading Joshua for Today
The Great Dilemma of Divine Warfare
"I just can't imagine believing in a God who would kill innocent people through war," my friend remarked. And there it was—the thing holding him back from believing in Jesus. We usually place our warring God in the context of a different time or place without really acknowledging the severity of God issuing war. In doing so, we misunderstand what is really going on in our world today. We also miss a theological concept that could positively change the way we worship and live.—John D. Barry
Won't Back Down
Ensconced in the walls of Jericho, Rahab is doomed. Her dwelling is not just in Jericho but a part of the wall—the very first target on the Israelite hit list. Joshua is planning to "utterly [destroy] by the edge of the sword all who [are] in the city, both men and women, young and old, ox, sheep, and donkey" (Josh 6:21). When confronted with impossible odds, some people shrink in fear while others stand their ground. The book of Joshua is a lesson in the type of courage that springs from faith.—Eli Evans
We have a limited supply of back issues of the July–August 2014 Bible Study Magazine. Get your copy while you still can!
Key Features
Paul David Tripp: Street-Level Christianity
Why Did God Declare War? Understanding Joshua for Today
The Ongoing Battle of Jericho: And Why It's Still Raging
Divine War: The Great Dilemma
Product Details
Title: Bible Study Magazine—July–August 2014 Issue
Editor-in-Chief: John D. Barry
Academic Editor: Michael S. Heiser
Art Director: Sean Fields
Graphic Designer: Kayla Soper
Managing Editor: Rebecca Van Noord
Advertising Sales: Santiago Galeano
Marketing: Dan Pritchett, Phil Gons, Scott Lindsey, and Jonny Heemstra
Publisher: Lexham Press