Journal of the Grace Evangelical Society (26 vols.) (1988–2013)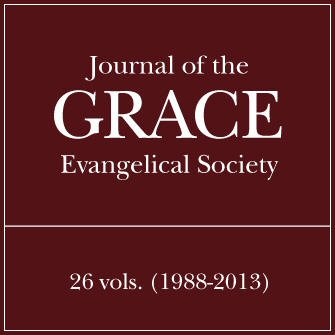 Journal of the Grace Evangelical Society (26 vols.) (1988–2013)
•
Runs on Windows, Mac and mobile.
Overview
Zoom in on the doctrine of "by grace alone" and examine how it affects every aspect of Christian life and thought with the Journal of the Grace Evangelical Society. Published semiannually, this journal is gospel centered and gospel focused—explaining the good news of salvation by grace through faith, with studies on biblical texts, historical analysis, and theological reflection. Established in 1988, the Grace Evangelical Society has published 26 volumes of the journal and it features articles from leading scholars, including Robert Wilkin, H.A. Ironside, Stephen R. Lewis, and Zane C. Hodges.
The Logos editions of the Journal of the Grace Evangelical Society enhance your study with amazing functionality. Fully integrated into your digital library, the Timeline enables you to instantly contextualize the people, places, and ideas discussed in the journal with thousands of other biblical and world events. Perform powerful searches to instantly gather relevant biblical texts and resources together. Free tablet and mobile apps let you take the discussion with you. With Logos Bible Software, the most efficient and comprehensive research tools are in one place, so you get the most out of your study.
Get all the journals at the best price—including the Journal of the Grace Evangelical Society—with the Master Journal Bundle.
This new version of the Journal of the Grace Evangelical Society fully integrates with the Logos 6 Journal Feature and includes specialized tagging by author, passage, and topic. To learn more, visit our Logos 6 features page.
Key Features
Focuses exclusively on the doctrine of "by grace alone" and its implications
Examines biblical texts, historical events, and theological questions
Addresses the practical implications of the doctrines of grace
Individual Titles
Journal of the Grace Evangelical Society, Volume 1, Number 1 (1988)
Journal of the Grace Evangelical Society, Volume 2, Numbers 2, 3 (1989)
Journal of the Grace Evangelical Society, Volume 3, Numbers 4, 5 (1990)
Journal of the Grace Evangelical Society, Volume 4, Numbers 6, 7 (1991)
Journal of the Grace Evangelical Society, Volume 5, Numbers 8, 9 (1992)
Journal of the Grace Evangelical Society, Volume 6, Numbers 10, 11 (1993)
Journal of the Grace Evangelical Society, Volume 7, Numbers 12, 13 (1994)
Journal of the Grace Evangelical Society, Volume 8, Numbers 14, 15 (1995)
Journal of the Grace Evangelical Society, Volume 9, Numbers 16, 17 (1996)
Journal of the Grace Evangelical Society, Volume 10, Numbers 18, 19 (1997)
Journal of the Grace Evangelical Society, Volume 11, Numbers 20, 21 (1998)
Journal of the Grace Evangelical Society, Volume 12, Numbers 22, 23 (1999)
Journal of the Grace Evangelical Society, Volume 13, Numbers 24, 25 (2000)
Journal of the Grace Evangelical Society, Volume 14, Numbers 26, 27 (2001)
Journal of the Grace Evangelical Society, Volume 15, Numbers 28, 29 (2002)
Journal of the Grace Evangelical Society, Volume 16, Numbers 30, 31 (2003)
Journal of the Grace Evangelical Society, Volume 17, Numbers 32, 33 (2004)
Journal of the Grace Evangelical Society, Volume 18, Numbers 34, 35 (2005)
Journal of the Grace Evangelical Society, Volume 19, Numbers 36, 37 (2006)
Journal of the Grace Evangelical Society, Volume 20, Numbers 38, 39 (2007)
Journal of the Grace Evangelical Society, Volume 21, Numbers 40, 41 (2008)
Journal of the Grace Evangelical Society, Volume 22, Numbers 42, 43 (2009)
Journal of the Grace Evangelical Society, Volume 23, Numbers 44, 45 (2010)
Journal of the Grace Evangelical Society, Volume 24, Numbers 46, 47 (2011)
Journal of the Grace Evangelical Society, Volume 25, Numbers 48, 49 (2012)
Journal of the Grace Evangelical Society, Volume 26, Numbers 50, 51 (2013)