Eerdmans Prophetic Christianity Collection (3 vols.)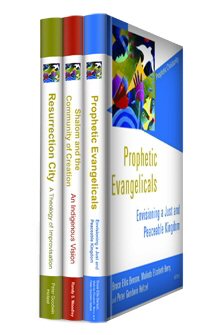 Eerdmans Prophetic Christianity Collection (3 vols.)
•
Runs on Windows, Mac and mobile.
Overview
Eerdmans Prophetic Christianity series explores the complex relationship between Christian doctrine and contemporary life. Deeply rooted in the Christian tradition yet taking postmodern and postcolonial perspectives seriously, series authors navigate difference and dialogue constructively about divisive and urgent issues of the early twenty-first century. The books in the series are sensitive to historical contexts, marked by philosophical precision, and relevant to contemporary problems. Embracing shalom justice, series authors seek to bear witness to God's gracious activity of building beloved community.
In the Logos editions, these volumes are enhanced by amazing functionality. Scripture citations link directly to English translations, and important terms link to dictionaries, encyclopedias, and a wealth of other resources in your digital library. Perform powerful searches to find exactly what you're looking for. Take the discussion with you using tablet and mobile apps. With Logos Bible Software, the most efficient and comprehensive research tools are in one place, so you get the most out of your study.
Key Features
Embraces the diversity of the kingdom of God
Encourages constructive dialogue about contemporary issues
Points to American heroes of social justice as examples
Product Details
Individual Titles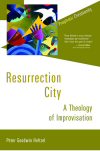 In Resurrection City Peter Heltzel paints a prophetic picture of an evangelical Christianity that eschews a majority mentality and instead fights against racism, inequality, and injustice, embracing the concerns of the poor and marginalized, just as Jesus did. Placing society's needs front and center, Heltzel calls for radical change and collective activism modeled on God's love and justice.
In particular, Heltzel explores the social forms that love and justice can take as religious communities join together to build "beloved cities." He proclaims the importance of "improvising for justice"—likening the church's prophetic ministry to jazz music— and develops a biblical theology of shalom justice. His vision draws inspiration from the black freedom struggle and the lives of Sojourner Truth, Howard Thurman, and Martin Luther King Jr. Pulsing with hope and beauty, Resurrection City compels evangelical Christians to begin "a global movement for love and justice" that truly embodies the kingdom of God.
Peter Heltzel is a jazz-infused theologian par excellence! Don't miss this gem of a book.
—Cornel West, professor of philosophy and Christian practice, Union Theological Seminary
Jazz musicians can improvise because they are so rooted in musical traditions, because they know the standards so well. This grounding allows for the freedom to create something that is both continuous with the past and open to a new future. Theology, claims Peter Heltzel, should be like improvisational jazz—various traditions coming together in an ongoing continuity that is always new. In Resurrection City Heltzel performs just this kind of theology. Deeply grounded in Scripture, history, music, and the struggle for justice, Heltzel improvises a prophetic Christian theology of hope. Both scholarly and accessible, Resurrection City is a virtuoso performance.
— Shannon Craigo-Snell, professor of theology, Louisville Presbyterian Theological Seminary
This is an informative, provocative, and timely book—a gift to the church as it seeks the shalom of the city.
— Eldin Villafañe, professor of Christian social ethics, Gordon-Conwell Theological Seminary
Heltzel's extraordinary theology prophetically re-imagines the future of Christianity through improvisation, the lifeblood of creative music around the world, enacting a clarion call to assembly that exhorts us toward a spiritual practice affirming the twinned imperatives of justice and love.
—George E. Lewis, Edwin H. Case Professor of American Music, Columbia University
Inspired by Martin Luther King Jr. and the notion of 'Resurrection City,' Peter Heltzel, a leading thinker of his generation of American evangelicals, presents here arguably the most cogent theological engagement with race and the American evangelical world available today, even as he locates his engagement within a wider frame—a vision for an evangelicalism of the future. This, Heltzel lyrically argues, will be an evangelicalism that dares to love as God loves. It is a jazz-inflected, musical evangelicalism—an evangelicalism that engages its past, that negotiates the present with improvisational verve (the inspiration here is John Coltrane's sermonic anthem A Love Supreme), and that consequently can receive the future. I heartily recommend this book.
— J. Kameron Carter, associate professor of systematic theology and black church studies, Duke University Divinity School
Peter Goodwin Heltzel is associate professor of theology and director of the Micah Institute at New York Theological Seminary. Author of Jesus and Justice: Evangelicals, Race, and American Politics and coeditor of the Prophetic Christianity series, he is also assistant pastor of evangelism at Park Avenue Christian Church in New York City.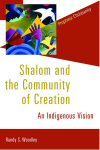 Materialism. Greed. Loneliness. A manic pace. Abuse of the natural world. Inequality. Injustice. War. The endemic problems facing America today are staggering. We need change and restoration. But where to begin?
In Shalom and the Community of Creation Randy Woodley offers an answer: learn more about the Native American 'Harmony Way,' a concept that closely parallels biblical shalom. Doing so can bring reconciliation between Euro-Westerners and indigenous peoples, a new connectedness with the Creator and creation, an end to imperial warfare, the ability to live in the moment, justice, restoration—and a more biblically authentic spirituality. Rooted in redemptive correction, this book calls for true partnership through the cocreation of new theological systems that foster wholeness and peace.
So many books simply rehash the same things. But this one by Randy Woodley offers so much that is fresh and unique—and forgotten and under-appreciated too. I wish that every thoughtful Christian on the continent would read this wise and well-written book. . . . Enthusiastically recommended!
—Brian McLaren, author, Naked Spirituality
Shalom and the Community of Creation is like a breath of fresh air. . . . Woodley's innovative Native American, biblical approach is bound to provoke and awaken the environmental consciousness that is so vitally needed in today's world.
—Celia Deane-Drummond, professor of theology, University of Notre Dame
Woodley precisely describes the lethal social situation we have created for ourselves—and then he exposits an alternative way for an abundant life. . . . This book shows that there are intellectual, moral resources available for redirecting our political-economic imagination.
—Walter Brueggemann, William Marcellus McPheeters Professor of Old Testament Emeritus, Columbia Theological Seminary
An essential corrective for today's church. We will be wiser and live as more faithful disciples if we come to see how far today's technological society has journeyed from the biblical shalom vision—a vision that speaks directly to today's ecological dysfunctions and looming disasters.
—Howard A. Snyder, distinguished professor, Tyndale Seminary
A beautiful and timely meditation on shalom. . . . Through personal story and rigorous scholarship, Woodley paints a picture of a holistic way of living, a way that nurtures connection, hope, and harmony. But the greatest gift to us here is the invitation to view Scripture, humanity, and all creation through his particular indigenous lens. We would do well to catch this vision of creation care for the sake of the next seven generations.
—Matthew Sleeth, executive director, Blessed Earth
Randy S. Woodley is distinguished associate professor of faith and culture and director of indigenous and intercultural studies at George Fox Seminary in Portland, Oregon. A Keetoowah Cherokee, he has ministered among First Nations people for over 25 years and is the cofounder of Eagle's Wings Ministry. He has also written Living in Color: Embracing God's Passion for Ethnic Diversity.

In this inaugural Prophetic Christianity volume, 15 contributors share their visions for a biblically centered, culturally engaged, and historically infused evangelicalism. Interacting with a wide variety of influential thinkers, they articulate several approaches to creating a socially responsible, gospel-centric, and ecumenical evangelical identity.
Contributors
Raymond C. Aldred
Malinda Elizabeth Berry
Chris Boesel
Pamela Lightsey
Ruth Padilla-DeBorst
Gabriel Salguero
Helene Slessarev-Jamir
Christian T. Collins Winn
These insightful essays speak to significant topics dealing with justice, peace, and the common good. More importantly, they demonstrate that the concern for such matters can be pursued with uniquely evangelical convictions and sensitivities. I hope this volume will be read widely—both by evangelicals and by those who need to see evangelicalism at its best!
—Richard J. Mouw, professor of faith and public life, Fuller Theological Seminary
For those on the right or the left who think evangelicals cannot be progressive—hearken! This spritely and sophisticated volume leaps nonpolemically beyond the stale deadlock to a creation-loving, Jesus-following, woman-empowering, justice-making, hope-stirring, truly prophetic theology: news indeed.

—Catherine Keller, professor of constructive theology, Drew Theological School
Creation. Justice. Good News. Shalom. Resurrection. These and other core theological concepts form a rich tapestry of creative and engaging evangelical ethics in this new book by a younger generation of scholars. Deeply biblical and passionately engaged, these visionaries are anything but removed from God's world. . . . If you are interested in what kingdom values look like in our broken world, read this book.
—Alan G. Padgett, professor of systematic theology, Luther Seminary
Bruce Ellis Benson is professor of philosophy at Wheaton College. His other books include Liturgy as a Way of Life: Embodying the Arts in Christian Worship and The Improvisation of Musical Dialogue: A Phenomenology of Music.
Malinda Elizabeth Berry is instructor in theological studies at Bethany Theological Seminary.
Peter Goodwin Heltzel is associate professor of theology and director of the Micah Institute at New York Theological Seminary. Author of Jesus and Justice: Evangelicals, Race, and American Politics and coeditor of the Prophetic Christianity series, he is also assistant pastor of evangelism at Park Avenue Christian Church in New York City.
More details about these resources