Renovation of the Heart: Putting on the Character of Christ (audio)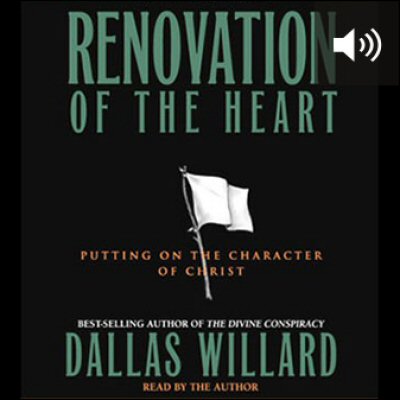 Renovation of the Heart: Putting on the Character of Christ (audio)
•
Runs on Windows, Mac and mobile.
Overview
As Christians, we know that we are new creations in Jesus, so we try to act differently, hoping this will makes us more like him. But changing our outward behavior doesn't change our hearts. Only by God's grace can we be transformed internally.
Renovation of the Heart lays a biblical foundation for understanding what best-selling author Dallas Willard calls the "transformation of the spirit"—a divine process that "brings every element in our being, working from the inside out, into harmony with the will of God." This fresh approach to spiritual growth explains the biblical reasons by Christians need to undergo change in six aspects of life: thought, feeling, will, body, social context, and soul. Willard also outlines a general pattern of transformation in each area, not as a sterile formula but rather as a practical process that can be followed without the guilt or perfectionism so many Christians wrestle with.
Don't settle for complacency. Accept the challenge Renovation of the Heart offers to become an intentional apprentice of Jesus Christ, changing daily as you walk with him.
Audiobooks add new dimension to your digital library. When you listen in Logos, your audiobooks sync across devices—pause a book anytime on your home computer, then pick up where you left off in your car or on your laptop. Listen on your lunch breaks, as a family, or as part of your personal devotional time. Tap into the power of Logos Bible Software in a whole new way.
Key Features
Explores the idea of spiritual formation and transformation
Discusses changes to the soul and mind through spiritual formation
Includes questions for thought and discussion following each chapter
Contents of Print Edition
Introducing Spiritual Formation: The "Beyond Within" and The Way of Jesus
The Heart in the System of Human Life
Radical Evil in the Ruined Soul
Radical Goodness Restored to the Soul
Spiritual Change: The Reliable Pattern
Transforming the Mind, 1: Spiritual Formation and the Thought Life
Transforming the Mind, 2: Spiritual Formation and Our Feelings
Transforming the Will (Heart or Spirit) and Character
Transforming the Body
Transforming Our Social Dimension
Transforming the Soul
The Children of Light and the Light of the World
Spiritual Formation in the Local Congregation
Product Details
Title: Renovation of the Heart: Putting on the Character of Christ
Author: Dallas Willard
Narrator: Dallas Willard
Edition: Unabridged
Publisher: christianaudio Hovel
Runtime: 12 hours
Resource Type: Audio
Topic: Spirituality
About Dallas Willard
Dallas Willard was a professor and former director of the School of Philosophy at The University of Southern California. He was the best-selling author of more than 30 publications, including The Divine Conspiracy, The Spirit of the Disciplines, and Hearing God.
More details about this resource