How to Reach Your Full Potential for God: Never Settle for Less Than His Best! (audio)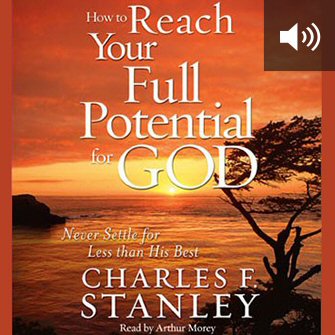 How to Reach Your Full Potential for God: Never Settle for Less Than His Best! (audio)
•
Runs on Windows, Mac and mobile.
Overview
"Things are never going to change" or "This is just the way I am—I'm never going to get better" are just a few of the damaging lies Christians believe about themselves, their situations, and their walk. But Dr. Stanley shares the real truth as God sees it.
In this powerful and inspiring message, readers reconnect with the grand vision God had when he uniquely created them. They learn that regardless of setbacks, failures, and frustrations, there is a better path based in his Word, one that's full of freedom and purpose. This book takes them to their specifically designed path to become exactly who the Father made them to be and achieve exactly what he designed them for.
Key Features
Discusses how to connect to God and his vision
Guides readers towards the path God has made for them
Encourages readers to look past failures and find freedom and purpose in God
Contents of Print Edition
Do You Want God's Best?
Don't Settle for Less
Ready . . . Set . . . Pursue Your Potential!
Essential #1: A Clean Heart
Essential #2: A Clear Mind
Essential #3: Using Your Gifts
Essential #4: A Healthy Body
Essential #5: Right Relationships
Essential #6: A Balanced Schedule
Essential #7: Taking God-Approved Risks
The Ongoing Pursuit
The Best Is Yet to Come!
About Charles Stanley
Charles Stanley (1932– ) is often called "America's Pastor." He earned his bachelor of divinity at Southwestern Baptist Theological Seminary and his master's degree and doctorate at Luther Rice Seminary. His theological viewpoint is evangelical and dispensational.
Stanley has been senior pastor of the First Baptist Church Atlanta since 1971. He is the founder and president of In Touch Ministries and has served two terms as president of the Southern Baptist Convention. The radio and television broadcast In Touch with Dr. Charles Stanley airs around the world in more than 50 languages and covers an array of topics—from finances to parenting.
More details about this resource