My Journey to Heaven (audio)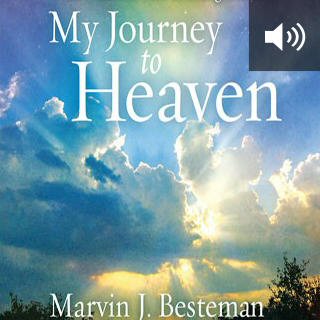 Overview
On April 28, 2006, as he lay in his hospital bed in Ann Arbor, Michigan, visions of celestial beauty were the last thing on Marv Besteman's mind. He had just had surgery to remove a rare pancreatic tumor. It was after visiting hours and his family had left for the day. Alone and racked with pain, Marv tossed and turned, wanting more than anything else to simply sleep and escape the misery and discomfort for a while. The retired banker, father, and grandfather had no idea he was about to get a short reprieve in the form of an experience he never could have imagined.
In My Journey to Heaven, Marv Besteman shares the story of his experience of heaven with astounding detail. Readers will hear of his encounters with angels who accompanied him to the gate, his conversation (argument, really) with St. Peter, and his recognition of friends and family members who touched his life. His story offers peace, comfort, and encouragement to those who have lost loved ones and gives security and solace to those who are grieving, dying, or wonder about the afterlife. Marv believed God sent him back to earth to fulfill this mission of comfort and reminds readers that God has work for each of us to do before he calls us to be with him in heaven. Secure in his belief that his book was the fulfillment of his own mission, Marv returned to heaven in January 2012.
Key Features
Describes Marvin Besteman's brief experience of heaven
Offers comfort to those grieving over a loved one's death
Provides a look at one person's near death experience
Contents of Print Edition
A One-in-a-Million Case
Two Angels
Lights, Colors, and a Love Story
At Heaven's Gate
Hello, Marv, My Name Is Peter
The Book of Life
Inside the Inner Gate of Heaven
Heaven's Cradle Roll
The Six People I Saw in Heaven
Losing and Finding My Best Friend
After I Woke Up
Until We Meet Again
Product Details
Title: My Journey to Heaven
Authors: Lorilee Craker and Marvin J. Besteman
Narrator: Maurice England
Edition: Unabridged
Publisher: christianaudio
Print Publisher: Revell
Runtime: 4.7 hours
Product Type: Audiobook
Christian Group: Evangelical
Topic: Spirituality
About the Authors
Marvin J. Besteman (1934-2012) was a graduate of Calvin College, a veteran of the US Army, and a retired bank president. He spoke frequently during his last few years of life about his experience of heaven. Marv passed away in January of 2012, joyfully anticipating his return to heaven.
Lorilee Craker is the coauthor of the New York Times bestseller Through the Storm by Lynne Spears, and the author of several books on parenting and relationships. A frequent speaker, Craker is also an entertainment writer who has been interviewing celebrities and music artists for many years for the Grand Rapids Press.
More details about this resource