Enemies of the Heart: Breaking Free from the Four Emotions That Control You (audio)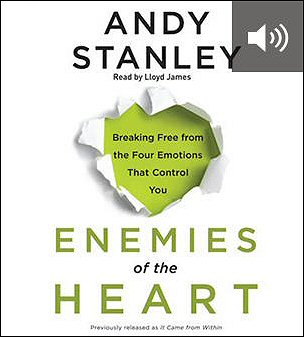 Enemies of the Heart: Breaking Free from the Four Emotions That Control You (audio)
•
Runs on Windows, Mac and mobile.
Overview
In this compelling and helpful book, previously published as It Came from Within!, pastor and author Andy Stanley wrestles with what he calls "four invaders of the heart"—guilt, anger, greed, and jealousy.
One or another of these caustic emotions sabotages lives on a daily basis and destroys relationships. But Stanley assures readers that there is hope. In his trademark style—smart, engaging, and popular—he examines where these powerful forces come from and reveals effective strategies for overcoming them and moving toward healing and maturity.
Key Features
Discusses four primary sin-causing emotions
Offers advice on how to combat these four feelings
Presents a message of hope in spiritual growth and maturity
Contents of Print Edition
Where Did That Come From?

It Came from Within
All Is Not as It Seems
Simmering Volcanoes
Heart Damage

Deeper Debts

Dynamic Debt
Guilt: I Owe You
Anger: You Owe Me
Greed: I Owe Me
Jealousy: God Owes Me

For True Change

Habits of Happiness
Confronting Guilt
Out in the Open
Confronting Anger
Complete the Cycle of Forgiveness
Confronting Greed
The Power of Generosity
Confronting Jealousy
Good Reason to Celebrate

Moving Forward

For Your Children's Best
About Lust
About Andy Stanley
Andy Stanley is a graduate of Dallas Theological Seminary and the founding pastor of North Point Community Church in Atlanta, Georgia, with a youthful congregation of more than 12,000. Andy is the author of the 1998 Foreword Book of the Year finalist Visioneering, the bestsellers Like a Rock and The Next Generation Leader, and the recent How Good Is Good Enough.
More details about this resource