Simple Church: Returning to God's Process for Making Disciples (audio)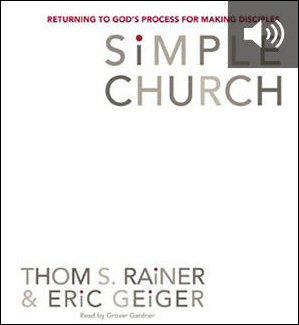 Simple Church: Returning to God's Process for Making Disciples (audio)
•
Runs on Windows, Mac and mobile.
Overview
Many of the church leaders we talk to are seeking an escape from the not-so-simple life.
"Relax. This book is not about another church model. If you are a church leader, you have been exposed to plenty of models, and most of them are on your shelf. Or worse, you have blended a bunch of models into one schizophrenic plan. If that is the case, neither you nor the people in your church are really sure what your church is all about. We see it all the time.
But go ahead, let down your guard. No new program is going to be pushed here. There will be nothing new to add to your calendar. If anything, you will be encouraged to eliminate some things, to streamline. This book will help you design a simple process of discipleship in your church. It will help you implement the model you have chosen. It will help you simplify."
Audiobooks add new dimension to your digital library. When you listen in Logos, your audiobooks sync across devices—pause a book anytime on your home computer, then pick up where you left off in your car or on your laptop. Listen on your lunch breaks, as a family, or as part of your personal devotional time. Tap into the power of Logos Bible Software in a whole new way.
Check out the Faithlife Ebooks edition of Simple Church for a text version!
Key Features
Encourages churches to simplify their models, not eliminate them
Offers easily implemented and clear instructions to quickly simplify your church
Discusses the benefits of simplifying without presenting a strict model to follow
Contents of Print Edition
Part 1: Simple Revolution

The Simple Revolution Has Begun
The Simple (and Not-So-Simple) Church in Action
Simple Church: An Extreme Makeover
Three Simple Stories

Part 2: Becoming a Simple Church

Clarity: Starting with a Ministry Blueprint
Movement: Removing Congestion
Alignment: Maximizing the Energy of Everyone
Focus: Saying No to Almost Everything
Becoming Simple
About the Authors
Thom S. Rainer is president and CEO of LifeWay Christian Resources, one of the largest Christian resource companies in the world. He is also a best-selling author and leading expert in the field of church research.
Eric Geiger serves as the vice president of the church resource division at LifeWay Christian Resources. Eric received his doctorate in leadership and church ministry from Southern Seminary. He is also a teaching pastor and a frequent speaker and consultant on church mission and strategy. Eric has authored or co-authored several books.
More details about this resource