Every Man's Marriage: An Every Man's Guide to Winning the Heart of a Woman (audio)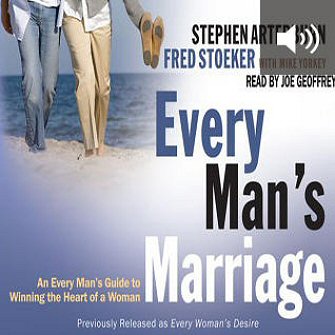 Every Man's Marriage: An Every Man's Guide to Winning the Heart of a Woman (audio)
•
Runs on Windows, Mac and mobile.
Overview
What every man wishes he knew about what his wife desires most.
Authors Stephen Arterburn and Fred Stoeker believe that every man can meet the secret desires of his wife. The problem is, most of us aren't exactly sure what that desire is and how we can go about fulfilling it faithfully.
In Every Man's Marriage, you can discover the common misconceptions about what it means to exercise biblical authority and understand the role of submission in the marriage relationship. This groundbreaking book can help men grasp and apply essential but often overlooked principles for marital leadership.
Through candid reflections on their own struggles to achieve biblical unity in their own marriages, along with many years of combined experience in marital counseling, Arterburn and Stoeker apply solid, time-tested biblical wisdom to the everyday potential distortions that can lead to strife in a marriage.
The second book in the Every Man series, this is the perfect follow-up to the best-selling Every Man's Battle. Every Man's Marriage is a terrific resource for establishing mutual respect and sacrifice in your marriage based on Christ's example of loving his bride, the church.
Key Features
Discusses what marital leadership looks like and how to practice it
Utilizes Christ and the church as the example of what a healthy biblical marriage looks like
Examines how to best serve wives, and marriages, as biblically grounded men
Contents of Print Edition
Part I: When Love Grows Cold

In the Beginning: A Painful Revelation
How Did the Feelings Die?
Trampling the One You Love

Part II: Starting to Breathe Again

From Trampling to Submitting
Pursuing Your Woman's Desire: Oneness
Facing the Top-Ten Love Chillers
Leading As a Bondservant

Part III: Manifesting Your Bondservant Heart

The "Master" Defines Your Rights
Your Time Is Not Your Own
Making Room for Her to Express Her Gifts
Making Room for Her Weaknesses
Making Room for Her Thoughts
The Source of Your Prestige

Part IV: Igniting Your Bondservant Mind

Study Your "Master" to Server Her Better?
Learning How to Make the Right Pitch
Enjoy Serving with Passion
Serving As Spiritual Leader
Minding Your Kid's Spiritual Growth
Get Rid of Those Sins

Part V: Enjoying a Resurrected Relationship

Vive la Difference!
Don't Leave Sex to Your Feelings
No Trampling This Bed!
An Open Letter to Wives
About the Authors
Stephen Arterburn is the founder and chairman of New Life Ministries—the nation's largest faith-based broadcast, counseling, and treatment ministry—and is the host of the nationally syndicated New Life Live! daily radio program heard on over 180 radio stations nationwide. Steve is also the founder of the Women of Faith conferences, attended by over three million women.
Fred Stoeker is coauthor of the best-selling Every Man Series. He is founder and chairman of Living True Ministries and a conference speaker who has counseled hundreds of men and married couples.
More details about this resource