Cleaning House: A Mom's Twelve-Month Experiment to Rid Her Home of Youth Entitlement (audio)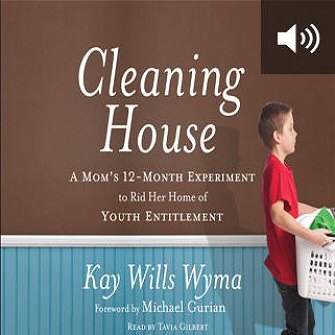 Cleaning House: A Mom's Twelve-Month Experiment to Rid Her Home of Youth Entitlement (audio)
•
Runs on Windows, Mac and mobile.
Overview
Do your kids think that clean, folded clothes magically appear in their drawers? Do they roll their eyes when you suggest they clean the bathroom? Do you think it's your job to pave their road to success? As parents, so often we hover, race in to save, and do everything we can for our kids—unintentionally reinforcing their belief that the world revolves around them.
When Kay Wyma realized that an attitude of entitlement had crept into her home, this mother of five got some attitude of her own. Cleaning House is her account of a year-long campaign to introduce her kids to basic life skills. From making beds to grocery shopping to refinishing a deck chair, the Wyma family experienced for themselves the ways meaningful work can transform self-absorption into earned self-confidence and concern for others.
With irresistible humor and refreshing insights, Kay candidly details the ups and downs of removing her own kids from the center of the universe. The changes that take place in her household will inspire you to launch your own campaign against youth entitlement. As Kay says, "Here's to seeing what can happen when we tell our kids, 'I believe in you, and I'm going to prove it by putting you to work.'"
Key Features
Instructs listeners in how to organize their homes to better serve all who live in them
Examines the attitudes that have become prevalent in today's children, and how to combat them
Journeys through a year of learning and growth surrounding responsibility and entitlement
Contents of Print Edition
Operation Clutter Control: Starting Simple: Beds and Clutter
Kitchen Patrol: Discovering the Joys of Cooking—Along with Menu Planning, Shopping, and Washing Dishes
Grounding Time: Planting, Weeding, and Getting Acquainted with the Great Outdoors
Working for a Living: The Search for Gainful Employment
Domestic Dirty Jobs: Introducing Lysol, Tilex, Soft Scrub, and the Dreaded Toilet Bowl Brush
Roll Tide: Diving into Our Family's Dirty Laundry
The Handyman Can . . . Or Can He?: Do-It-Yourself Home Repair and Maintenance
The Entertainers: Party Planning and Hospitality
Team Players: The Benefits of Working Together
Runner's World: Equipping Kids for Life's Little Errands
It's About Others: Service with a Smile
Ladies and Gentleman: Tossing Out Entitlement for Good
Praise for the Print Edition
Parents, take note: Kay Wills Wyma's experiment could change your life, especially if your kids suffer from 'me first!' syndrome. If you want your children to be more responsible, more self-assured, and more empathetic, Cleaning House is for you.
—Jim Daly, president, Focus on the Family
In Cleaning House, Kay Wills Wyma has crafted a book that hits home on many levels. It's a case study for any parent who wants to change the entitlement culture among their kids. But at a deeper level, it hits each of us who long to live our daily lives in a way that pleases God.
—Ronald L. Harris, senior vice president, National Religious Broadcasters
About Kay Wills Wyma
Kay Wills Wyma has five kids, ages four to 14, and one SUV with a lot of carpool miles. She holds a bachelor's from Baylor University and an MIM from the American Graduate School of International Management (Thunderbird). Before transitioning to stay-at-home mom, she held positions at the White House, the Staubach Company, and Bank of America.
More details about this resource