Attributes of God, vol. 1: A Journey Into the Father's Heart (audio)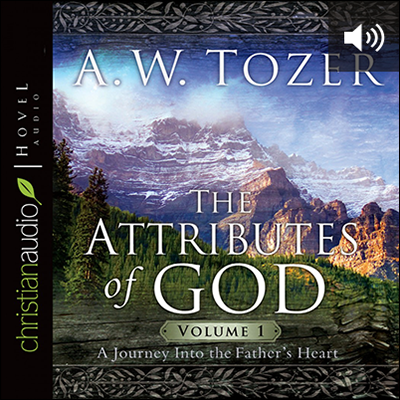 Attributes of God, vol. 1: A Journey Into the Father's Heart (audio)
•
Runs on Windows, Mac and mobile.
Overview
An inspiring journey into the father's heart, Tozer concentrates on 10 of God's attributes, such as his goodness, justice, mercy, grace, and holiness. For Tozer, there was no question more important than "What is God like?" These 10 chapters were first preached as sermons at the Southside Alliance Church in Chicago. Tozer believed it was critically important for Christians to have a knowledge of the Holy One. Each attribute of God discussed here is presented in the light of the believer's personal relationship with him.
Audiobooks add new dimension to your digital library. When you listen in Logos, your audiobooks sync across devices—pause a book anytime on your home computer, then pick up where you left off in your car or on your laptop. Listen on your lunch breaks, as a family, or as part of your personal devotional time. Tap into the power of Logos Bible Software in a whole new way.
Key Features
Explores 10 of God's attributes
Draws from the sermons Tozer preached at Southside Alliance Church in Chicago
Presents ideas in the light of the believer's personal relationship
Contents of Print Edition
God's Infinitude
God's Immensity
God's Goodness
God's Justice
God's Mercy
God's Grace
God's Omnipresence
God's Immanence
God's Holiness
God's Perfection
Product Details
Title: Attributes of God, vol. 1: A Journey into the Father's Heart
Author: A.W. Tozer
Narrator: Michael Kramer
Edition: Unabridged
Publisher: christianaudio
Length: 5 hours
Christian Group: Pentecostal
Resource Type: Audio
Topic: Ministry Resources
About A.W. Tozer
Aiden Wilson Tozer (1897–1963) was born on a small farm in what is now Newburg, Pennsylvania. His family moved to Akron, Ohio, when he was just a young boy. At the age of 17, Tozer heard a street preacher, responded to the calling of Christ, and began his lifelong pursuit of God. After becoming an active witness of Jesus as a lay preacher, he joined The Christian and Missionary Alliance and was soon serving as the pastor of West Virginia's Alliance Church, in 1919. He transferred to the Southside Alliance Church in Chicago in 1928, and his ministry continued there for 31 years. During that time he preached on the Moody Bible Institute's radio station. In the 1940s Tozer was invited to speak at Wheaton College, and seldom a year passed after World War II that he didn't preach in the college's Pierce Chapel. In 1950 he became the editor of The Alliance Life magazine and served in that capacity until his death.
Self-taught, with no formal Bible training, Tozer has been called a twentieth-century prophet within his own lifetime. Through years of diligent study and constant prayer, he sought the mind of God. A master craftsman in the use of the English language, he was able to write in a simple, cogent style the principles of truth he had learned. For Tozer, "there was no substitute for knowing God firsthand." He wrote many of his books with one idea in mind—that his reader would achieve the heart's true goal in God and maintain that relationship with Him.
Tozer moved to Toronto in 1959 and spent the final years of his life as the pastor of Avenue Road Church. He and his wife, Ada, lived a simple, nonmaterialistic lifestyle and gave a large portion of the royalties from his books go to those in need. The Tozers had seven children, six boys and one girl. James L. Snyder, said of Tozer that his "preaching as well as his writings were but extensions of his prayer life. He had the ability to make his listeners face themselves in the light of what God was saying to them."
More details about this resource