Notes from the Underground (audio)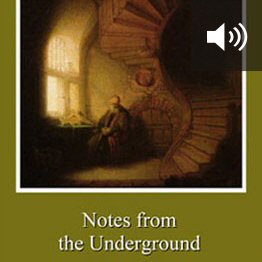 Overview
Notes from the Underground, published in 1864, marks a turning point in Dostoevsky's writing: it announces the moral, political and social ideas that he will further examine in Crime and Punishment and The Brothers Karamozov. The book opens with a tormented soul crying out, "I am a sick man . . . I am a spiteful man." This is the cry of an alienated individual who has become one of the greatest anti-heroes in all literature.
Key Features
Introduces ideas that lead to Dostoevsky's other famous works
Explores moral, political, and social values of nineteenth-century Russia
Compares classic Russian thought with western philosophy through a fictional memoir
Contents of Print Edition
Underground
Apropos of the Wet Snow
Product Details
Title: Notes from the Underground
Author: Fyodor Dostoevsky
Translator: David Magarshack
Narrator: Walter Zimmerman
Edition: Unabridged
Publisher: Blackstone Audio
Runtime: 5 hours
Product Type: Audiobook
Topic: Classic Literature
About Fyodor Dostoevsky
Fyodor Mikhaylovich Dostoevsky (November 11, 1821–February 9, 1881) was a Russian writer of novels, short stories, and essays. He is best known for his novels Crime and Punishment, The Idiot, and The Brothers Karamazov. Dostoevsky's literary works explored human psychology in the troubled political, social and spiritual context of nineteenth-century Russian society.
More details about this resource