Lexham Discourse Commentary: 1–2 Thessalonians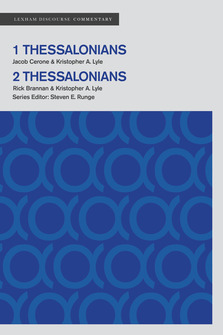 Lexham Discourse Commentary: 1–2 Thessalonians
•
Runs on Windows, Mac and mobile.
Overview
The Lexham Discourse Handbook series guides readers through the Greek text, integrating insights from the Lexham Discourse Greek New Testament and Discourse Grammar of the Greek New Testament. Each volume in the series shows how various discourse devices contribute to the overall flow and structure of the New Testament books by providing a unifying analysis of each text.
A New Approach to Exegesis
Dr. Steve Runge's approach complements traditional approaches by helping readers understand the exegetical implications of the writer's choices. The Lexham Discourse Commentaries offer sustained analysis on the text, but do not engage issues like background, setting, and audience that preoccupy traditional commentaries. Instead, Runge applies his years of research in discourse grammar to editing this running exegesis of the Greek. If you have been disappointed by the lack of discussion about structure, discourse flow, and rhetorical strategies in modern commentaries, then the Lexham Discourse Commentaries are for you.
Runge and coauthors Kristopher Lyle, Jacob Cerone, and Rick Brannan initiated this series with volumes on Colossians, 1–2 Thessalonians, and James. The Lexham Discourse Commentaries fill an important gap in New Testament study by providing a practical analysis of discourse features rarely covered elsewhere. They describe the exegetical decision-making that leads to the conclusions and applications found in the English-based Lexham High Definition Commentaries.
Learn Discourse Analysis
The commentaries also provide a practical, scholarly model for those interested in learning to do discourse analysis. The Discourse Grammar provides the theory and explanation, the Lexham Discourse Greek New Testament provides annotations of all their occurrences, and the Lexham Discourse Commentaries synthesize that data and apply the theory to tackle tough exegetical questions that pastors and teachers face in studying the New Testament.
Paul's writing style in 1-2 Thessalonians is markedly different from that found in other letters such as Romans or 1 Corinthians. The frequent use of γάρ clauses to backfill information makes tracing the flow and development of the argument very difficult. Yet Jacob Cerone, Rick Brannan, and Kristopher Lyle are more than up to the task of guiding readers through the process of identifying and interpreting lower-level discourse features and explaining their contribution to the higher-level flow of Paul's argument.
For more from this series, see here.
Key Features
Provides an exegesis of the Greek text
Analyzes the structure, discourse flow, and rhetorical strategies used by each writer
Describes exegetical implications of the writer's choices
Features a basic introduction to the theoretical framework and methodology applied in the analysis
Includes a glossary of technical terminology used in the commentaries
Serves as a companion to the High Definition Commentary volumes
Product Details
Title: Lexham Discourse Commentary: 1–2 Thessalonians
Authors:
Series Editor: Steven E. Runge
Series: Lexham Discourse Commentaries
Publisher: Lexham Press
Publication Date: 2017
Pages: 233
Resource Type: Commentary
Topic: Greek Grammar
About the Authors
Jacob N. Cerone holds a BA in pastoral ministries from Moody Bible Institute and an MDiv from Southeastern Baptist Theological Seminary in Wake Forest, North Carolina. He is also completing an MTh in New Testament studies at Southeastern under the supervision of Dr. David Alan Black, the M.O. Owens Jr. Chair of New Testament Studies, for whom he also serves as a research assistant. Jacob has been ordained by the Christian and Missionary Alliance and served as assistant pastor for discipleship at Cary Alliance Church, in Apex, North Carolina.
Rick Brannan is the general editor of the Lexham English Septuagint and the translator of The Apostolic Fathers in English. He is also the author and translator of Greek Apocryphal Gospels, Fragments, and Agrapha. Rick writes a regular column on the Church Fathers for Bible Study Magazine. He is currently working on an examination of the vocabulary of the Pastoral Epistles. He recently published Lexical Commentary on the Pastoral Epistles: First Timothy is presently working on the Second Timothy volume.
Kristopher Lyle is a Language Editor at Faithlife Corporation. He holds a BA in Biblical Languages and Sociology from Houston Baptist University, and an MA in Biblical Hebrew from the University of Stellenbosch (South Africa) under the supervision of Christo van der Merwe. His research focuses on applying cognitive linguistic frameworks to our understanding of the biblical languages. He received the SASNES award for his MA thesis in 2013, and has since authored multiple articles on Biblical Hebrew lexical semantics.
About the Editor
Steven E. Runge holds a BA in speech communication from Western Washington University, a master of theological studies degree in biblical languages from Trinity Western Seminary in Langley, BC, Canada, and a doctor of literature degree in biblical languages from the University of Stellenbosch in South Africa, which was supervised by Christo Van der Merwe. In preparation for his doctoral research, Steve completed several years of study in the linguistic fields of pragmatics and discourse grammar.
He has served as an adjunct faculty member at Northwest Baptist Theological College, Trinity Western University, and Associated Canadian Theological Schools (ACTS) while completing his education. Steve presently serves as a scholar-in-residence at Logos Bible Software, where, along with Discourse Grammar of the Greek New Testament, he has developed the Lexham Discourse Greek New Testament and the Lexham High Definition Commentaries.
More details about this resource