Master Plan of Evangelism Collection (5 vols.)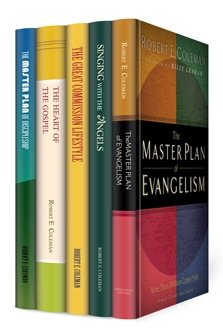 Master Plan of Evangelism Collection (5 vols.)
•
Runs on Windows, Mac and mobile.
Overview
How do we put the Great Commission into everyday action? How do we move beyond a removed analysis of "go and make disciples of all nations" to actually going and doing it?
For questions of modern evangelism, you can't afford to miss this collection of texts built around Robert E. Coleman's bestselling, The Master Plan of Evangelism—about which Billy Graham notes, "Few books have had as great an impact on the cause of world evangelization in our generation." Drawing from his wealth of experience teaching and leading evangelism, Coleman shares practical and biblical insights into putting the Great Commission into action.
In this collection, you'll get The Master Plan of Evangelism, along with its companion volume, The Master Plan of Discipleship, equipping you to not only share the gospel effectively, but also to take the biblical next step of discipling new believers. You'll also find The Great Commission Lifestyle, in which Coleman teaches you how to make discipleship a way of life, using the book of Matthew as an outline. Ground and inform your practice of spreading the Good News with Coleman's systematic study, The Heart of the Gospel, which discusses the theology behind evangelism. Rounding off the collection, Singing with the Angels is a devotional study of the 14 songs found in Revelation, designed to help you learn new ways to praise God and deepen your worship. For any Christian who desires to expand their understanding and practice of evangelism, these texts from Coleman are an invaluable resource.
In the Logos editions, these valuable volumes are enhanced by amazing functionality. Scripture citations link directly to English translations, and important terms link to dictionaries, encyclopedias, and a wealth of other resources in your digital library. Perform powerful searches to find exactly what you're looking for. Take the discussion with you using tablet and mobile apps. With Logos Bible Software, the most efficient and comprehensive research tools are in one place, so you get the most out of your study.
Key Features
Offers practical discussions of evangelism and discipleship
Discusses how to make the Great Commission a lifestyle
Studies the 14 songs in Revelation
Individual Titles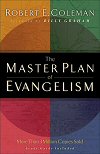 For more than 40 years this classic, biblical look at evangelism has challenged and instructed over three million readers. Now with a foreword by Billy Graham, The Master Plan of Evangelism is as fresh and relevant as ever. Instead of drawing on the latest popular fad or the newest selling technique, Robert E. Coleman looks to the Bible to discover Christ's evangelism strategy. Through a thorough examination of the gospel accounts, Coleman points out unchanging, simple, and profound biblical principles of how to model Christ to others. Join the movement and discover how you can minister to the people God brings into your life.
The greatest insights are almost always simple. The Master Plan of Evangelism contains such insights. In it Robert Coleman has set forth an understanding of Jesus' approach to reaching out to precious people and invites us to do the same.
—Richard J. Foster, author, Celebration of Discipline
I came across The Master Plan of Evangelism many years ago while serving as a missionary-evangelist in Latin America. When the Spanish language version was published, I was honored to write the foreword to it for the sake of the tens of millions of Hispanic Christians in nearly twenty-five nations. I join with the thousands of Christian leaders who have recommended The Master Plan of Evangelism, used it, and seen the fruit of this New Testament master plan from the Master himself.
—Luis Palau, president, Luis Palau Evangelistic Association; author, High Definition Life

Explore the companion volume to Robert Coleman's best-selling The Master Plan of Evangelism. In The Master Plan of Discipleship, Coleman searches the book of Acts for principles of church growth through evangelism and discipleship. He reveals that while specific procedures of evangelism and discipleship change over the years, the basic pattern of the Great Commission has remained unchanged since the apostolic age. The New Testament church's principles for ministry are still valid and vital for the church today. Coleman discusses each of these principles in depth and shows you how to apply them—helping you discover a discipling lifestyle from the early church.
I am grateful that Robert Coleman has shared his wealth of experience as a disciple maker with the Church at large. This book is the kind of tool we are constantly searching for in our church.
—Frank R. Tillapauch, pastor, Bear Valley Baptist Church, Denver, Colorado
Dr. Coleman's insights on the ministry of discipleship are both profoundly biblical and wonderfully practical.
—Paul Cedar, pastor, Lake Avenue Congregational Church, Pasadena, California
Dr. Robert Coleman, one of the most important voices for evangelism in America, has pointed the way to reach past the cynicism of modern secular man. The church has the message and the means to effect this change. Dr. Coleman has given us the method.
—Jess Moody, pastor, First Baptist Church of Van Nuys, California
Robert E. Coleman's bestselling The Master Plan of Evangelism has been the standard in evangelism literature for more than 40 years. But what is the theology behind evangelism? And why is it important for Christians to understand? The Heart of the Gospel offers a systematic theology of evangelism that will ground and inform our practice of spreading the good news. Each chapter covers a major biblical doctrine, explains its various evangelical interpretations, treats misconceptions that adversely affect evangelism, and offers practical applications of the doctrine. Based on decades of classroom teaching, this comprehensive work is aimed at ministry readers interested in evangelism and outreach.
With the keen mind of a theologian and the warm heart of an evangelist, Robert Coleman displays how evangelism is the heartbeat of all theology. This work is biblical and practical—vintage Coleman!
—Timothy K. Beougher, Billy Graham Professor of Evangelism, Southern Baptist Theological Seminary
"I have waited over thirty-five years for this book! It was the life and teaching of Dr. Coleman that convinced me of the inseparable link between evangelism and theology, and this has resulted in several books that I have written. Now we have a comprehensive treatment from the master himself in the style of biblical and theological writing that is devotionally rich and practically helpful, which we have come to expect from Robert Coleman.
—Ajith Fernando, national director, Youth for Christ, Sri Lanka
Here is the theology of the Gospel in classic Wesleyan dress, vividly presented by one of its most honored veteran expositors. All who love the Lord will find this a heartwarming read.
—J.I. Packer, Board of Governors Professor of Theology, Regent College
This magnificent study by Robert Coleman will undoubtedly become a classic among theologies of evangelism. With great personal sensitivity and elegant simplicity, he places the question of 'Why evangelism?' into a biblical and theological context that is larger than many of us know. His study could very well ignite an evangelical fire within our hearts. This is a genuinely inspiring and instructive book not to miss—a must-read.
—John Woodbridge, research professor of church history and Christian thought, Trinity Evangelical Divinity School
What rich wisdom learned from a life lived in the Word and in the teaching and practice of evangelism! Coleman's love for both the Gospel and the Christ of the Gospel is contagious. Read and learn and worship.
—Dennis F. Kinlaw, president, Francis Asbury Society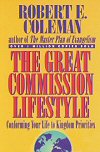 When it comes to obeying Jesus' command to make disciples of all nations, are you a bit uncertain about how to begin? In this book, Robert E. Coleman shows how discipleship was designed to be a way of life for all Christians. These pages offer a practical and personal application of the principles found in The Master Plan of Evangelism. Using the text of Matthew as an outline, Coleman focuses on the recurring themes of Jesus' resurrection message to the church: his affirmation, his mandate, and his promise of the Holy Spirit.
A study guide is included in the text to make The Great Commission Lifestyle useful for both individuals and groups. Whether you are in a leadership position or are a "member of the flock," this enlightening book will compel you to accept the Great Commission as your own unique and personal calling of evangelism each and every day.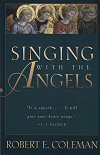 The "songs heard around the throne" in the book of Revelation provide a taste of the glorious praise we will give to the Lord in the hereafter. In Singing with the Angels, Robert Coleman teaches us how to enter that same dimension of worship here and now. This warm, readable devotional study of Revelation's 14 songs not only offers insight into the symbolism of Revelation, but also provides practical experience in learning new ways to praise God.
As a plain man's introduction to the book of Revelation, and also to the life of grace and the power of praise, Singing with the Angels could hardly be bettered; it is superb. Take it as a tonic; it will give your heart wings.
—J.I. Packer, Board of Governors Professor of Theology, Regent College
Few people have helped the ordinary Christian reader to join in the praise around the throne of heaven as much as Robert Coleman. . . . A joyous invitation to read the Apocalypse with your head bowed and your heart singing.
—D.A. Carson, research professor of New Testament, Trinity Evangelical Divinity School
About Robert E. Coleman
Robert E. Coleman is distinguished professor of evangelism and discipleship at Gordon-Conwell Theological Seminary. Previously, he taught at Asbury Theological Seminary for 27 years. He also served as director of the School of World Mission and Evangelism at Trinity Evangelical Divinity School for 18 years, and while there, he served both as dean of the Billy Graham International Schools of Evangelism, and as director of the Billy Graham Center Institute of Evangelism at Wheaton College. He is also a founding member of the Lausanne Committee for World Evangelism and a past president of the Academy for Evangelism in Theological Education. Dr. Coleman's scholarly interests include the theology of evangelism, revival, and the lifestyle of the Great Commission. Dr. Coleman is a prolific author, having written hundreds of articles and over 20 books, though he is best known for The Master Plan of Evangelism. Translations of one or more of his books are published in 109 languages, with English editions alone exceeding 7 million copies.
More details about these resources