Lifting Up Jesus: Bible Study Lessons (Simplified Chinese)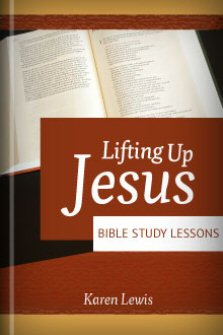 Lifting Up Jesus: Bible Study Lessons (Simplified Chinese)
•
Runs on Windows, Mac and mobile.
Your Custom Discount
Reg. Price $13.95
Sale Price $9.95
Your Price $9.95
You Save $4.00 28%
Your Price
What's Pre-Pub?
$9.95
Reg.: $13.95
Print: $19.95
Overview
This newly released series of lessons by author Karen Lewis is relational in nature, providing a valuable resource for leaders of Bible studies for new believers. Based on John 12:32, where Jesus says, "But I, when I am lifted up will draw all men unto myself," these lessons are designed to do just that. Comprised of 30 lessons, Lifting Up Jesus Bible Study is developed not simply to impart information, but to engage relationally. The two to six page lessons include summaries of doctrine as well as discussion questions, giving teachers easy-to-use, engaging, and comprehensive resources in a simple format. Lewis' series provides teachers with tools to lead students to a personal relationship with Christ, and begin the process of making disciple-making disciples.
The Logos Bible Software edition of Lifting Up Jesus Bible Study Lessons is designed to encourage and stimulate your group's study of the Bible and theological concepts. Scripture passages link directly to your English translations and original language texts, and important concepts link to dictionaries, encyclopedias, and a wealth of other resources in your digital library. Keep connected and take the discussion with you through Faithlife with tablet and mobile apps. With Logos Bible Software, the most efficient and comprehensive research tools are in one place, so you get the most out of your study. This is a Simplified Chinese language resource.
Looking for the Lifting Up Jesus Bible Study Lessons in English? Check them out here.
Esta buscando Exaltando a Jesús: Lecciones de estudio bíblico en Español? Se puede encontrar aquí.
Key Features
Explores 30 doctrines of the Bible from a Seventh-Day Adventist perspective
Provides brief yet compelling lessons
Connects with adults from all backgrounds through its accessible style
Contents
Finding Peace through the Bible (Chinese)
Why You Need a Savior (Chinese)
How God Saved Us (Chinese)
God's Supreme Sacrifice for You (Chinese)
Faith—What Is It? (Chinese)
The Christian's Source of Power (Chinese)
Conversion and Repentance (Chinese)
Surrender (Chinese)
Growing Up into Christ (Chinese)
The Second Advent of Christ (Chinese)
Signs of Christ's Second Coming (Chinese)
Death (Chinese)
How Evil Began (Chinese)
The Truth about Hell (Chinese)
Satan's Time Out—The Millennium (Chinese)
Heaven (Chinese)
Why God Allows Suffering (Chinese)
God's Law of Love (Chinese)
The Sabbath—God's Sign of Faith (Chinese)
Why So Many Denominations? (Chinese)
God's Seal and Satan's Mark (Chinese)
God's Warning: The Mark of the Beast (Chinese)
The Meaning of the 144,000 (Chinese)
The Christian and Principles of Health (Chinese)
Christian Standards of Living (Chinese)
The Meaning of Baptism (Chinese)
God's Money, Our Responsibility (Chinese)
Principles for Resolving Conflict (Chinese)
Prophecy—True or False (Chinese)
Living As a Disciple (Chinese)
Karen Lewis does pastoral work in Minnesota for the Seventh-day Adventist Church (SDA). She wrote the Lifting Up Jesus study guides to restore the emphasis on "who" instead of "what," pointing to relationship with Jesus and the process of discipleship—not cerebral theology—as the key to Christianity.