Historical Theology (2 vols.)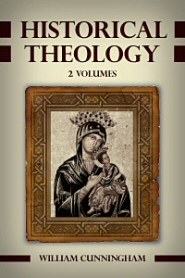 Overview
The history of the Church is a history of God's interaction with people—making the study of church history a fundamentally theological enterprise. William Cunningham's 2-volume Historical Theology, derived from his lectures given at New College in Edinburgh from 1847–1861, tells the story of the church through the history of its theology. He chronicles the theological tension between law and grace, between sin and forgiveness, and between Christ's first coming and his second.
Cunningham's living faith, devout submission to God, clarity of thought, and reverence for the authority of the Bible make him well-positioned to comment on the relationship between the church and its theology. Volume one covers the biblical view of the church, the church councils and the apostolic fathers, the development of the church's central doctrines—such as the incarnation and the Trinity—as well as the rise of scholasticism, the Reformation, and the Council of Trent. In volume two, Cunningham documents the development of the doctrine of justification, the doctrine of the atonement, the Arminian controversy, and the Socinian controversy. He also devotes lengthy discussions to Presbyterianism, Congregationalism, and the Free Church of Scotland.
With the Libronix Digital Library, Cunningham's history comes alive! Theological terms are linked to the other reference works in your digital library, and the names of influential figures in church history are linked to their major works—all only a click away! Cunningham's Historical Theology will benefit scholars and students, as well as anyone interested in historical theology and the history of Christian thought.
Key Features
Comprehensive index
Links to primary source documents and reference works
Theological reflections on the development of church doctrine
Overview of the relationship between Scripture and theology
Praise for the Print Edition
William Cunningham…does not begin with objections; he does not parade them in the forefront. He insists first on the exact statement of the question being clearly and accurately put; and next, on the positive proofs on either side, whether from reason or from Scripture, being fairly considered, weighed, and balanced. Then… he opens the way for fair consideration…
—Allan Freer, The North British Review
Product Details
Title: Historical Theology: A Review of the Principal Doctrinal Discussions in the Christian Church since the Apostolic Age
Author: William Cunningham
Publisher: T&T Clark
Volumes: 2
Pages: 1,253
About William Cunningham
William Cunningham was born in 1805. He was ordained as a preacher in 1838, and was instrumental in the formation of the Scottish Free Church. He also traveled extensively, and developed a deep friendship with Charles Hodge. He was appointed as a professor at New College, Edinburgh in 1847, and served there until his death in 1861.