Baker Academic Studies in Jonathan Edwards (2 vols.)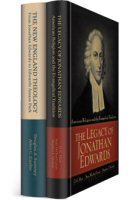 Baker Academic Studies in Jonathan Edwards (2 vols.)
•
Runs on Windows, Mac and mobile.
Overview
The recent swell of scholarly engagement with Jonathan Edwards' life and thought continues to shape our understanding of American Christian history, and the development of the evangelical tradition. Get the Baker Academic Studies in Jonathan Edwards collection and you too can profit from fascinating Edwards scholarship, revealing new chapters in Edwards' legacy.
Learn from top-notch Edwards scholars at the Jonathan Edwards Center at Yale and around the country, as they share insights into Edwards' vision, theology, and influence. Discover more about the development and expression of New England theology. Trace Edward's role in this movement. Explore primary source documents from figures like Harriet Beecher Stowe and Charles G. Finney as a map to Edward's legacy. Let modern scholars—including Allen C. Guelzo, Douglas A. Sweeney, and Harry S. Stout—deepen your understanding of this prince of American preachers, and his continuing impact on today's churches.
Your study of Jonathan Edwards is dramatically enhanced in the Logos editions of these texts. Amazing functionality and features accelerate your research like never before. Scripture and ancient-text citations link directly to English translations and original-language texts, and important terms link to dictionaries, encyclopedias, and a wealth of other resources in your digital library. Perform powerful searches with the Topic Guide to instantly gather relevant biblical texts and resources, enabling you to jump into the conversation with the foremost scholars on Edwards and the New England theology. Tablet and mobile apps let you take the discussion with you. With Logos Bible Software, the most efficient and comprehensive research tools are in one place so you get the most out of your study.
Key Features
Explores the influence of Jonathan Edwards on American Christianity
Includes contributions by a number of top Edwards scholars
Compiles primary source documents to examine the growth of New England theology
Individual Titles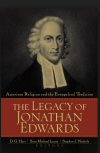 Gain a better understanding of the vision, theology, and legacy of Jonathan Edwards in this scholarly and readable volume. This text compiles clear and informative essays on Edwards' life, thought, and influence on American Christianity. Immerse yourself in the insights of more than a dozen Edwards scholars, as they reflect on one of America's most prominent preachers. See the extent of influence unfold as they outline the contours of his legacy across the pages of this compelling book.
Contents:
"Jonathan Edwards' Tri-World Vision"—Harry S. Stout
"Last of the Mohican Missionaries: Jonathan Edwards at Stockbridge"—Stephen J. Nichols
"Driven by Passion: Jonathan Edwards and the Art of Preaching"—Richard A. Bailey
"The 'Inward, Sweet Sense' of Christ in Jonathan Edwards"—Charles Hambrick-Stowe
"Challenging the Presumptions of the Age: The Two Dissertations"—George M. Marsden
"Open Theism in the Hands of an Angry Puritan: Jonathan Edwards on Divine Foreknowledge"—C. Samuel Storms
"Jonathan Edwards on Apologetics: Reason and the Noetic Effects of Sin"—K. Scott Oliphint
"Jonathan Edwards and the National Covenant: Was He Right?"—Gerald R. McDermott
"Jonathan Edwards and the Origins of Experimental Calvinism"—D.G. Hart
"Taylorites, Tylerites, and the Dissolution of the New England Theology"—Douglas Sweeney
"'He Cuts Up Edwardsism by the Roots': Robert Lewis Dabney and the Edwardsian Legacy in the Nineteenth-Century South"—Sean Michael Lucas
"Transcribing a Difficult Hand: Collecting and Editing Edwards' Letters over Thirty-Five Years"—George S. Claghorn
"Jonathan Edwards between Church and Academy: A Bibliographic Essay"—Sean Michael Lucas
D.G. Hart is visiting professor of history at Hillsdale College. He was previously academic dean and professor of church history at Westminster Theological Seminary in California, and director of the Institute for the Study of American Evangelicals at Wheaton College. He is also the author of A Secular Faith: Why Christianity Favors the Separation of Church and State, Between the Times: The Orthodox Presbyterian Church in Transition, and The Lost Soul of American Protestantism.
Sean Michael Lucas is senior minister at the First Presbyterian Church in Hattiesburg, Mississippi, and associate professor of church history at Reformed Theological Seminary, Jackson. He is coeditor of the American Reformed Biography series, editor of the Basics of the Faith Series, and author of God's Grand Design: The Theological Vision of Jonathan Edwards.
Stephen J. Nichols (PhD, Westminster Theological Seminary) is research professor of Christianity and culture at Lancaster Bible College. He has written several books, including The Reformation, For Us and for Our Salvation, and Welcome to the Story.

Jonathan Edwards's ministry marked a crucial moment in the history of Christianity and Calvinism in America. Edwards scholars Douglas Sweeney and Allen Guelzo explore his legacy and its development in The New England Theology. They skillfully select major representative writings of the American followers of Edwards and accompany them with insightful introductions. Their assemblage of primary texts—from Edwards himself, as well as figures including Samuel Hopkins, Nathaniel W. Taylor, Harriet Beecher Stowe, and Charles G. Finney—provides a powerful look at the influence of Edwardsean thought.
Contents:
Wellspring of the New England Theology: The Thought of Jonathan Edwards
The Emergence of a Movement: Early New Divinity Thought
The Moral Government of God: Edwardseans and the Atonement
Edwardsean Ethics: Antislavery and Missions
The Exercisers and the Tasters
Theology in New Haven
Finney and the New Measures
Last of the "Consistent Calvinists": Edwards Amasa Park
Things Sublime and Eternal: The New England Theology as Remembered by Harriet Beecher Stowe
This volume of rare sermons and documents makes an unprecedented contribution to our understanding of the 'New England theology' as it emerged from Jonathan Edwards and continued through Edwards Amasa Park. The introduction prepared by two seasoned Edwards scholars represents an acute and thought-provoking analysis of the intellectual and theological underpinnings of the New England theology. A rich, absorbing, and always engaging collection, this volume will be of great interest to Edwards scholars and general readers alike.
—Harry S. Stout, Jonathan Edwards Professor of American Christianity, Yale Divinity School
In these judicious selections accompanied by crisp and illuminating introductions, Sweeney and Guelzo ably identify the vitality and scope of the New England theology. If you want to know something of the flavor and substance of America's first indigenous theology, this volume is the place to begin.
—David W. Kling, professor and chair, department of religious studies, University of Miami
This volume, collecting the major representative writings of the American disciples of Jonathan Edwards, is the first of its kind and long overdue. In the hands of Guelzo and Sweeney, the 'New Divinity' movement emerges here as a grand story, told in the medium of theology, that both reflected and shaped the new republic.
—Kenneth P. Minkema, executive editor, Jonathan Edwards Center, Yale University
Although both historians and the general public have become increasingly fascinated by Jonathan Edwards, many know little about the thinkers who tried to carry on his legacy. Douglas Sweeney and Allen Guelzo should be commended for assembling a marvelous collection of writings.
—Catherine A. Brekus, professor, religions and America and the history of Christianity, University of Chicago Divinity School
This collection of the New England theology's primary texts clearly reveals both the continuing presence of Edwardsean thought and the diversity of its expression in the century following Jonathan Edwards's death.
—Ava Chamberlain, professor, religion philosophy and classics, Wright State University
Douglas A. Sweeney is professor and chair of the Church History and the History of Christian Thought Department and director of the Jonathan Edwards Center at Trinity Evangelical Divinity School. He is also author of Baker Academic Church History Collection, coauthor of The Suffering and Victorious Christ: Toward a More Compassionate Christology, and editor of a volume in The Works of Jonathan Edwards, Yale Edition.
Allen C. Guelzo is Henry R. Luce Professor of the Civil War Era at Gettysburg College in Gettysburg, Pennsylvania. He was formerly dean of the Templeton Honors College and Grace F. Kea Professor of American History at Eastern University in St. Davids, Pennsylvania. He received his PhD in history from the University of Pennsylvania. Guelzo is the author of several works including Lincoln's Emancipation Proclamation: The End of Slavery in America, winner of the prestigious Lincoln Prize.
More details about these resources