Select Works of William Blake (4 vols.)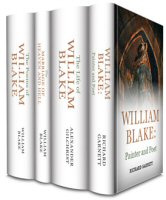 Select Works of William Blake (4 vols.)
•
Runs on Windows, Mac and mobile.
$14.00
Reg.: $29.95
Print: $47.43
* Projected price. Future bids may change this price.
Place Your Bid!
Click on the highest price you'd pay. If the final price is lower, that's what you'll pay.
Overview
Nineteenth-century critic William Rossetti once called British painter and poet William Blake a "glorious luminary," proclaiming him "a man not forestalled by predecessors, nor to be classed with contemporaries, nor to be replaced by known or readily surmisable successors."
Though relatively unrecognized during his lifetime, appreciation for Blake has ballooned in the last century, creating scores of notable "Blakeans" throughout the years. While considered a seminal figure in the Romantic Movement, thinker and artist William Blake truly defies categorization, creating vivid, bizzare, and multilayered poems and paintings, often of a prophetic nature. Blake purposefully strove to develop his art and thought independent of any tradition, believing the rational Western heritage to be fundamentally flawed. Blake was openly critical of the Anglican Church and of organized religion in general, yet his work consistently displays reverence for the Bible as a source of absolute truth, adding yet another layer to his art.
This collection features some of Blake's most celebrated works, including the epic poem The Marriage of Heaven and Hell and an extensive volume of William Blake's collected poems, including the popular Songs of Innocence and Songs of Experience. This collection is also supplemented by two biographical works—The Life of William Blake and William Blake: Painter and Poet—which offer scholarly perspectives into his life and works. Nearly 200 years after his death, the work of William Blake is celebrated with increasing enthusiasm as readers and critics continue exploring the depths of his glittering singularity and once-neglected merit.
The Logos editions of these valuable volumes are enhanced by amazing functionality. Study Blake's texts alongside a library of classic literature and philosophy. Important terms link to dictionaries, encyclopedias, and a wealth of other resources in your digital library. Powerful searches help you find exactly what you're looking for. Tablet and mobile apps let you take your study with you. With Logos Bible Software, the most efficient and comprehensive research tools are in one place, so you get the most out of your study.
Key Features
Includes William Blake's The Marriage of Heaven and Hell
Provides biographies on Blake and analyses of his work
Offers an extensive variety of his poetry
Product Details
Title: Select Works of William Blake
Volumes: 4
Pages: 1,004
About William Blake
William Blake (1757–1827) was born in Soho, London, to a tradesman. Leaving school at the age of 10, he was educated at home afterward, and attended drawing classes. In 1772 he was apprenticed to an engraver for seven years, after which he became a professional engraver, and a student at the Royal Academy. He married Catherine Boucher in 1782, who was an instrumental asset in the rest of his career. Experimenting with a number of artistic styles, he has become most well-known for his relief etchings and illustrated poems. He produced a large, diverse, and rich body of work throughout his life, and he continues to be celebrated for the great vision and singularity of his work.