Overview
Philosophumena, or the Refutation of All Heresies, is the principal work of Hippolytus of Rome, and accounts for his status as the most important theologian of the third century. This book is considered an important source of knowledge regarding heresy that remains relevant in discussions of orthodoxy today.
Although known to exist, the bulk of the text was lost for many years. It was discovered in a monastery on Mt. Athos and was originally attributed to Origen, though since has been credited to Hippolytus. Philosophumena is composed of 10 books, not all of which are accounted for, and primarily deals with refuting pagan beliefs, as well as 33 Christian heresies.
With Logos Bible Software, these valuable volumes are enhanced with cutting-edge research tools. Scripture citations appear on mouseover in your preferred English translation. Important terms link to dictionaries, encyclopedias, and a wealth of other resources in your digital library. Powerful topical searches help you find exactly what you're looking for. Tablet and mobile apps let you take the discussion with you. With Logos Bible Software, the most efficient and comprehensive research tools are in one place, so you get the most out of your study.
Key Features
The principal work of Hippolytus of Rome
Arguments on heresy that apply to contemporary discussions
Informational text surrounding the discovery of this text and its crediting to Hippolytus
Individual Titles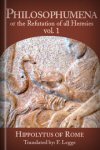 This volume contains introductory remarks that cover the discovery of the text, the shift of authorship credit, and characteristics of the work, as well as, "Book I: The Philosophers," "Book IV: The Diviners and Magicians," and "Book V: The Ophite Heresies." Books II and III have never been recovered and are therefore only mentioned as lost.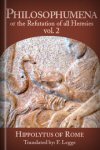 This volume contains the remaining five books of Philosophumena, including "Book VI: Simon Magus, Valentinus, and Their Followers," "Book VII: Basilides, Saturnilus, and Others," "Book VIII: The Docetae, Monoimus, and Others," "Book IX: Noetus, Callistus, and Others," and "Book X: Summaries, and the World of Truth."
Product Details
Title: Philosophumena
Author: Hippolytus of Rome
Translator: F. Legge
Publisher: SPCK
Volumes: 2
Pages: 432
About Hippolytus of Rome
Hippolytus of Rome (AD 170–235) was perhaps the most important theologian of the third century. He was a presbyter of the Church of Rome, where he came into conflict with Popes Zephyrinus, Callixtus, and Urban I, and was elected as a rival bishop of Rome—thereby being considered by some as the first antipope. He was exiled to Sardinia in AD 235, and likely reconciled to the Church before his martyrdom later that year. He is venerated as a saint in the Roman Catholic, Eastern Orthodox, and Oriental Orthodox Churches. Philosophumena is considered his principal work, and he is also credited with the earliest Christian interpretation of the Song of Songs.
More details about this resource