Fortress Press Pauline Studies Bundle (31 vols.)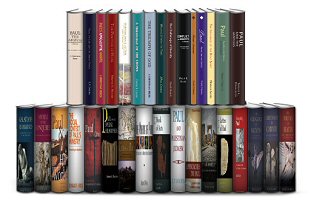 Fortress Press Pauline Studies Bundle (31 vols.)
•
Runs on Windows, Mac and mobile.
Overview
The Fortress Press Pauline Studies Bundle presents 31 volumes of in-depth study on Paul's works, thought, world, and legacy. You can find biographies, studies on his theology and the current impact of his teaching on modern issues, comparisons of Paul's teachings with other philosophies, as well as critical literary analyses. You can also explore texts dealing with cultural, geographical, and historical contexts, augmented by helpful maps and charts.
This collection combines the perspectives of over 35 scholars, including some of the most compelling thinking on the life of Paul and the influence of his theology on Christianity and the Western World. Contributors include Neil Elliott. Krister Stendahl, Christiaan Beker, E. P. Sanders, Terence L. Donaldson, and many others. Citing ancient and modern sources and using the latest scholarly methods, this collection allows readers to view Paul in fresh light.
Learn how to apply Paul's teaching to contemporary preaching, teaching, and spiritual formation. Examine Paul's relationship to Jewish tradition and thought. Explore this great apostle's moral reasoning and his mission in Rome's political context. Analyze Paul's thought with studies of his views on numerous topics, including missions, the Law, gentile salvation, the Holy Spirit, and Christ's death, resurrection, and return. This is an invaluable collection for any scholar, professor, or anyone wanting to learn more about the life, teaching, and discussion of Christendom's most well-known apostle.
Logos makes the Fortress Press Pauline Studies volumes an even better place to research and explore the life and works of Paul. Fully integrated into your digital library, you can easily put a scholar's library of Pauline studies texts in conversation with these volumes. Scripture passages link directly to your preferred English translation and to the original language texts. Important theological concepts link to dictionaries, encyclopedias, and a wealth of resources in your digital library. Gain instant perspective with the Timeline, featuring both biblical and world events. Take your study with you with free tablet and mobile apps. With Logos, the most efficient and comprehensive research tools are in one place, so you get the most out of your study.
Key Features
Offers 31 studies of Paul's life and theology
Provides input from top Pauline and New Testament scholars
Contains biographies, comparative texts, and critical literary analyses
Product Details
Title: Fortress Press Paul Collection
Publisher: Fortress Press
Volumes: 31
Pages: 7,887
Individual Titles