Samuele Bacchiocchi Sabbath Studies Collection (3 vols.)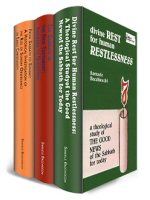 Samuele Bacchiocchi Sabbath Studies Collection (3 vols.)
•
Runs on Windows, Mac and mobile.
Overview
Samuele Bacchiocci was the first non-Catholic to be admitted to Rome's prestigious Pontifical Gregorian University in over 450 years. This collection combines three widely respected works of the SDA scholar, author, and long-time professor of theology and church history. Included is Bacchiocchi's dissertation, From Sabbath to Sunday, the first book from a non-Catholic ever published by the Pontifical press with the Catholic imprimatur, or approval. You can also find The Sabbath in the New Testament, which presents Bacchiocchi's four basic arguments for New Testament Sabbath-keeping, addressing a host of common objections. Rounding out the collection is Divine Rest for Human Restlessness, containing Bacchiocchi's thoughts on finding peace despite stress, through weekly Sabbath observance in Christ.
Studying Bacchiocchi's work with Logos streamlines and enhances your experience. Scripture citations link directly to English translations, and important terms link to dictionaries, encyclopedias, and a wealth of other resources in your digital library. Bolster your study by cross-referencing and comparing with an extensive library of Adventist scholarship. Take your study with you using tablet and mobile apps. With Logos Bible Software, the most efficient and comprehensive research tools are in one place, so you get the most out of your study.
Key Features
Addresses common objections to New Testament Sabbath-keeping
Explores the early Christian transition from Sabbath-keeping to Sunday-keeping
Offers Bacchiocchi's insights into finding peace and stress relief through Sabbath rest
Individual Titles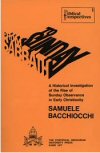 How did the change from Saturday to Sunday worship happen in early Christianity? Samuele Bacchiocchi spent five years reseaching that question at the Pontifical Gregorian University in Rome, examining ancient documents. He concluded that the transition from Saturday to Sunday began a century after Christ's death, resulting from an interplay of political, social, pagan and Christian factors. He argues that the change in the day of rest and worship was not merely a change of names or of numbers, but rather a change of meaning, authority and experience. Scores of scholars from different persuasions have praised this book as a definitive treatment of the early history of the Lord's Day.
From Sabbath to Sunday is a thorough and painstaking piece of research, which every investigator in the future will have to take into account.
—Bruce M. Metzger, professor of New Testament, Princeton Theological Seminary
The scholarship of From Sabbath to Sunday is not just impeccable, it is truly a marvel. No patristic stone has been left unturned. And when, as in several instances, Dr. Bacchiocchi's patristic and scriptural interpretations are opposed to traditional interpretation, they are generally quite thought-provoking and in all rather persuasive. I am really most thoroughly impressed by the scope and vision of the work.
—W. A. Jurgens, The Catholic Historical Review

In The Sabbath in the New Testament, Bacchiocchi summarizes and updates his extensive research by presenting four reasons for believing that the seventh-day Sabbath was kept throughout New Testament times. In the second half of the book, Bacchiocchi answers a variety of questions often asked at his popular Lord's Day Seminar. Questions deal with historical, theological and practical aspects of Sabbath keeping. Clear, straightforward, and insightful, The Sabbath in the New Testament is a valuable reference manual. As a non-theological addendum, this edition also includes a chapter from Bacchiocchi, Anna, containing her family's favorite Italian Sabbath recipes.

How can one find inner peace in this restless, tension-filled society? In Divine Rest for Human Restlessness, Samuele Bacchiocchi argues that the values of the biblical Sabbath provide a divine remedy not only to personal stress, but also to marital tension and competitive pressures—even mitigating certain ecological crises. Divine Rest for Human Restlessness is written in a simple devotional style and includes numerous illustrations. It is designed to help believers discover how to make Sabbath-keeping a joyful celebration of God's creative and redemptive love.
A thoughtful reading of Divine Rest for Human Restlessness may change your life for the better.
—Robert T. Fauth, president, Eden Theological Seminary
Divine Rest for Human Restlessness is a definite treatment of Christendom's most neglected commandment.
—Christianity Today
Tremendous in scope, greatness and influence. . . . No one, no matter of what faith or denomination he or she may be, can read this book without finding divine rest for his or her restlessness.
—James P. Wesberry, executive director, The Lord's Day Alliance of the USA
Product Details
Title: Samuele Bacchiocchi Sabbath Studies Collection
Author: Samuele Bacchiocchi
Publisher: Biblical Perspectives
Volumes: 3
Pages: 787
About Samuele Bacchiocchi
Samuele Bacchiocchi (1938–2008) was an Italian-American scholar born and raised in Rome, before attending college in England. He came to America for graduate studies, earning MA and BD degrees at Andrews University Theological Seminary. Upon completing his seminary training in 1964, he served in Ethiopia for five years as Bible and history teacher.
In 1969, Bacchiocchi returned to his native Rome to study at the prestigious Pontifical Gregorian University, becoming the first non-Catholic admitted in its history of over 450 years. At the Gregoriana he invested five years in attaining a PhD in church history. Pope Paul VI awarded him a gold medal in recognition of summa cum laude classwork that culminated in his dissertation, From Sabbath to Sunday. After completing his doctorate in 1974, Bacchiocchi taught religion at Andrews University, in Michigan. Following 26 years as professor of theology and church history, he retired in 2000. Until his death in 2008, he traveled globally, lecturing at universities, seminaries, and religious convocations. His lifeworks include 15 books plus numerous articles in journals and magazines.